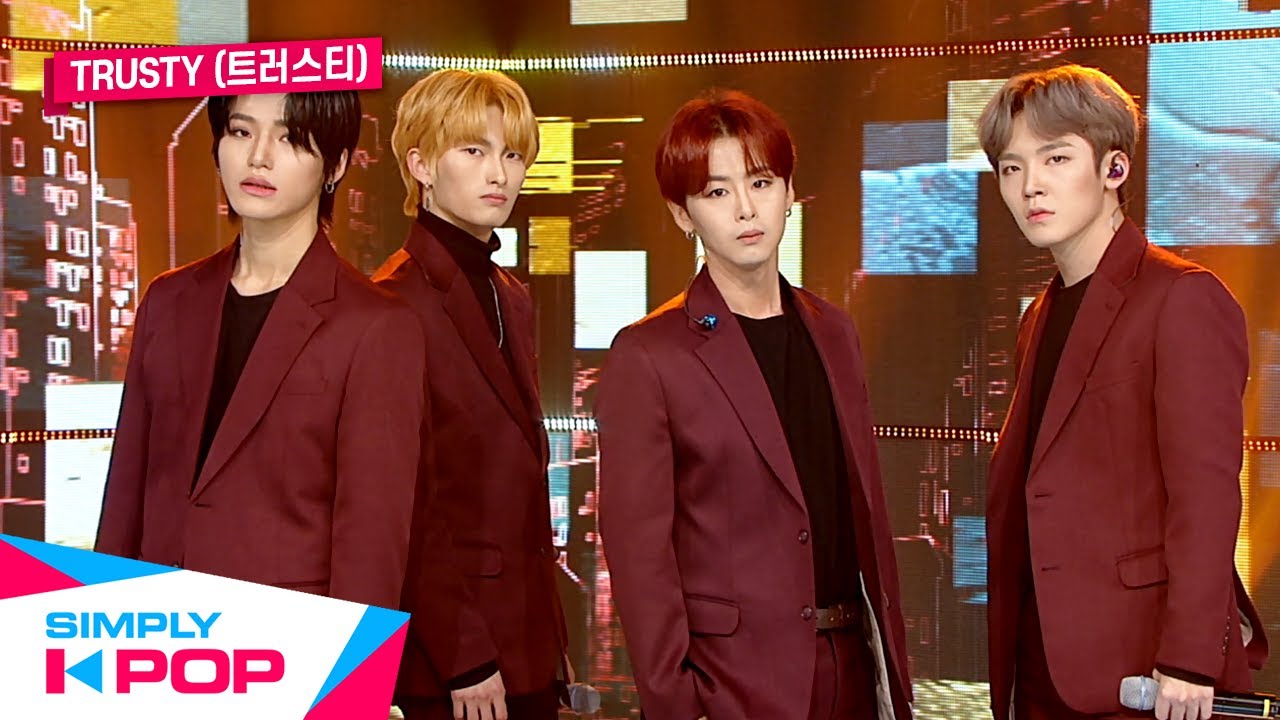 All You Need to Know About Boy Group TRUSTY!
Every newcomer and 'fresh' group in the K-Pop industry was one of the most awaited moments, just like the official debut of four-member boy group TRUSTY! They just made their debut several months ago, which also formed under Play music Ground, and they were also using R&B and Soul as their music genre. Do you want to know more about them? Through this article, Byeol Korea will explain to you the details about TRUSTY, so stay tuned!
Full Profiles
First of all, let's jump into the full profiles of TRUSTY members here!
Diskey
South Korea, with the real name Dong Sun-ho (동선호). He has 172 cm of height and 60 kg of weight; meanwhile, his blood type is B. In TRUSTY, Diskey was the leader, vocalist, and main rapper.
Instagram: @trusty_diskey
Fun Facts:
The word 'key' on his stage name also referred to as a term of "A man who likes a key to someone's heart."

Diskey can be imitating microphone echo

He loves to exercise and playing game

He has good skills in composing and producing music, writing lyrics, Kendo, and Japanese

He was known as a positive yet competitive person

His resolution and motto are "Always think that this is the last chance."
Gidae
Gidae (기대) was born on March 9, 1999, with the real name Park Geon-hwi (박건휘). He has 177 cm of height and 66 kg of weight; meanwhile, his blood type is O. In TRUSTY, Gidae was the vocalist and main rapper.
Instagram: @trusty_gidae
Fun Facts:
Gidae was known as the luxury member of TRUSTY

He loves to watching movies, listening to music, and exercise

He can do the handstand exercise

He has specialties in rap, musicals, and acting

Gidae also has a positive personality, and tend to laugh a lot

His resolution and motto are, "Enjoy everything you do."
Haru
Haru (하루) was born on March 19, 1999, with the real name Han Sang-jin (한상진). He has 178 cm of height and 61 kg of weight. Meanwhile, his blood type is O. In TRUSTY, Haru was the lead vocalist and visual of the group.
Instagram: @trusty_haru
Fun Facts:
His charm was his wink eyes

He was known as the 'mystical' man, and hard-working person

Haru loves to write lyrics, composing music, and watching YouTube

He has good skills in dancing

His resolution and motto are "Think that there's no tomorrow and lived today with no regrets."
Chance
Chance (챈스) was born on June 6, 2000, with the real name Kim Min-sang (김민상). He has 178 cm of height and 58 kg of weight; meanwhile, his blood type is O. In TRUSTY, Chance was the maknae, vocalist, and main dancer.
Instagram: @trusty_chance
Fun Facts:
His charm was the captivating eyes and as the golden 

maknae

Chance also known as funny, chill, and serious person

He loves to watch videos, doing photography, and karaoke

He has good skills for singing, soccer, and dancing

His resolution and motto is "Grab any chance that comes to your way."
Music Video & Concept
TRUSTY has been started their debut through the first single Tell Me More as well as the music video. The music video has been released on March 24, 2020, and it also welcomed by people quite well! Through the music video, TRUSTY members are also wearing several outfits such as plaid pattern outfits, a pair of maroon suits, and all-black outfits.
Each of TRUSTY members has a different point of view. Still, it seems like they are also looking for the same proposal: a beautiful girl who looked mysterious, which also made TRUSTY members curious about her!
Just like what Gidae has been said, Tell Me More single shows a sensible melody, their free-spirited energy, as well as their unique vocals! Meanwhile, its concept for Tell Me More music video also consisted of cheerful, slightly vintage, and boy-crush images as well!
Watch the music video of Tell Me More from TRUSTY here:
Stage Performance
During their stage performance, TRUSTY members were looking as amazing as ever! Moreover, their stable vocal and harmonization also combined perfectly. Not to mention, their soft yet strong dancing moves also made TRUSTY's fans were getting amazed with their live performance as well!
Even though TRUSTY was one of the newcomers in the K-Pop industry, it has been proven that the music, the concept, and their talent were worthy and well-prepared to become one of the popular boy groups in the future!
Games & Interview
We could also get to know TRUSTY better through their game session and a brief interview about the members! Moreover, we could watch it directly through YouTube videos, which was aired their content as well!
TRUSTY members were introducing themselves through My Rookie Diaries and then briefly explaining their first single Tell Me More. They show-off the magnificent dancing skills through the mission dance as well! They have to dance without any mistakes and switch part and finish the dance without making mistakes more than three times! Since Chance was the main dancer, it also leads him to has his solo stage performance, which was looked amazing!
Then the members also involved in the archery game since most of them were choosing that one! They were divided into two teams, Haru-Chance and Diskey-Gidae as well. At first, both of their team couldn't hit the strike, but then Chance was the first to get the point for his team, followed by Gidae afterward! The archery game was ended with the victory of the Haru-Chance team!
Latest News
Let's keep up with TRUSTY latest news here! Currently, it seems like TRUSTY continued its activities in the entertainment industry, such as appeared in some variety shows as well as promoting their schedule. However, there's no upcoming project yet from them, but we're always waiting for that, aren't we?
But don't worry, we can see their daily updates through the TRUSTY official Instagram account, @trusty__official! And here are several posts from them:
TRUSTY's Diskey:
https://www.instagram.com/p/CCTBZbBAGLa/
An inspired OOTD's from TRUSTY's Diskey!
TRUSTY's Gidae:
https://www.instagram.com/p/CCLKzIjpC1c/
TRUSTY's Gidae with his simple mirror-selfie!
TRUSTY's Chance:
https://www.instagram.com/p/CCNwHw_Jd63/
Just like TRUSTY's Gidae, the youngest one, TRUSTY's Chance show-off his mirror-selfie as well!
Meanwhile, TRUSTY's Diskey also on his progress for establishing his own YouTube channel! Currently, he has been uploaded several contents such as cover song videos, daily vlog, product reviews, and many more!
Watch the latest video from TRUSTY's Diskey here:
That was all of the information that you need to know about TRUSTY! Even though they just made their debut not long ago, TRUSTY has been proven that their music and talent were something worthy and 'trusty' just like their group name. Let's always supporting TRUSTY and wait for another upcoming project from them in the future!
Comment down below who's your favorite members from TRUSTY!