Take A Look At SNSD Yuri Visual!
Every time we hear 'SNSD' or Girl's Generation's name, we will automatically remember the faces of the members who look so pretty and flawless! SM Entertainment's girl group always has an extra asset in addition to their exceptional vocals and talents, which is evidenced by Yuri's visual! Although Yuri isn't necessarily the prettiest member in the group, her visual can't be denied. Her exotic skin color has gotten her called as the 'Black Pearl' in SNSD. Although, at first, Yuri was often compared to other members in her group, it seems that as time has gone by, Yuri actually received a lot of attention from the fans because of her amazing visual!
How has her visual changed from before her debut until now? In this article, Byeol Korea will show you SNSD's Yuri's visual transformation throughout the years! Stay tuned!
Pre-debut
Kwon Yuri, better known as SNSD's Yuri, joined with SM Entertainment in 2001, when she was eleven years old. She also won second place at SM's contest for the best dancer.
The photo above is from Yuri's pre-debut Choco Pie CF with actor Jang Dong Gun, and it gained much attention! It only aired in China, and the picture shows the real or pure Yuri, wearing a uniform and sitting on a bicycle.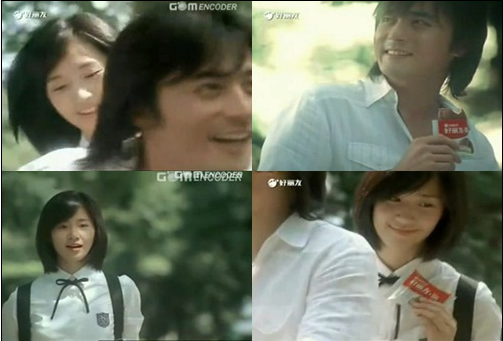 You all know who the member is with Yuri on the photo above! In this photo Yuri was together with the maknae of SNSD, who was known as the most prettiest member in the group. Yuri and Yoona (pre-debut) still look innocent and are wearing cute dresses and sweet smiles! By the way, in the photo, Yuri is on the right and Yoona is on the left side.
SNSD Yuri
The above photo is a selfie Yuri took.  She's in her uniform and has long, straight hair. She really looks so sweet and pure!
2007
Yuri began her career as a singer in 2007. She became a member of a girl group called  Girl's Generation or SNSD, which had nine members: Taeyeon, Seohyun, Jessica, Tiffany, Sunny, Yoona, Sooyoung, Hyoyeon, and also Yuri. Yuri and SNSD made their first debut with a single called "Into the New World," with the concept of nine teenagers with their cute, innocent faces.
You can see some of Yuri's photos from during the "Into the New World" era down below!
2008
Since the group's debut, some SNSD members branched out into acting and started playing roles in serial dramas, include Yuri. Yuri and some SNSD members starred in a sitcom entitled Unstoppable Marriage in 2008. Yuri played herself and had a supporting role. The photo below is Yuri's scene in Unstoppable Marriage with Sooyoung. They wore school uniforms with navy jackets, and Yuri's hair was pigtailed.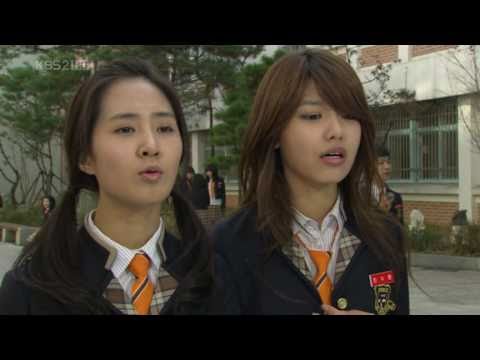 The photo below is when Girl's Generation did a photoshoot for fall/winter. We can see, Yuri is standing in the back and wearing a purple headband and blue jacket, next to Yoona. Yuri is easy to find because she has a slightly round face with a slightly different skin color than the other members.
In March 2008, their first album was repackaged and released with the new title Baby Baby. Girl's Generation released the teaser for the single "Baby Baby" on March 15, 2008, with same concept they used for their debut day, which was very soft or pastel. In the photo below, Yuri wears a white long-sleeved shirt with grey shorts, and this photo was taken for the single Baby Baby.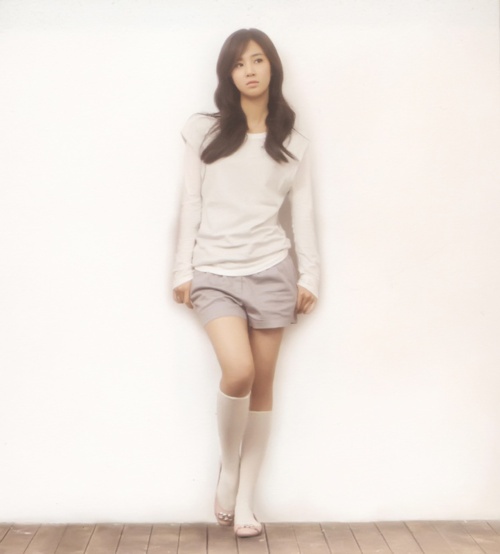 2009
In 2009, SNSD released 2 extended play (EP) albums, "Tell Me Your Wish (Genie)" and also "Gee." The two EPs immediately exploded. for "Tell Me Your Wish", they used white uniforms with different hats, such as pilot hat, police, and many more, which means they were genies or they had ability to grant the wishes of others. In the photo below is one of Yuri's photo concept sfor "Tell Me Your Wish," with natural makeup and long hair.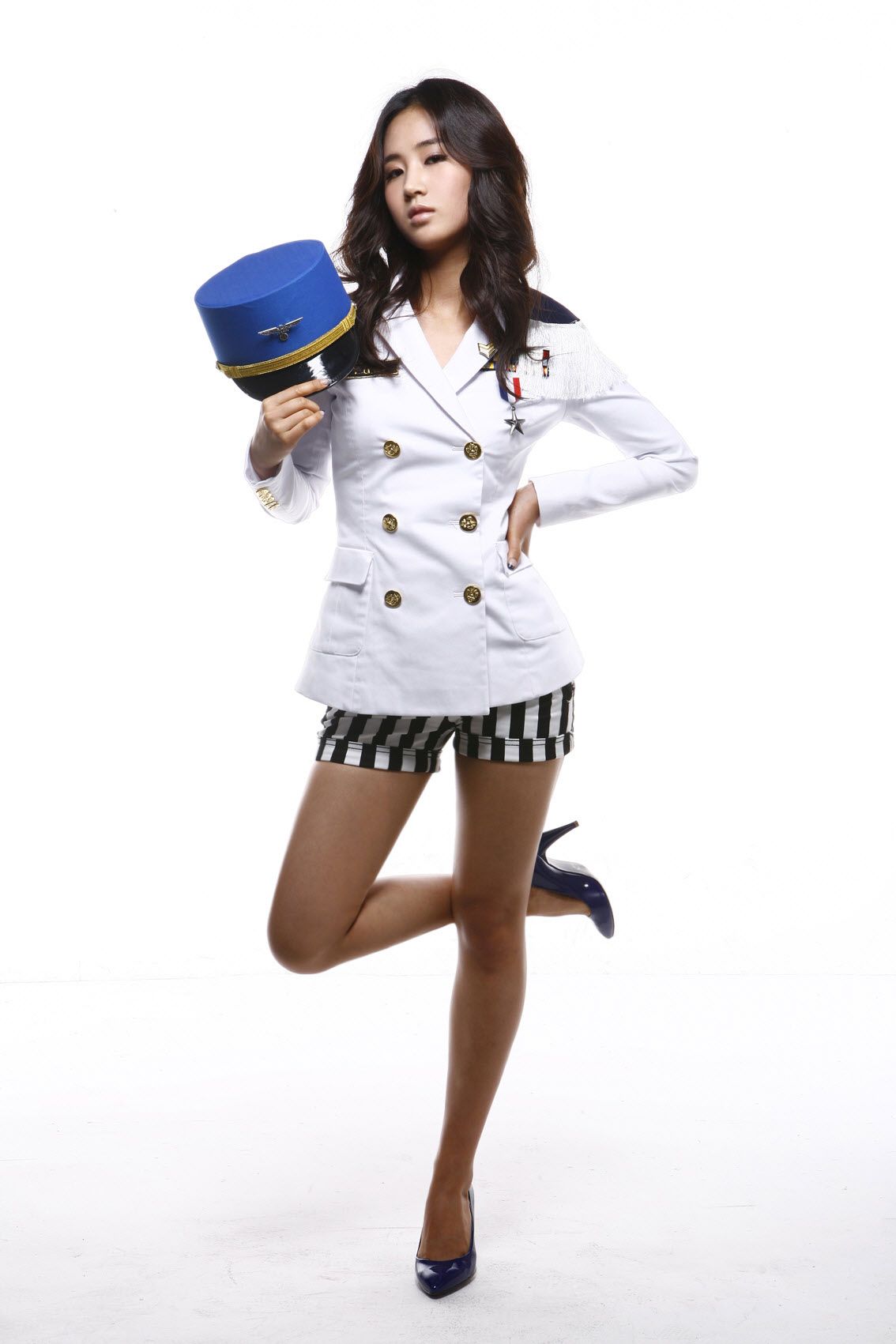 Then, the photo below photo of Yuri in from one of the scenes in the Gee music video. Yuri wear a hat like Peter Pan's and a green satin jacket.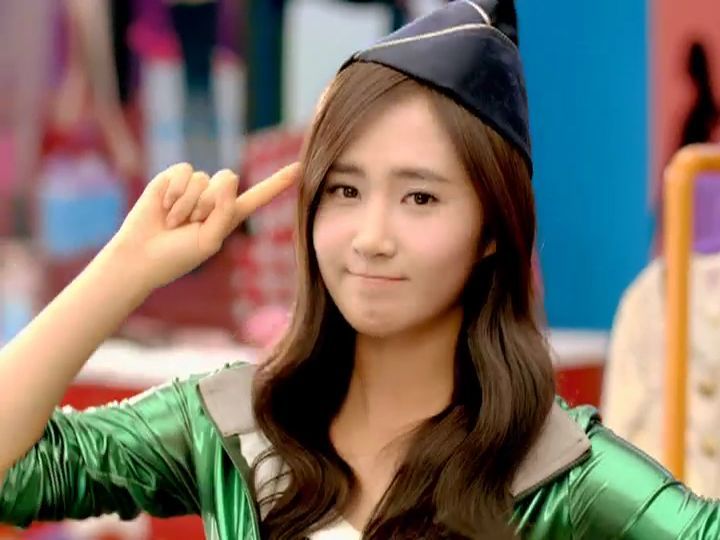 Not only becoming actresses, the Girl's Generation members also became commercial artists. In 2009, Yuri, Taeyeon, Sooyoung, Sunny, and Seohyung were filming commercial footage for banana-flavored milk. In the photo below, Yuri wore yellow clothes while holding banana milk in both of her hands.
2010
In 2010, Yuri was appointed to be the host in one of music programs, MBC Show! Music Core, along with Tiffany as co-host. Look how beautiful Yuri is when she was being a host!
2011
The photo below is a picture of Yuri that was taken when SNSD was in concert for the 2011 Girl's Generation Asia Tour. Yuri was smiling, with a feathered hairpin adorning her brown hair!
The same year, SNSD released a famous single titled "The Boys." In the photo below, Yuri is with the other members in one of the scenes from "The Boys" music video. Yuri was standing on the left with grey clothes.
2012
In 2012, Yuri got her first lead role in the drama Fashion King. In the photo below, Yuri was holding her phone with a serious expression on her face, and winged eyeliner on her eyes. Here, look at her visual below!
2013
In January 2013, SNSD made a comeback in Korea with its fourth album, I Got a Boy, which, became both a domestic and global hit. The album received an all-kill on the Korean charts and took the number one spot on the Billboard chart. At that time, they looked funky and colorful, appearing casual with shirts and denim jackets plus accessories on their heads. In the picture below, Yuri wears a denim jacket with a funky-colorful concept, plus a necklace and bandana, as well as makeup that fit the concept.
SNSD Yuri
In this second photo, Yuri wears a gingham-patterned shirt filled with a predominance of pink, purple, and white. She holds a guitar and appears to be singing. This picture is from one of Yuri's scenes from the movie No Breathing.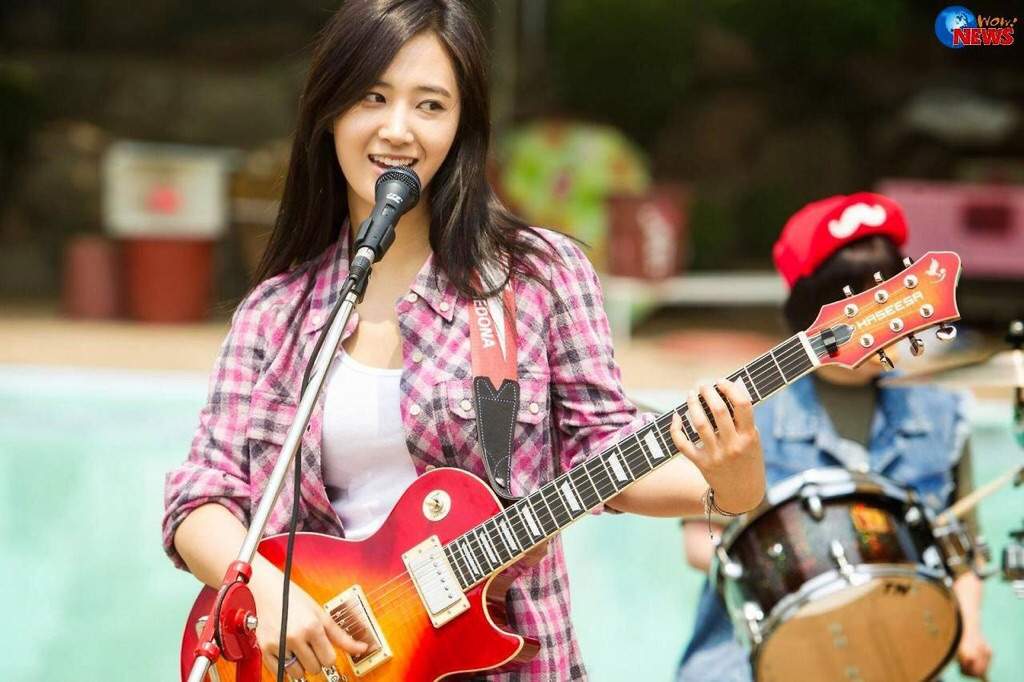 2014
In 2014 SNSD went in a different direction. All the members displayed a unique style that was both feminine and masculine in a retro-nuanced music video for Mr. Mr.
Regarding Mr.Mr., in the first photo, Yuri wears a pink outfit with a disco or retro style, and dramatic makeup like a stunning princess.
In the second photo, Yuri wears clothes like a man's, including a coat and hat. This photo shows a mysterious impression of still being feminine while wearing a masculine shirt.
SNSD Yuri
2015
In 2015, SNSD showed off the retro 60s concept on Lion Heart, and all members had to do a photoshoot for the song, include Yuri. Even with a classic concepts, Yuri looks like a beautiful Korean goddess who has extraordinary charm.
2016
Besides working a singer, Yuri is also known as an actress and there have been several films and dramas that she starred in as the main cast, such as in Neighborhood Hero.
2017
You guys won't be weird if you hear All Night or Holiday from Girl's Generation? In the photo below, which is Yuri's concept photo for All Night, which carries a slightly sexy concept for a party. Yuri's eyes also look like a cat's eye color, blue with little ash brown in the middle.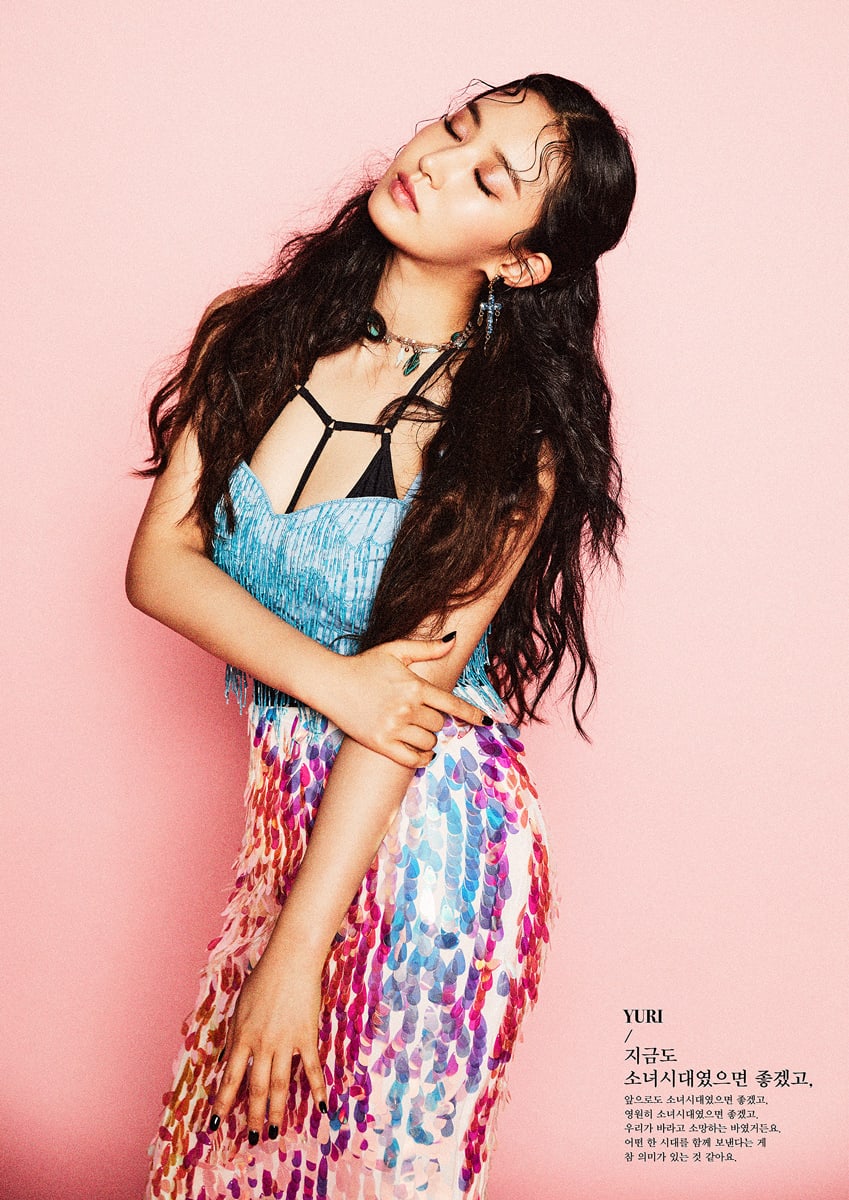 2018
for SNSD's comeback in 2018, the group only had five members left. That year, SNSD's name changed to be Oh!GG with the release of the single Lil Touch, which had a festive concept, if one that was darker and more intense.
In the photo below, Yuri wore a black dress and her hair was shorter, cut above her shoulders. At that time, Yuri looked more gorgeous than before!
2019
After doing a comeback with Oh!GG, Yuri also released her debut solo in 2019. Yuri looks different from her first debut day, not because of her face shape, but because of her aura that radiates on her face and makes her look more mature and pretty than before!
Those are photos showing Yuri's transformation during her 12 years since debuting with Girl's Generation. So, what do you think about Yuri's visual? Don't forget write your thoughts in the comment box!