You Might Have Seen This Face Before
If you are familiar with the face above and have been wondering if he is Winner's Mino, well…the answer is no, he's not, but he kinda looks like Mino doesn't he? Meet Song Gun-hee, better known by his stage name, #Gun (Pronounced Sharp Gun). He is a hip hop rapper who debuted under Starship Entertainment. Although he was making a name for himself as a Starship trainee with various mixtapes, #Gun didn't hit real fame until his feature on Mnet's rapping competition show Show Me the Money 5. He first gained attention as the cousin of WINNER's Song Mino, who won second place in the prior season. The cousins proved just how deep hip hop runs in their blood throughout their respective seasons. After gaining recognition, Starship Entertainment had officially debuted #Gun under their label as a solo rapper. With his debut single, "Beep," #Gun marks the beginning of his own era as everyone wonders if he will be able to step out of his cousin's shadow.
Is that all? No, of course not. If you are wanting to find out more about him and get to know him better, you can do that by scrolling down!
Full Profile
Birth Name: Song Gun-hee
Hangul: 송건희
Revised Romanization: Song Gun-hui
McCune–Reischauer: Song Gŏnhŭi
Stage Name: #Gun
Birth: June 26, 1994
Height: 174 cm
Weight: 64 kg
Blood Type: A
Position: Solo Rapper
Years Active: 2016-present
Labels: Starship Entertainment
Genre: Hip hop
Trivia:
He participated in the MONSTA X Debut Competition No Mercy
He participated in Show Me The Money 5
He released his debut single as a solo artist in 2016
He collaborated with Giriboy on his solo debut
He's younger cousin of WINNER's Mino
SNS: Instagram (@sharp.gun)
Discography
Singles
Title
Year
Peak chart
positions
Sales (DL)
Album
KOR

As lead artist
"Crazy Guy" (미친놈)
feat. Jessi
2016
5
Show Me the Money 5
"Beep"
prod. Giriboy, feat. Crucial Star
—
N/A
Non-album singles
"Sunflower Dance"
feat. Kebee
2017
—
Collaborations
"Rose of Sharon" (무궁화)
with Mad Clown, Donutman, Boi B
2016
12
Show Me the Money 5
"Going Home" (비행소년)
with Mad Clown, feat. Gummy
6
No.Mercy
NO.MERCY (노머시) was a reality survival show which aired on Mnet, and was the show that debuted Kpop boy band MONSTA X. The show was created by Starship Entertainment, who pitted 13 trainees against each other for the chance to debut in a new boy group. The show was broadcast from December 10, 2014, to February 11, 2015, and had various mentors such as K.Will (also the MC), SISTAR's Hyorin and Soyou, Mad Clown, Junggigo, San E, Wheesung, Giriboy, Joo-young, Genius Nochang, and Rhymer. After the competition, the final seven trainees remained and were formed into MONSTA X.
#Gun was one of the 13 participants in the show. Unfortunately, he was eliminated in the 10th episode.
Here is a short glimpse of #Gun's appearances in No Mercy.
Show Me The Money 5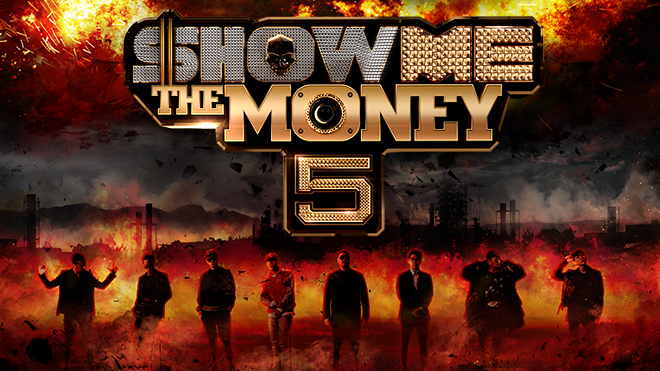 The news of #Gun participating in Show Me The Money 5 was first heard from Winner's Song Mino. Song Mino revealed that his cousin Song Gunhee applied for the fifth season of Mnet's Show Me the Money.
In a 2016 interview, Song Mino said, "My younger cousin will be appearing on the next season [of Show Me the Money]. I told him to get in touch whenever he needs me. I also said how it's crucial to make strong first moves. Otherwise, you'll get overshadowed by others." He also told his cousin to actively practice his rap writing skills.
#Gun was put on team Mad Clown & Gill, and he was eliminated on the episode before the finals. He was doing quite well on the show, and always passed in the challenge rounds. In one of the match-up challenges, he even won against fellow rapper ONE (currently with YG Entertainment) by singing the song "Going Home," which also featured his mentor Mad Clown and singer Gummy. Unfortunately, he lost in the match-up round against C Jamm while singing the song "I miss you, I love you," which featured fellow rapper Jessi. Due to his loss, he was eliminated in that episode and couldn't go on to the next round.
Solo Debut
In 2016, through its official Twitter account, Starship Entertainment released two photo teasers for #GUN's solo debut. The two teasers showed #GUN, looking mysterious in front of a building.
Some rappers, namely Giriboy and Crucial Star, were confirmed to be participating in making this song. Not only that, but the music video for the song was worked on by Invidious and Domcake.
Meanwhile, according to the teaser, #GUN was scheduled to make his solo debut with a digital single that was released on July 29th, 2016. His debut title was named "BEEP," and his debut music video has been watched over 494 thousand times on YouTube.
Latest News
#Gun's latest track was released last year. On April 1, 2019, at 6 p.m. KST, the talented solo artist #Gun revealed the music video for his newest track, "Aquarium". The music video takes on dark colors and sets to bring the plot to life, showing #Gun in a variety of situations from being trapped in a box to being wrapped tightly in cords and unable to escape. The overall story seems to imply anguish and feelings of being trapped by something darker, echoed by a mysterious woman who appears in the video and watches him through the glass of the box.
Meanwhile, the track— which was written and composed by #GUN himself— further adds to the darker sound through a sexy, R&B beat.
Even though he hasn't been very active in releasing new tracks since his latest track, his social media presence is otherwise. He is quite active in filling his Instagram feed. Recently, he updated his Instagram with a picture of him wearing a black mask, which seems to be his way to warn his fans about the Corona Virus crisis that has become a global pandemic, and is a major issue in South Korea. He writes the caption with a simple word, "Hand."
https://www.instagram.com/p/B9t-a0JgouG/
So, those are all the facts that you need to know about the former No Mercy and Show Me The Money 5 contestant, Song Gun-hee, or #Gun. Now, do you feel like you know him better? If so, thank us in the comment box below, xi xi xi!