Remembering the Most Talented Artist SHINee Main Vocalist Kim Jonghyun
Who doesn't know SHINee? The group that debuted back in 2008 has achieved much recognition for their talent in many aspects. The most iconic one is from their vocal color, especially that of the member who is charged as the main vocalist, none other than Jonghyun. He's also written and produced several songs, both for the group and for solo projects.
Sadly, Jonghyun committed suicide back in December 2017. Even though he's not here with us anymore, all of Jonghyun's amazing work in the entertainment industry will never be forgotten at all. For today's article, we will talk about the 'Shiny Foundation,' which is an art gallery that is dedicated to Jonghyun.
Curious and want to know more about it? Don't worry, Byeol Korea has the answer. So without any further ado, let's get into our topic for today!
About Shiny Art Festival
Around September 7, 2018, Jonghyun's family established a foundation to help all youth through the performing arts. Esquire Korea has shared their interview with Jonghyun's mother, Lee Eun Kyung, and the director of the foundation through their Instagram account. Here are the interview results with them:
'Director of the Shiny Foundation, Lee Eun Kyung carefully began to speak. She says, "In my pained eyes, I can see so many youths who are in so much pain right now."
The family of Jonghyun, who shone so brightly have banded together to create a small foundation. On September 6, a simple opening ceremony was held in Cheongdam-dong, Seoul for the opening of the new Shiny Foundation. The foundation was created by a mother who lost her son, who she believed would keep moving forward towards the light to be true to his group name, SHINee, in the hopes that she could reach a hand out to young cultural artists walking down the same path as her son.
They plan to help young cultural artists who are struggling because they don't have an agency to support them. They also plan to work with performing arts high schools to create more scholarship opportunities. Most of all, their main goal is to establish a psychological consultation center that will give young cultural artists a place to heal their souls of the various scars they receive from being public figures. They also plan to hold an arts festival every December to remember and celebrate Jonghyun.
Director Lee Eun Kyung said, "Till now, it still hurts when I go somewhere and I hear music playing that has my son's voice in it. But even though my son has gone, there are people who love and enjoy his music and for that I am always grateful." Though Jonghyun has left this world, Jonghyun's music still remains. The Shiny Foundation will run based on the royalties collected from Jonghyun's music, we still remember SHINee's Jonghyun who still shines so bright."
This is the official post from Esquire's Instagram account:
https://www.instagram.com/p/BnYYcwugjX5/?utm_source=ig_embed
The Korean name of the Shinny Foundation is '빛이나', which is inspired by Jonghyun's solo title track called 'Shinin,' from his posthumous album 'Poet | Artist.' The song was composed and written by Jonghyun himself, and while releasing the album SM Entertainment shared a massage that said:
"We hope that everyone will feel Jonghyun's heart through this song, he was someone who loved music more than anyone and tried to connect with others through music."
1st Shiny Art Festival Event
On December 17, 2018, the foundation held the first event at the SM Town Coex Atrium theater in Gangnam. The place was filled with Jonghyun's closest family, friends, and his fans, who received special tickets through a drawing.
Several SM artists also attend the event, like Girl's Generation's Taeyeon with Yoona, Red Velvet's Yeri, EXO's leader Suho, and SHInee fellow members Key, Minho and Taemin. It wasn't just the SHInee members who came, but their parents also, as well as Onew's mother since he couldn't attend due to military service.
The festival started with a special memorial worship service, which allowed attendees to flow into a time for everyone remember everything that made Jonghyun became an inspiring artist for other people.
Through the theme 'The Story We Will Fulfill Together', this event is not only showcased  pictures and videos, but also handwritings that were dedicated for him.
There was also Jonghyun's music instrument, which everyone could look at and remember the love and passion that he put into every piece of his work. The fans who attended the event also got a chance to write and post their own messages. Let's take a look at these two pictures below: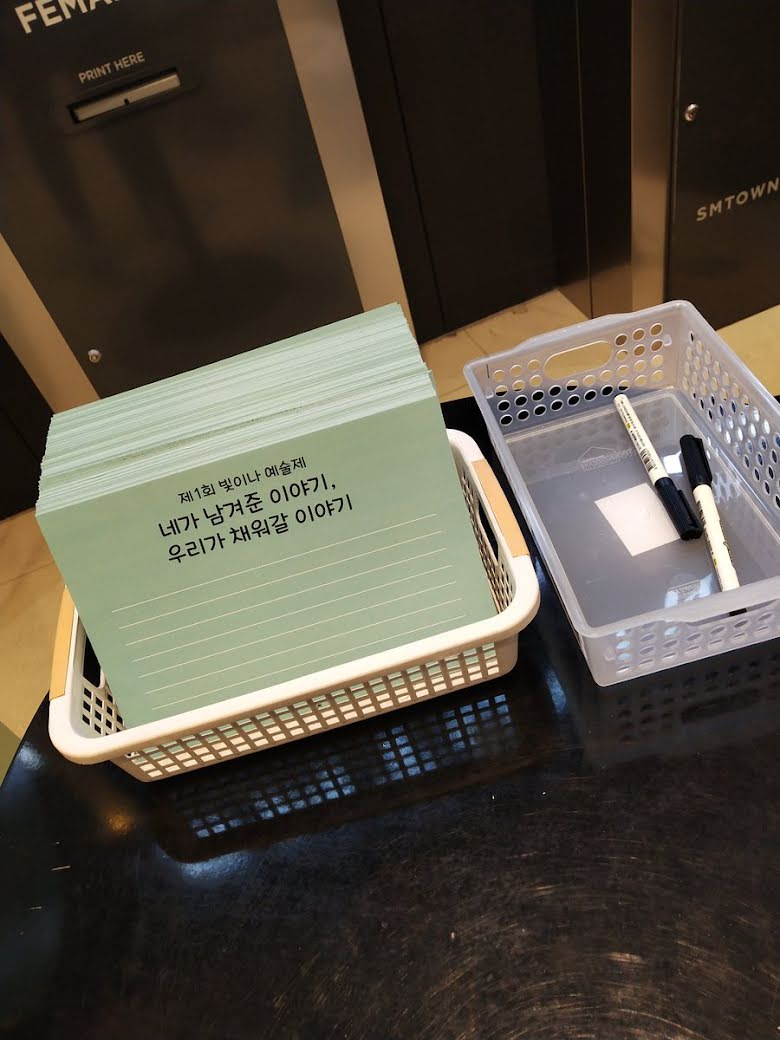 A number of people who have been helped by the Shiny Foundation got together and sang 'Our Spring', which is one of Jonghyun's solo songs, during the event. Let's check out the beautiful performance clip below:
Here is one of the vlogs from one of Jonghyun's fans, where she visited the Shiny Foundation Art Festival back in December 2018.
2nd Shiny Art Festival Dear Moon
The Shiny Foundation held their second art festival on December 21, 2019, at Gwanglim's Art Center, with the theme 'Dear Moon.' It was focused on both the life and career of Jonghyun, and also the primary purpose of the Shiny Foundation.
Based on several fan account owners that came to the event, many of those closest and cherished people by Jonghyun attended. There was SHINee's Minho with Onew's parents and Taemin's parents, Red Velvet's Yeri and Wefreaky's Soojin (he is Jonghyun's childhood and longtime best friend, and also a member of his composition team).
https://www.youtube.com/watch?v=a1tsiHAiwvU
The current students of Zion School, which Jonghyun attended during his teenage years, were invited to perform a song called 'End Of the Day' alongside with Okdal and a number of those that he worked with as a DJ on 'Blue Night Radio.'
The event itself was sponsored by MBC Radio, which was aired during Okdal performing their song called 'Thank You For the Great Work Today.' There was also a performance of 'Only One You Need' and the percussion rendition of 'Hallelujah.'
There was also a segment where they did a poetry reading. You can take a look at the video below!
https://www.youtube.com/watch?v=4C8_MfjpXN4
Several artists who weren't able to come to the event sent heart-warming messages. The artists including SHINee's Taemin, Girl's Generation's Taeyeon, IU, Soran's Go Young Bae, Shinkai Makoto, and Coffee Boy.
To all the people that could come during the event, they said that the second art festival was more 'intimate and raw'. It also feels like there was more of Jonghyun included in the festival, compared to the first one. More of his voice, lyrics, images, and videos about him.
And that was all for today's topic, we hope this article could help you to admire SHINee's Kim Jonghyun more. Even though he's not with us anymore, all of his creations and dedication towards music will be always remembered.
Until we meet again on the next article, see you later everyone~!