Get The New Look From Red Velvet Yeri And Her Make-Up Collaborations with Colette!
It's well known that South Korea is popular for their cosmetics and skincare brands, since there are many people who love and follow K-beauty trends. South Korean beauty brands also often do special collaborations with K-Pop idols. One of the newest collaborations from a South Korean cosmetic brand is between Red Velvet's Yeri and the cosmetic brand Colette! Through this article, Byeol Korea will give you the details about that collaboration, so stay tuned!
This isn't the first time for Red Velvet's Yeri to do a cosmetic collaboration with a beauty brand. Previously, she used to work with some popular South Korean brands such as Etude House, along with the other Red Velvet members. Now, she's doing a new collaboration with Colette by herself! Do you want to know more about the product? Let's get to know more here!
Red Velvet Yeri For Colette
For those of you who haven't heard about Colette, here's a little general information for you! Colette is the cosmetic brand which made Red Velvet's Yeri as their 'muse'. It was also reported that Colette offered the opportunity for Yeri to be a cosmetic brand entrepreneur! She said that through Colette, she could be optimistic for a new experience, as well!
It was revealed that Colette found Yeri through Instagram, and then they wanted to have a collaboration with. They finally decided to use Yeri to be their first muse, as well. Colette explained that Yeri has a cheerful personality, which made them want to incorporate her personality and charm within Colette products through their collaboration!
Colette officially launched the new products on January 8th, 2020, in the form of new lip products. The lipstick comes in several different colors, mostly reddish and brownish coloors. The colors were chosen and named by Yeri. It was also revealed that Yeri wanted to show her respect for a writer from France, Sidonie-Gabrielle Colette. Such a beautiful name, isn't it?
The brand has a vintage, classic concept as well, which many people fell in love with! No wonder, since Yeri was inspired by a writer from France, we can see the 'real' vintage concept within the products! For the lipstick products, the series was called Nuances De Rouge, and comes in eight different colours. Each of lipstick costs approximately ₩26.000, or around USD $22.00!
Even though the company launched eight different shades, the main colors that were influenced by Yeri were Nuances D'Yeri, of which there were two: a red one and the brown one. The red one was called by #07 Yodlé Yeri Rouge, and the brown one was called #08 Chocolat Et Vin. It turns out that Yeri also involved in the making of the lipstick's color, as well!
If you want to look for the products, you can check them out through the company's official website, notrecolette.com! Currently, Colette is only available for shipments in South Korea, and not internationally. But don't worry! Let's wait and hope for the announcement of worldwide shipping to come really soon!
Red Velvet Yeri Teaser Photoshoot For Colette
Since it was her brand collaboration, Red Velvet's Yeri did a vintage and chic photoshoot with the brand Colette! In the pictures, she was looking effortlessly beautiful and showing off some of Colette's lipstick. As you would expect, the shade of the lipstick suits her appearance beautifully!
Not only that, Yeri posted the video teaser for her collaboration with Colette on her Instagram! In the video, she was looking beautiful with the black and white video concept, as well.
Mostly, her concept for the shoot was vintage, classic, and had a lot of floral themes. It could be seen through her floral outfits, the vintage patterns in the background, and the classic decorations around her. Yeri was seen with two shades of Colette lipstick, it was the red one and the brown one from the Nuances D'Yeri series!
Here are some of Yeri's pictures from the Colette photoshoot!
Yeri was looking sophisticated with the brownish vibe! Her brown hair, brown lipstick, and brown blazer blended perfectly!
Yeri was looking gorgeous in that floral printed outfit, right? Her dusty-pink hair really matched with her style, as well!
And the next series, Yeri was dressed in a retro, 18940s style! We can see the 'classic vibe' through her outfit, including the red hat, the pair of leather gloves, and the pink blazer and skirt! She looked like a Parisian woman, right?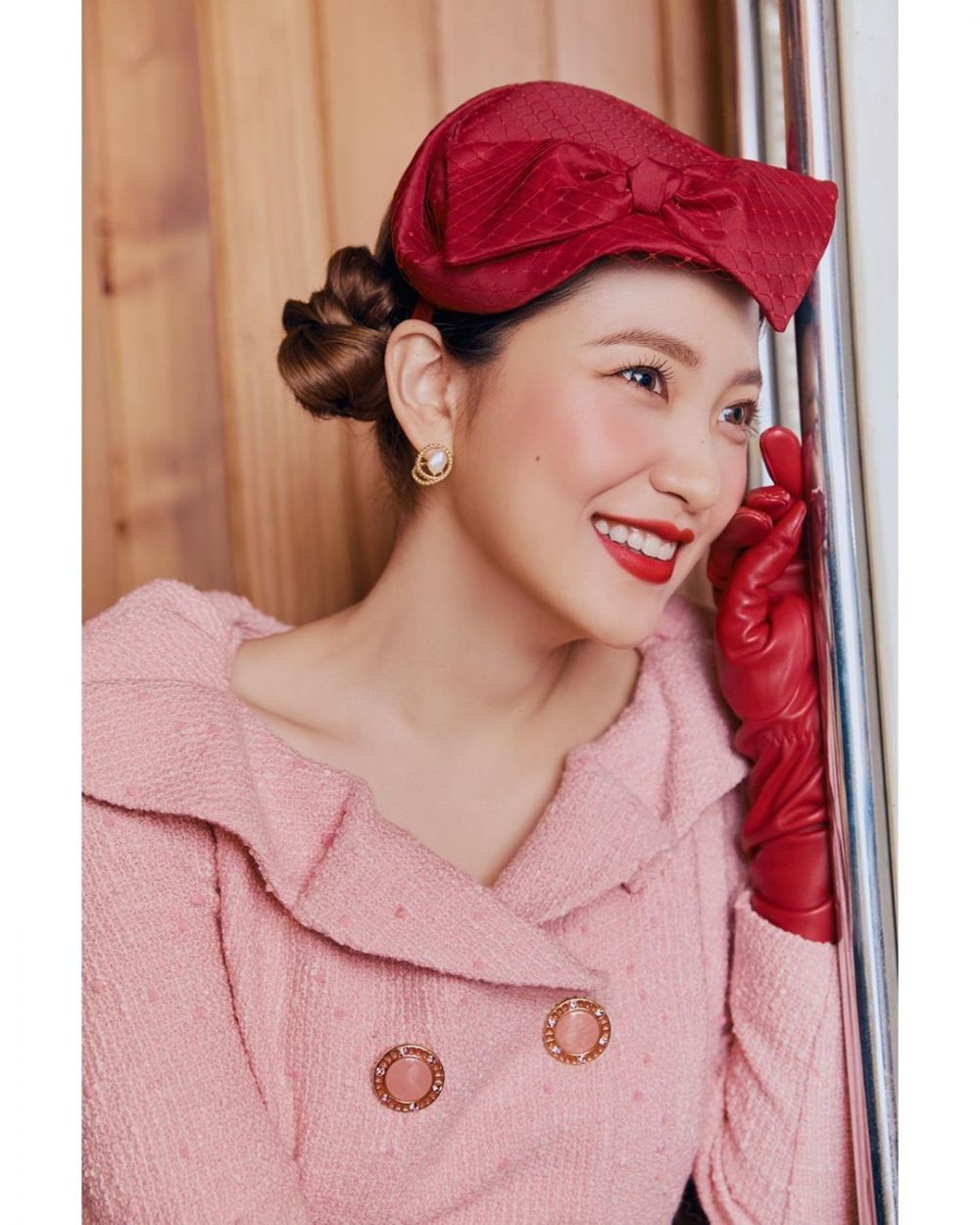 Meanwhile in another series, Yeri appeared with a doll-like, classic look, with a braided hairstyle, blushing make-up on her face, bold red lipstick, and the ruffled white dress!
The official Instagram page for Colette also posted some of Yeri's pictures! You can check them out here:
https://www.instagram.com/p/B9LcRNxnlB_/
For the Yodlé Yeri Rouge, Colette described the name as a pun and a combination of certain words, and the sense of a French, lyrics-driven song. The shade looked like a deep red, colour as well.
https://www.instagram.com/p/B8lCru6nqr2/
Meanwhile, for the shade Chocolat Et Vin, Colette described it as the combination between wine and chocolate. Not only that, they used Yeri's image in a methaporical way.
https://www.instagram.com/p/B7APb1ZHq1s/
https://www.instagram.com/p/B7CwQvuHryO/
Well, that was all of the information about Red Velvet's Yeri's collaboration with the brand Colette! It was proven that in addition to her job as a K-pop idol, Yeri was also optimistic with her collaboration with the beauty brand, as well! We can see that Red Velvet's Yeri was a good fit for the vintage concept, right? If you are looking for a new beauty product, we highly recommend that you try the cosmetic brand Colette! Let's always support Red Velvet's Yeri, and wait for another brand collaboration from her!
Don't forget to tell us which one is your favorite lipstick color from the brand Colette in the comments down below!