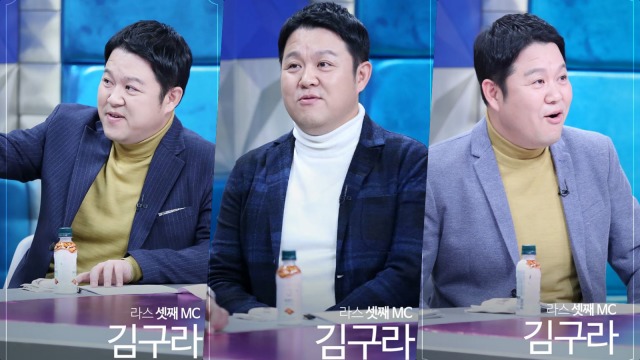 Meet The Scandalous Comedian and TV Personality, Kim Gu-ra
Kim Gu-ra, who originally named Kim Hyun-dong, is a famous South Korean comedian and TV personality. He is being known by some of his controversies. Since his career in 1993, he used to said something scandalous, especially about women. Despite of people's anger toward him, he is very active in entertainment industry as TV host, guest, etc.
Kim Gu-ra also ever being honored to receive a Daesang awards at MBC Entertainment Awards in 2015. This show that even though he made so many controversies, many people still enjoy his appearance on TV and his work is also accountable. Curious to find out more about Kim Gu-ra's personality, life, and career? Let's check it out!
Full Profile of Kim Gu-ra
Real Name : Kim Hyun-dong (김현동)
Date of Birth : October 3, 1970 (48 years old)
Place of Birth : Galsan-dong, Buk-gu, Incheon, Gyeonggi-do, South Korea
Zodiac Sign : Libra
Height : 184 cm
Weight : 100 kg
Blood Type : O
Spouse : Lee Shin-jung (1997-2015)
Child : Kim Dong-hyun (born in 1998)
Nationality : South Korea
Education : Bupyeongbuk Elementary School, Juan Elementary School, Guilong Middle School, Chemulpo High School, Inha University English Language and Literature Department
Occupation : Comedian, MC
Agency : Line Entertainment
Years Active : 1993-present
Career of Kim Gu-ra
Kim Gu-ra first appeared on SBS in the 1993 as a duo comedian with Yong Kyung-hwan in some comedy shows and comedy skits. He later appeared in internet broadcasting and used the name Kim Gu-ra instead his real name Kim Hyun-dong. At the time, Kim Gu-ra keep making sensations for his harsh comments towards some celebrities.
Time by time, despite seeing his bad records for talking in television, his career keep going up as he hosted many shows or being a guest ahead. Almost every show that he hosted will become success. Although he keep throwing sensation in his comments, he is well known for his blunt yet humorous attitude when hosting TV shows.
In April 2012, he took some months of hiatus due to his controversial audio clip in 2002 from a radio program, also some of his comments was not acceptable at the time. He decided to rest for a while from entertainment industry. In January 2013, he returned to television by hosting new variety show on JTBC titled Men's Stuff with Lee Sang-min.
NEXT >>>