Meet the Long Lost Twin Brother of Infinite L from the Rookie Group X1 Cha Jun Ho!
The last season of Mnet's idol survival show program Produce X 101, has caught a lot of attention from the public. Started by the big 3 company that joined the show, participants come from various underrated boy-groups and some trainees with their outstanding visual and talent.
One of the trainees who got attention for his amazing visual and body figure is Cha Jun Ho, one of the trainees from Woolim Entertainment. He also entered the final line up and became a member of X1.
So, are you curious to know more about Cha Jun Ho?  Without any further ado, let's get into the topic, below!
Cha Jun-ho Profile
Birth Name: Cha Jun Ho (차준호)
Stage Name: Jun Ho (준호)
Birthday: July 9, 2002
Nationality: Korean
Height: 178 cm (5'10")
Weight: 63 kg (139 lbs)
Blood Type: A
Zodiac Sign: Cancer
Chinese Sign: Horse
Company: Woolim Entertainment
PDX101 Class: C-C
Position: Vocalist, and Visual
Fun Facts About Cha Jun Ho
Early life and Family
He is from Hongseong Gun, South Chung Cheon.
A student of Hanlim Multi Art High School.
Has 1 older brother and 1 older sister.
Personal Traits and Facts
Junho's nickname is ChaCha.
His hobbies are watching movies and goblin language.
Junho's skill is singing.
Hes a vocal major, also a classmate with Han Cho Won (Produce 48 contestant), TXT's Taehyun, and Heuning Kai.
Junho has been a trainee for a year and 3 months, since the show started.
Produce X 101 Days
He sang 'Me After You' during his first meeting with the producer and staff of the show.
Some trainees and fans stated that Jun Ho resembles his senior, L from Infinite.
Jun Ho is a very quiet and reserved person when first meeting with new people, so he tends to keep a lot to himself, which makes him come off as robotic.
Jun Ho was really close with Yohan. They have been together since the blue carpet.
When Jun Ho received a remark about him being a robot, Yohan was there to help him practice, especially in dancing.
Jun Ho ranked at the 9th position, with total 756.939 votes.
His overall, total votes are around 2.449.939 votes.
During X1 Days
Junho shares a room with Minhee and Hyeong Jun (from Idol Radio 9/5/19).
He is in the 'Lucky Guy' team. (WeKpop).
Jun Ho, Yohan, and Seung Woo were known as the 'We Bear Bears' trio, because they've performed every song together in Produce X 101.
Joined Produce X 101 as Woolim Trainee
Cha Jun Ho and the other Woolim Entertainment trainees joined the last season of the Produce series. In the group audition, they performed Infinite's song. Here is their first entrance and performance in the show:
Here are the compilation videos of Cha Jun Ho's solo and duo audition screen time in Produce X 101:
During the trainee introductions, Jun Ho showed off his 'Goblin Language' skills. IZ*ONE also watched the video, as well. Let's check it out:
For the theme song 'X1-MA', Jun Ho was at the C rank class, which means that he and the other C class students were at the side row (either left or right) position.
Here is Jun Ho's focus cam performance of X1-MA bellow:
In group battle, Jun Ho choose NCT U's hit song, 'BOSS'. Here is the focus cam performances:
During position evaluation, Jun Ho choose to be on the vocal team along with Yohan, Seung Woo, and the other 2 contestants. They performed 'Me After You'; here is the cut of the team moments and Jun Ho's focus camera performance:
https://www.youtube.com/watch?v=IU0nS-XKPxY
Cha Jun Ho's behind the scenes for his performance with the vocal team:
And here is the performance of Jun Ho, showing off his wonderful singing ability:
Produce X 101 also did several daily vlogs with the contestants. For Jun Ho himself, he appeared on the 7th episode vlog, along with Hyunbin and Wooseok. Here is the vlog video of him for you guys:
On the concept evaluation, Cha Jun Ho and his team mates performed 'U Got It'. Here is the clip from during a rehersal session, below:
And here is the focus camera performance of Cha Jun Ho:
On the final episode, Jun Ho was able to enter the final line-up. He was at the 9th ranking with total 756.030 votes. Jun Ho was able to debut and became an official member of X1. Here is the emotional clip of him:
Here is Cha Jun Ho's ranking history from the first to the last episode:
Here is the final performance of Jun Ho in episode 12. He and the other contestants performed 'Dream For You'.
https://www.youtube.com/watch?v=8xIdzq0XBqk&feature=emb_logo
A brief compilation of Cha Jun Ho's cute and funny moments in Produce X 101, let's check the out, below!
https://www.youtube.com/watch?v=JYdYMliBpoY
https://www.youtube.com/watch?v=FoEO7HyYu2I
Debuting with X1
After becoming one of the winners on Produce X 101 in the 9th position, Cha Jun Ho officially became one of the member of X1. Before debuting, X1's first reality show, X1 Flash aired on August 22.
Jun Ho and the other X1 members finally debuted on August 27, under Stone Music's Swing Entertainment, with a showcase that was held at the Gocheok Sky Dome.
Here is the video of X1's Premier Showcase for you guys:
Their debut album, 'Emergency: Quantum Leap', released on August 1 with a title track called Flash.
Here is the official music video for you guys:
And here is Cha Jun Ho's focus camera for the 'Flash' performance:
X1 got their first win on September 3, through SBS MTV's 'The Show', only one week after their official debut! Here is the clip for you guys:
Comparing Cha Jun-ho Pre-debut Photos with His Recent Looks
After almost any idol makes their debut, there are always fans or even netizens that try to dig up more information about them, especially their looks. One of them is this X1 member that resembles L from Infinite, Cha Jun Ho.
After finding his pre-debut picture, many fans and netizens have speculated that Jun Ho only used a diet plan that makes his face shape looks a bit different, but some of them believe that he underwent plastic surgery.
Now let's take a look for a moment, and compare carefully his pre-debut pictures, below:
Here are netizens reactions after seeing Cha Jun Ho's pre-debut pictures:
His face is a lot more different than the puberty face now.. did you get a lot impression then? I thought, of course we didn't have a good photo from middle school ㅋㅋㅋㅋ I'm so sorry to know that Produce's has already begun to hurt these kids, let's not do something that is useless.
I don't know anything about the picture, but I don't think he can get plastic surgery because he's still to young.
Dieting more is much better than plastic surgery.
It's like his nose shape is changed?
So, did you agree with all these K-netizens comments??
Cha Jun Ho Brother What Does He Look Like?
We've already said that Jun Ho has 1 older sister and 1 older brother, but one of them,  his brother, supports him before and during the show by posting on his Instagram account.
The caption translation says:
"Produce X 101 Season 4
Please support the dream of my brother Jun Ho, who just turning 18 years now.
He has been living his life well, unlike his sister.
Once the show started, please vote for him a lot <3
Woolim Cha Jun Ho."
Jun Ho's brother even went to the Produce X 101 final episode live show to support him. During some segments, the production team shot Jun Ho's brother. Here is his picture during the final live show: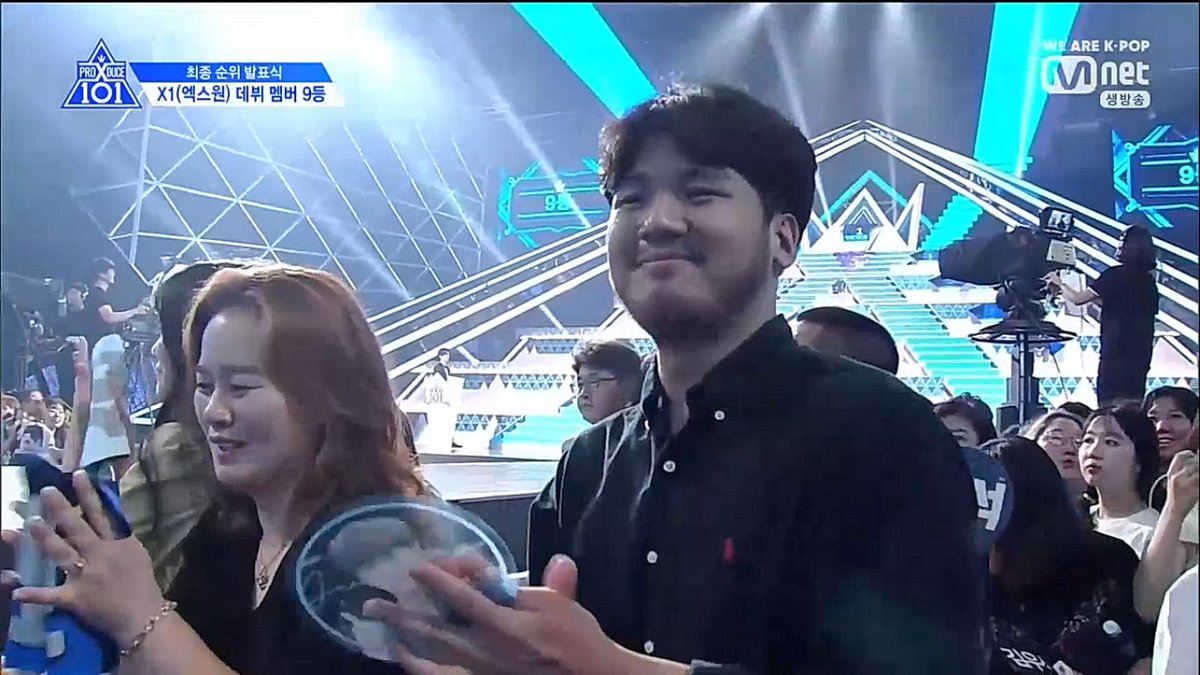 And here is a complete picture of Cha Jun Ho's family:
List of Cha Jun Ho Active Fansites
Every K-Pop idol has their own fans, but not only that, these fans also take their idol's picture everywhere and at any time. These fans were called as 'Fansites', and guess what, Cha Jun Ho already had 20 active fansites even before the Produce X 101 show started yet! This makes him the contestant with the most fansites out of all the people who participated.
Now let's take a look at several of Jun Ho's active fansites on Twitter, below:
junho_kr
RainyDay
SchaffenJH
chocolate_box02
moulinrouge0709
cha_crispy
PUTLOVE_0709
Yayacha0709
https://twitter.com/Yayacha0709
Cha Jun Ho Signature Poses
Woolim Entertainment trainee and member of X1, Cha Jun Ho, was well-known by the fans for his appealing visual and calm personality, even before the Produce X 101 show started.
Not only that, he's also known for his special poses, as well. Let's check them out right away, and see which poses have become his identity now, with these pictures, below!
Latest Updates About Cha Jun Ho
On September 19, X1 was on a radio show called 'Midnight Idol', that was hosted by Ha Seung Woon. They all had a chance to talk about a lot of things, including their favorite things about each other.
During the show, a fan sent a question to ask which member they'd be fan of, if they were 'One It' themselves. As for Cha Jun Ho, he said that his choice changed every day, but during that day on the radio show he chooses Cho Seung Yoon. Jun Ho described how Seung Yoon has a certain energy about him, which makes it as his natural part.
He also knew and admitted that Cho Seung Yoon worked really hard to make the atmosphere become much better than before. Hearing that, Seung Yoon laughed, and then joked, "Ah, you finally recognizing how I'm trying hard for that," before thanking Jun Ho.
And that's all for today's topic about Cha Jun Ho from his Produce X 101 era until now. We hope this information can help you to know about him more, especially for the new 'One It'.
Make sure to like and share this article, so the other fans might know and be updated for the latest news about their favorite idols on Byeol Korea. Until next time, see you guys in the next article!