Get Closer at EXID Hani's Performance
They're officially back! EXID, the girl group whose name stands for "Exceed in Dreaming," has made their latest comeback with the song "I Love You." Not only they have come back to the stage with a new song and dance, but the girls are coming with the full team. The funky retro-pop track marks the return of lead vocalist Heo Solji, who took a break from the group last year due to hyperthyroidism-related health issues.
Each of the group's members has marked her own come back with fresh new air with their catchy songs and dance. Not to mention the face of the group, Hani. Ahn Hee-yeon, her actual name, became very popular after her fancam in EXID's top song, "Up and Down," went viral. If you want to watch Hani's performance in "I Love You," EXID's latest comeback song, keep scrolling and check this out!
The Comeback With the Single "I Love You"
In November 2018, EXID made a full group comeback with Solji for the first time in two years.
Solji was unable to promote with EXID since 2016 and missed out on the promotions for the 4th mini-album Full Moon due to health issues. After years of treatment, Solji has finally recovered and EXID is reportedly gearing up for their long-awaited full group comeback. Their goal was to return this fall around September or October.
A representative of EXID stated, "Solji's health has become better. She will be included in EXID's promotions from now on."
In fact, EXID has already started promoting together as a group of five. Solji participated in EXID's recent schedules in Japan.
"I wanted to come back quickly, to be honest," Solji reportedly said. "It's a little later than I expected, which we want to apologize to fans for. But I'm glad we managed to release a record as a five-piece group this year." She made her formal return last year, when EXID released a Japanese remake of their hit song "Up & Down" in August. Prior to that, she was most recently in last year's "DDD."
Besides the full team comeback, this song is special since one of the members, LE is the songwriter. The new single was written by EXID's LE with producer Shinsadong Tiger and is fronted by a bombastic sample of the repeated phrase "I love you like lalala." Like the best of EXID's songs, "I Love You" is an addictive dance track that revels in the group's lush power vocals from Solji and Hyelin while pairing them with Hani and Jeonghwa's smoother tones and LE's fierce rap. '80s-inspired synths and techno melodies make appearances, continuing the group's dedication to throwback sounds, like on April's homage to the '90s song "Lady."
Hani in the Music Video of "I Love You"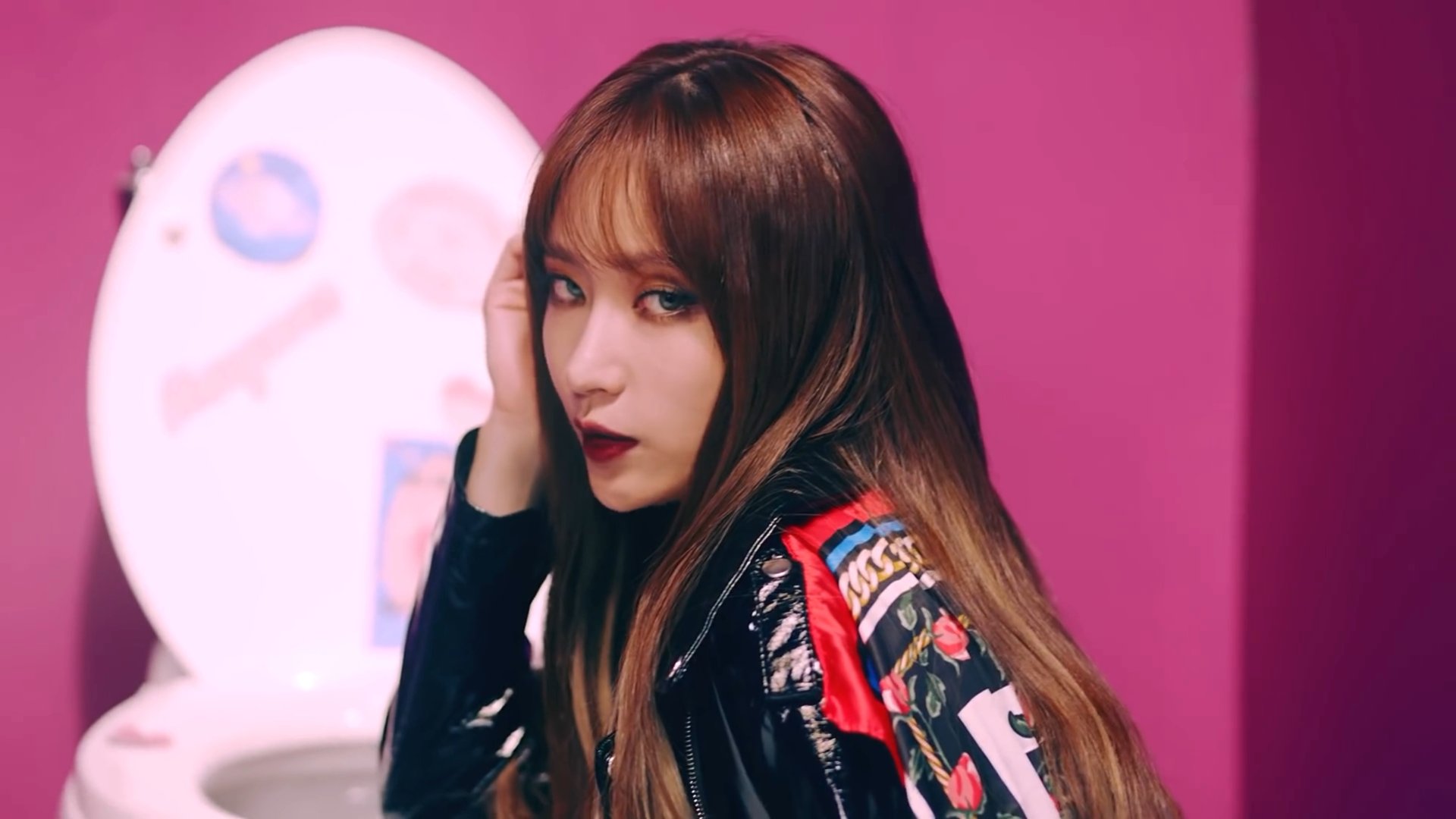 The release of "I Love You" was paired with a humorous, Muppet-filled music video that features the women getting over heartbreak and rewinding time — literally, thanks to some VHS tapes. Only a group as confident in themselves and their music as EXID can create a video that has them posing as broken-hearted wrecks, vomiting over toilets and all, while still coming off as immensely stylish and empowered, donning both party clothes and red power suits.
There is also a cut version of the MV which shows Hani's section!
According to SBS PopAsia, here are the moods from Hani in the "I Love You" MV
Sleepy and tired, even the toilet becomes a good place to sleep. We've been through it too, Hani!
2. Who else ever does this? So relatable!
3. Crying in the club.
4. The moment after your bae replies to your message
Here you can watch the full MV!
Hani's Performances on Music Show
Like any other group, after the song "I Love You" was released, EXID's schedule got full of promotions and performances in music shows. Their live performance is the one that all fans are eager to see. Without further explanation, here are the top live performances of EXID's full-team comeback with "I Love You." 
M Channel M-Countdown performance
This performance marked their first live performance in promoting "I Love You." They also sang "Up & Down" and an intro. In this performance, all of them wore patterned and full-color blazer and pants with an inner crop. Hani wore a turquoise top and bottom with an inner checkboard crop top. She looks stunning, doesn't she?
In this performance, Hani wore a black glittering blazer with some bold makeup. As always, she looks very pretty and her dance is really catchy. Hani never disappoints us!
No wonder, Hani is called the face of the group. You can see how good her performance is here!
Hani's Popular Fancam(s)
Remember the famous EXID's Hani fancam that caused "Up & Down" to dominate the digital charts weeks after its release?
After the release, the viral fancam successfully recorded over 20 million views on YouTube, making it the most viewed fancam that focuses on one specific member.
This video was originally posted on October 8th, 2014, and caused an unexpected, abnormal phenomenon at the time. While "Up & Down" was originally just outside of the top 100 on most music charts upon its release in August 2014, this fancam, along with a couple of other similar videos, single-handedly re-kindled an interest in the song a few months later. The song would even eventually win number one on several music shows.
Regarding the fancam itself, Hani says, "First, I'm surprised and thankful that many people still like [the video]. Every time I watch it, I vividly remember how we were stuck in a difficult situation back then. Whenever things get rough, I gain strength by watching that fancam myself."
She also explains how it felt like a gift from the heavens when they were at their lowest. They gained the public's love and attention because of that fancam, and it's the reason they are able to stand where they are today. The idol thanks everyone one more time, and promises to work even harder.
If you are curious about her "Up & Down" fancam, check out the video below!
And this one is Hani's fancam for "I Love You"
Who else can't wait for their comeback in 2019 with the full team?