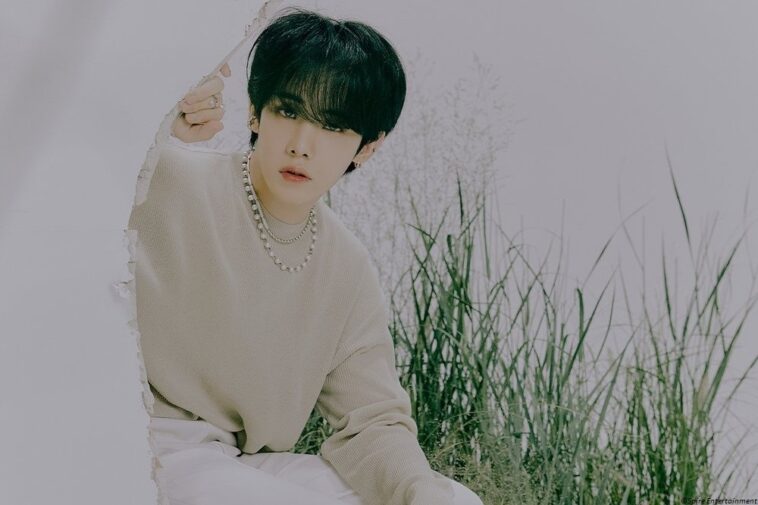 Everything You Need to Know About OMEGA X Lee Jin-woo a.k.a Xen Here!
OMEGA X (Hangul: 오메가엑스) is a South Korean boy group that debuted under Spire Entertainment on June 30th, 2021, with a line-up of 11 original members including Jaehan, Hwichan, Sebin, Hangyeom, Taedong, Xen, Jehyun, Kevin, Junghoon, Hyuk & Yechan. Most of the members had already debuted previously as members of various K-Pop groups that are now inactive or disbanded.
In this article, there's a piece of detailed information about one of the members of OMEGA X, and also a previous member of 1TEAM. Do you know who is he? Well, he is Lee Jin-woo, or now also known as Xen! Let's get closer with him and find out more about OMEGA X's Xen starting from his full profile, to fun facts, and his debut, in this article below.
OMEGA X Xen Profile
Real Name: Lee Jin-woo (Hangul: 이진우)
Stage Name: Xen (Hangul: 젠)
Place and Date of Birth: Gyeongsan, Gyeongsangbuk-do, South Korea, February 20th, 1998
Star Sign: Pisces
Height: 172 cm (5'8″)
Blood Type: A
Family Members: Parents and an older sister (born in 1995)
Religion: Protestant
Education:
Daegu Siji High School
Global Cyber ​​University (Department of Broadcasting and Entertainment)
Nationality: Korean
OMEGA X Xen Fun Facts
OMEGA X's Xen's MBTI is INFP
OMEGA X's Xen is a former member of the group 1TEAM, under the stage name Jinwoo
OMEGA X's Xen's favorite food is ramen and his favorite brand is Jin Ramen spicy
OMEGA X's Xen's favorite snacks are Clementines, Oranges & Cheonhaehyangs
OMEGA X's Xen's role models are Justin Bieber, Zayn Malik, Jay Park, and Crush
OMEGA X's Xen shares the same birth name as GHOST9's Jinwoo
OMEGA X's Xen and Hyuk don't like pineapples on pizza
OMEGA X's Xen was the last member of the group to be revealed. The roman numerals at the end of his debut trailer represent his birthday (CCXX = 220 [February 20th])
OMEGA X's Xen often sings Jay Park's songs in V-App Karaoke
OMEGA X's Xen likes listening to Jay Park's "All I Wanna Do"
OMEGA X's Xen dreamed of becoming a singer after hearing the song of Dongha Jeong, who was the vocalist of Bohwa (band)
OMEGA X's Xen's favorite flavors of Baskin-Robbins are Strawberry in Love, New York Cheesecake, and Gone with the Wind
OMEGA X's Xen likes orange juice the most, but he drinks Coke when he eats meat
OMEGA X's Xen has a chocolate allergy, so he can't eat any kind of chocolate
OMEGA X's Xen has so many ear piercings; 8 piercings to be precise, 4 on each of his ears
OMEGA X's Xen is the shortest in the team, but his proportions are good. He finally got out of the shortest body while promoting Omega X!
OMEGA X's Xen's upper lip is thick and somewhat protruding, and he seems to think of it as his most attractive point
OMEGA X's Xen has a habit of frowning his forehead and nose when singing
OMEGA X's Xen has 4 tattoos
OMEGA X's Xen previously appeared as a contestant in Superstar K7 and introduced himself as the Daegu dancer Lee Jin-woo
OMEGA X's Xen was a former trainee of Liveworks Company from 2017 to March 2019
OMEGA X's Xen used to have the candidate stage name Taein, but due to a specific religious term, the group choose Xen as his stage name
OMEGA X's Xen dreamed of becoming a model when he was in school, but he's not growing taller anymore
OMEGA X's Xen practiced for an audition while learning dancing and singing in the audition class of Five Music & Dance Academy located in Jung-gu, Daegu Metropolitan City
OMEGA X's Xen can sometimes speak the Daegu dialect because he is from Gyeongsan, Gyeongsangbuk-do
OMEGA X's Xen has a complex about his small hands (short fingers), and it is said that he had a habit of sucking his fingers when he was young
OMEGA X's Xen is dreaming of becoming a mukbang YouTuber and he wants to be a YouTuber in the future
OMEGA X's Xen's favorite colors are black and burgundy
OMEGA X's Xen is a fan of the game League of Legends and he sticks to one character for a long time
OMEGA X's Xen has a sun allergy
OMEGA X's Xen attended art academy until the 6th grade of elementary school. It was said that his mother was a kindergarten teacher, and she mainly taught art. He recently developed a hobby of painting
OMEGA X's Xen searches for his name in search engines very often
OMEGA X's Xen had the experience of living in Sillim-dong, Seoul, when he was 20 years old
OMEGA X's Xen served as the vice president of the entire school in the 5th grade of elementary school and the president of the whole school in the second semester of the 6th grade
OMEGA X's Xen's English name is Royn, which he gave to himself
OMEGA X Xen Debut as a Member of 1TEAM
On March 27th, 2019, Liveworks Company enabled the debut of 1TEAM, and on March 14th, 2021, they officially announced their disbandment and terminated their contract with Liveworks Company. After the contract termination date, 1TEAM's official fan café is semi-closed and no posts can be confirmed. At around 22:10 on March 14th, the date of disbandment, the following last letter was uploaded to their official café.
In 1TEAM, the oldest member of the group and Xen got along well, and they often joked around and hit each other. Jinwoo often looks at one of their members, BC, after acting unexpectedly or playing pranks, and whenever that happens, BC accepts it even though he is genuinely absurd. A gag point for fans watching the two of them quarrel.
1TEAM made their debut with the release of their 1st mini-album titled Hello! in March 2019 and promoted with a line-up of 5 original members, such as Rubin, BC, Jinwoo, Jehyun, and Junghoon. They released a few singles such as "Vibe (습관적 Vibe)", "Rolling Rolling (롤링롤링)", "Make This", and had their last promotion with "Ullaeli Kkollaeli" in August 2020.
What do you think about Lee Jinwoo's debut as a 1TEAM member?
Xen Debut as an OMEGA X Member
After 1TEAM disbanded in March 2021, he moved to Spire Entertainment and debuted as Xen of OMEGA X. There was someone in the same group with the same real name as him, so he decided to use the stage name instead of Jinwoo's real name. On June 30th, 2021, they debuted with their first mini-album titled VAMOS with the same debut single and held a debut showcase at Sejong University's Daeyang Hall.
Although he has a playful and mischievous face, OMEGA X's Xen is surprisingly serious and mature. OMEGA X's Xen uses respectful words to address his fans, and he is good at making good mottos, like, "Let's make the future together." On the stage, OMEGA X's Xen does everything alone with a positive vibe and when he comes down from the stage, he becomes a pure boy.
To achieve his dream of becoming a singer, he went through a long trainee period and put a lot of effort into it. Now that his dream has come true, he is truly happy to sing on stage. "It's my passion. I do this because I really love this job of being a singer. The fans all have their own main jobs. Still, I can feel the love they have for us," OMEGA X's Xen said.
OMEGA X's Xen is passionate about work and has a strong desire for success. He also confessed that he was in a slump when preparing for 1TEAM's 3rd album and his grades didn't match his efforts. However, he seems to have succeeded in overcoming it with a strong mentality.
OMEGA X's Xen also shows a lot of affection. He admits that he wasn't cute, not because of intentional aegyo, but with inherent and natural aegyo. He thinks his strength is that he can speak frankly, but he has a shy personality. However, there is almost no shyness at autograph sessions and the like.
What do you think about OMEGA X's Xen's debut era?
---
Well, that was all the information about OMEGA X's Xen and everything you should know about him. Let's keep sending him a lot of love and support, so his career can shine even brighter in the future. If you like this article, please don't forget to kindly share it on your social media and stay tuned for more interesting upcoming articles from Byeol Korea!