South Korean Girl Names and Meanings
Mostly Korean names are a combination of the family name and the last name. Like Chinese names, Korean names are also made of two Sino-Korean morphemes. Traditionally, family names consisted of only one syllable which was later sub-divided into clans that are identified by specific places and origin.
Many K-Pop idols use stage names instead of their nationality names given at birth. The reasons are various from having a name that is easier for their Korean fans to pronounce to just wishing to convey a different image than their given names. Nevertheless, their real names (Korean name) actually have some great meanings behind them. Let's check out some of the female idols' and singers' name meaning!
Female Idols And Singers Name Meanings
K-Pop idols are not just musically talented, but are also naturally beautiful. Some of them even have a beautiful meaning in their names. If you are curious to find out the meaning behind the names of some of the popular female idols and singers keep scrolling down.
BoA Precious Jewel
Kwon Bo-ah (권보아), known professionally as BoA, was born on November 5th, 1986. BoA is a South Korean singer, songwriter, record producer and actress active in South Korea and Japan. BoA has been recognized as one of the most successful and influential Korean entertainers throughout her career. The name is an acronym of "Beat of Angel" and "Best of Asia," though it later became a backronym of "Bring on America" when she was being promoted for her American debut. BoA's multilingual skills (she speaks Japanese and English along with native Korean and has recorded songs in Mandarin) have contributed to her commercial success throughout East Asia.
Bom Spring
Park Bom (박봄) was born on March 24th, 1984. She was previously known mononymously as Bom. Bom is a South Korean singer. She is best known as a member of the South Korean girl group 2NE1. In an interview, Bom has said, "Spring means a new beginning. My mom made my name like that. My name is "Bom," which is "spring" in Korean. New flowers grow up in the spring. It's a new start, a new beginning."
Recently, Bom competed in Mnet's reality television competition Queendom. She released three singles throughout her run in the competition: covers of "Hann (Alone)" by fellow competitor (G)I-dle and "Eyes, Nose, Lips" by former labelmate Taeyang, and an original song titled "Wanna Go Back."
Bomi Universal Beauty
Yoon Bo-mi (윤보미), better known as Bomi, is a South Korean singer, songwriter, and actress. She was born on August 13th, 1993. She is best known as a member of the South Korean girl group Apink. The name Bomi means springtime, as evident from the word 'bom' (which is spring), this name has a nice ring to it. It is a popular choice for many Koreans.
Byeol Star
Moon Byul-yi is a South Korean rapper, singer, songwriter, and actress. She is the main rapper of South Korean girl group Mamamoo. She was born on December 22nd, 1992. Most commonly known as Moonbyul, she made her debut as a solo artist with the release of the digital single, "Selfish" featuring Seulgi in May 2018. The name means Moon Star. "Byul" is the Korean word for "star." Recently, Byul released her debut EP, Dark Side of the Moon, on February 14th, 2020.
Chanmi Praise
Kim Chan-mi, simply known as Chanmi, is a South Korean singer. She is best known for her work as a member of the South Korean girl group AOA. She was recruited by FNC Entertainment and became an FNC trainee during middle school.
Chanmi means "praise." The similar words of Chanmi are gamtan, yeong-gwang, ching-chan. Another idol who has Chanmi as a real name is Chung-ha.
Kim Chung-ha (김청하) was born with the name Kim Chan-mi [김찬미] on February 9th, 1996. Chung-ha is a South Korean singer, dancer, songwriter, and choreographer.
Dasom Love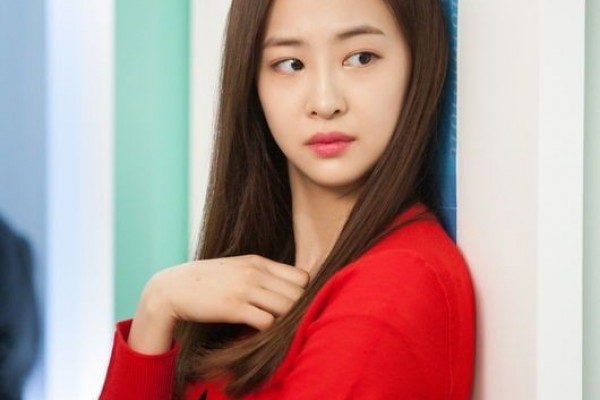 Kim Da-som is a South Korean singer and actress. She is best known as a former member of the popular South Korean girl group Sistar under Starship Entertainment. She has also acted in films and television dramas. In June 2010, Dasom made her debut as a member of Sistar on KBS Music Bank with their debut single "Push Push." The name of Dasom in Korea means "Love, Wisdom, Wisdom of Love."
Eunha Galaxy
Jung Eun-bi was born on May 30th, 1997. She is better known by her stage name Eunha. She is a South Korean singer and actress. She is the lead vocalist of the girl group GFriend.
The name Eunha is from Sino-Korean 銀 (eun) meaning "silver" combined with 河 (ha) meaning "river, stream, creek" or 銀河 (eunha) meaning "galaxy," as well as other hanja combinations. Eunha means galaxy or milky way.
Eunjung Grace
Hahm Eun-jung, known professionally as Eunjung and also Elsie, is a South Korean singer and actress. She won the Little Miss Korea competition at the age of seven and debuted as a child actress in the same year getting a part in the television drama A New Generation of Adults in 1995. The name Eun Jung means grace and affection.
Gaeun Beautiful and Kind
Cho Ka-eun (조가은) is a South Korean singer. She is a former singer of the Korean Girl Group Dal Shabet. She left the group in December 2015 when her contract expired.
Ka-eun got married to her longtime non-celebrity boyfriend in Seoul in 2018. The name Gaeun means beautiful and kindness. From Sino-Korean 佳 "good, auspicious; beautiful; delightful" and 恩 "kindness, mercy, charity."
Heejin Precious Pearl
HeeJin (희진) is the first revealed member of LOONA and a member of its first subunit, LOONA 1/3. She debuted on September 26th, 2016 as a member and subsequently released her solo single album HeeJin on October 5th, 2016.
Heejin was named by combining her parent's names: taking "Hee" from her mom and "Jin" from her dad, w/ Chinese characters "田姬振". Hee means girl and Jin means to make fame/power, to be known widely. So her name means: "Girl whose fame will be known." Also, the meaning of Heejin is "pleasure" or "precious," as "hee" means "enjoyment" and "jin" means "pearl."
Hyerin Beautiful Jade
Seo Hye-lin (서혜린) is a South Korean singer. She is best known as a member of the South Korean girl group EXID.
The name Hyerin means intelligent and pure. The other meaning of Hyerin is vocal queen. From Sino-Korean 慧 "bright, intelligent" or 惠 "favor, benefit, confer kindness" (hye), and 潾 "clear water" or 璘 "luster of jade" (rin).
HyunA Shining and Elegant
Kim Hyun-ah (현아) is a South Korean singer-songwriter, rapper, and model. She debuted as a member of the girl group Wonder Girls in February 2007. Hyuna has released six extended plays since her professional solo debut and has collaborated with several artists under Cube Entertainment. Recently, she released a single titled "Flower Shower," her first release under P-Nation.
The name Hyun-A means Elegant. From Sino-Korean 泫 "weep; cry; shine, glisten" (hyeon) and 我 "our, us, I, me, my, we" or 雅 "elegant, graceful, refined."
Miyoung Everlasting Beauty
Stephanie Young Hwang, famously known professionally as Tiffany or Tiffany Young, is an American singer. At the age of fifteen, she was discovered by South Korean entertainment agency SM Entertainment. After two years of training, Tiffany debuted as a member of the girl group Girls' Generation (and later its subgroup Girls' Generation-TTS) in August 2007. The Korean name of Tiffany is Hwang Mi Yeong. Hwang Mi Yeong means Beautiful flower. It can also mean Everlasting Beauty.
Sooyeon A Perfect Lotus Flower
Jessica Jung, widely known as Jessica, is an American singer, actress, and fashion designer known for her work as a former member of South Korean girl group Girls' Generation. Soon, Jessica is to publish her debut novel, Shine, in the fall of 2020 as part of a two-book deal with Simon Pulse, an imprint of Simon & Schuster.
Jung revealed that her birth name, as on her passport, is Jessica Jung, whereas her Korean name Jeong Soo-yeon was only obtained on a later date due to necessity. She describes herself as "Christian curious" and goes to church. The name Sooyeon is composed of "Soo" which means "luxurious/elegant" and "yeon" which means "beauty," so Sooyeon means "Elegant beauty."
K-Pop Girlgroup Names
K-Pop Groups bring out charms and uniqueness with their names. Some may sound new and creative, some may even come up from acronyms, and some of them, unexpectedly, have even been inspired by science. Let's take a look at the meanings of some of the popular K-Pop Girl Groups' names.
2NE1
2NE1 (투애니원, IPA: [tʰu.ɛ.ni.wʌn]) was a South Korean girl group composed of Bom, CL, Dara, and Minzy, formed by YG Entertainment in 2009. In April 2009, Yang Hyun Suk stated that 2NE1's debut song would be a hip-hop and reggae oriented track. "Fire" was released on May 6th, 2009, and was accompanied by two music videos. The song also went to number one on various charts and garnered 2NE1 their first music station award on Inkigayo.
The group's name was initially announced as 21, however, due to the discovery of a singer with the same name, the group was quickly renamed 2NE1. The name, pronounced in Korean to approximate English as "To Anyone" or (US) "Twenty One," combines the phrases "21st century" and "New Evolution." In conclusion, 2NE1 is less an acronym and a unique stylization of the phrase "New Evolution of the 21st Century."
4Minute
4minute (포미닛) is a five-member South Korean K-Pop girl group under CUBE Entertainment. 4Minute consists of Nam Ji-hyun, Heo Ga-yoon, Jeon Ji-yoon, Kim Hyun-ah, and Kwon So-hyun. They debuted through the Mnet M! Countdown show on June 18th, 2009 with the song "Hot Issue."
The name 4minute has two meanings. One regarding the fact that each of the members will attract audiences in 4 minutes and this is why all of their songs are shorter than 4 minutes. 4Minute also signifies "for minute," the meaning is that they will do their best for every minute (for every moment).
BLACKPINK
Blackpink (블랙핑크) is a South Korean girl group formed by YG Entertainment that debuted on August 8th, 2016. The group consists of members Jisoo, Jennie, Rosé, and Lisa. They debuted with the release of the single album Square One, which spawned "Whistle," their first number-one song in South Korea, as well as "Boombayah," their first number-one hit on the Billboard World Digital Songs chart.
The name of the group was conceived to contrast with the concept of femininity generally associated with the pink color. When Blackpink debuted, their label YG Entertainment said the name intends to express more than the attractiveness of the group.
On June 28th, a representative of YG provided more details regarding the rookie group, including the meaning behind the unique group name. The rep stated, "The meaning of Blackpink aims to contradict the common perception of the color pink. Pink is commonly used to portray prettiness, but Blackpink actually means to say that 'Pretty isn't everything.' It also symbolizes that they are a team that encompasses not only beauty, but also great talent."
DIA
DIA (다이아) is a South Korean girl group formed by MBK Entertainment. The group is currently composed of seven members: Eunice, Jueun, Huihyeon, Yebin, Chaeyeon, Eunchae, and Somyi. DIA officially debuted on September 17th, 2015, with their lead single "Somehow" from the self-titled debut studio album, Do It Amazing.
DIA is shortened from DIAMOND and a backronym of Do It Amazing. MBK Entertainment stated, "The new girl group's team name has been decided as DIA, short for diamond. The meaning of their group name carries our hope that like diamonds, they will be the most valuable of all jewels and will continue to receive love and shine even after time passes."
G(IDLE)
(G)I-dle ((여자)아이들; RR: Yeoja Aideul) is a South Korean multinational girl group formed by Cube Entertainment in 2018. The group consists of six members: Miyeon, Minnie, Soojin, Soyeon, Yuqi, and Shuhua. On May 2nd, 2018, the group debuted with their first extended play titled I Am.
In an interview with The Star, the leader of the group, Jeon So-yeon, revealed that the name "Idle" (아이들) came to her when she was composing the Idle Song. She submitted it to the company and the name was finalized after going through the company's competition. The name, however, received mixed reactions in South Korea and internationally because "아이들" means "children" and "idle" in English refers to someone who avoids work. The group was thus renamed (G)I-dle, with the "I" standing for individuality, "‐" to show that the name has been divided into two parts and "Dle" which represents the Korean Word 'deul' which is used to make plural forms of noun words meaning of "I" in Korean, and the "(G)" means "girl." The group name is read as "IDLE." In conclusion, G(IDLE) stands for a group of six different personalities gathered together.
Girls' Generation
Girls' Generation (소녀시대) also known as SNSD, is a South Korean girl group formed by SM Entertainment. The group is composed of eight members: Taeyeon, Sunny, Tiffany, Hyoyeon, Yuri, Sooyoung, Yoona, and Seohyun. Originally a nine-piece group, Jessica departed from the group in September 2014. Girls' Generation debuted with their eponymous Korean album and a single "Into the New World" in August 2007. The group rose to fame in 2009 with the single "Gee," which for a record-breaking nine consecutive weeks occupied the top spot on KBS' Music Bank and became Melon's most popular song of the decade of the 2000s.
The group's Korean name is So-nyuh Shi-dae (Korean: 소녀시대, Romanized: Sonyeo Sidae), from the Sino-Korean root meaning "Generation of Girls"; they are also known as SoShi (Korean: 소시) or SNSD, both of which are abbreviated forms of the group's Korean-language name. 소 "So" stands for a girl group that communicates well. 녀 "Nyeo" stands for their feminine charms. 시 "Shi" stands for different from the start. 대 "Dae" stands for their representative brand.
Because their name consists of Chinese roots, the group's name is similar in Chinese and Japanese: in Japan, the group's name is pronounced as Shōjo Jidai (Japanese: 少女時代), and in Mandarin Chinese as Shàonǚ Shídài (Chinese: 少女時代/少女时代).
I.O.I
I.O.I (아이오아이) was a South Korean girl group formed by CJ E&M through the 2016 survival show Produce 101 on Mnet. The name I.O.I itself means Ideal of Idol. The group was composed of eleven members chosen from 101 trainees from various entertainment companies. IOI consisted of Lim Na-young, Kim Chung-ha, Kim Se-jeong, Jung Chae-yeon, Zhou Jieqiong, Kim So-hye, Yoo Yeon-jung, Choi Yoo-jung, Kang Mi-na, Kim Do-yeon, and Jeon So-mi. They debuted on May 4th, 2016, with the EP Chrysalis and actively promoted as a whole and divided into subunits for less than a year. They officially disbanded at the end of January 2017 and returned to their respective agencies.
LOONA
Loona (stylized as LOOΠΔ) is a South Korean girl group formed by Blockberry Creative. The group consists of Hyunjin, Jinsoul, Yeojin, Chuu, Yves, Heejin, Kim Lip, Olivia Hye, Go Won, Choerry, Vivi, and Haseul. The group has formed three subunits: Loona 1/3, Loona Odd Eye Circle, and Loona yyxy. Their debut EP as a full ensemble, [+ +] (2018), was supported by the lead single "favOriTe" and the title track "Hi High." In October 2016, Loona commenced their pre-debut project with each member releasing a promotional single over the next eighteen months.
Loona's English name is derived from the Hangul letters ㅇㄷㅇㅅㄴ, each an initial consonant in the syllabic blocks that make 이달의 소녀 (Idarui Sonyeo). When rearranged to ㄴㅇㅇㄷㅅ, it resembles LOONA in the Latin alphabet. Its twelve members were revealed in a periodic fashion, corresponding to their Korean name Idarui Sonyeo (이달의 소녀), which translates to "Girl of the Month."
MAMAMOO
Mamamoo (마마무) is a South Korean girl group formed by RBW (formerly WA Entertainment) in 2014. The group officially debuted on June 18th, 2014, with the single "Mr. Ambiguous." Mamamoo consists of Moon Byul, Solar, Whee In, and Hwa Sa. Their debut was considered by some critics as one of the best K-Pop debuts of 2014. They are known for their retro, jazz, R&B concepts, and their strong vocal performances.
They revealed that the reason they named themselves MAMAMOO was because it signifies the sound that babies make. MAMA means mother. They tried to approach their listeners with their music organically and instinctively.
Well, that was all about the meanings of the names of some of the popular idols and singers, as well as girl groups. What do you think? Do you think that it is important to assign meaning to the names of the groups and does it affect their popularity? Please, don't forget to kindly share your thoughts with us by leaving a comment in the section below.