Everything You Need To Know About South Korean Celebrities Who Have Started Their Own Family!
Marriage is something that is sacred and binds two different people into one union in the fabric of love called family. In South Korea it is common for people who are married to be considered quite successful in their career and that they can get everything they aspire in their lives. Most South Koreans will marry over the age of 30 because they will pursue their life goals before deciding to get married.
Some South Korean actors and actresses have also been reportedly married and have small families. In this article, we will look at some South Korean actors and actresses that you probably don't know when they got married and it feels like they are still a new couple. However, in fact, some of them already have children! Let's see who are the South Korean actors and actresses who are married by checking out the complete information in the article below!
Oh Ji-ho & Eun Bo-ah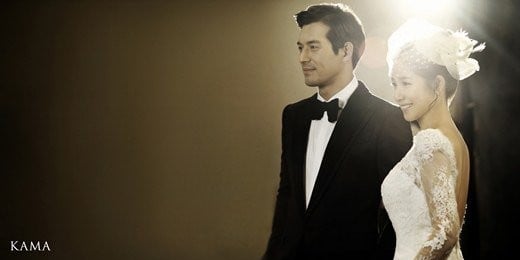 Oh Ji-ho, the actor who once acted as one of the characters in the K-Drama The Slave Hunter (2010), announced his marriage after dating Eun Bo-ah for 2 years. A statement that Oh Ji-ho had been given through his management reported that the actor got married on April 12th, 2014. The location of the wedding ceremony was Shilla Hotel, South Korea.
Oh Ji-ho's relationship with his girlfriend has long been covered up before finally daring to be honest to the media. The lovers are known to be three years apart. "I finally met someone who could be my life partner. I promise we will make each other happy. Please support us for our marriage," Oh Ji-ho said, as reported by Enews World. Oh Ji-ho's wedding was held in private and could not be covered by the media. He only invited his closest family and relatives to the sacred event.
After getting married in April 2014, Oh Ji-ho and Eun Bo-ah were blessed with their first child born on December 30th, 2015. His first daughter was given the name Oh Seo-heun and he brought his daughter to shoot for the KBS The Return of Superman. On August 18th, 2018, Oh Ji-ho and Eun Bo-ah were again blessed with the birth of their second child, a baby boy named Ji Dong. The agency of Oh Ji-ho reported that the wife of the actor gave birth normally and her baby weighed 3 kilograms.
Ji-sung & Lee Bo-young
On September 27th, 2013, Ji-sung and Lee Bo-young officially become a married couple and their wedding, which was held at the Walker Hill Hotel in Seoul, looked very intimate with only 200 invited guests consisting of their close relatives. The wedding took place closed from the public and was only attended by relatives and close friends of the couple such as Yoon Sang-hyun, Go Hye-sun, and Kim Bum-soo who contributed wedding songs for the bride and groom.
The couple, who first met on the shoot of the K-drama series Save the Last Dance for Me (2004), started dating in 2007 before finally deciding to officialize their relationship in marriage in 2013. The announcement of his second marriage was revealed right after Lee Bo-young finished filming the popular drama I Hear Your Voice in early August 2013 through their respective fancafés.
The couple Ji-sung and Lee Bo-young were blessed with the birth of their first child 2 into their marriage. Their first child, a beautiful baby daughter named Ji Yoo, was born in 2015 with the nickname 'Bo Bae' from her parents. 'Bo Bae' is a nickname meaning 'Bo' as in Bo-young and 'Bae' means Baby. On February 6th, 2019, Ji-sung announced the birth of her second child, a baby boy, on Instagram. The baby was named Bo-ah and the small family of Ji-sung and Lee Bo-young certainly welcomed him joyfully.
Won Bin & Lee Na-young
The marriage of Won Bin and Lee Na-young was a secret and was not announced to the public before finally one of the media outlets, Dispatch, managed to find out about the actor's marriage. Lee Na-young and Won Bin's marriage was held in the Jungseon area, Gangwon-do. This wedding ceremony took place on May 30th, 2015, only inviting 50 guests who were the families of both partners. Reportedly, not a single celebrity was present at the wedding of Lee Na-young and Won Bin. The management also confirmed the news of their two artists and said that they wanted their wedding moments to be unforgettable and wanted the wedding to be as quiet as possible because this couple would make a life-long promise.
After 7 months of marriage, the couple Won Bin and Lee Na-young are said to have been blessed with the birth of their first child. Lee Na-young gave birth to their baby at an OBGYN clinic in Seoul. But there is a mystery behind the birth of the baby of the actor and actress. Both Won Bin and Lee Na-young refused to provide information on the date of birth of their first son. As a result, the age of the baby boy is still a secret known only by the family. When asked about the birth process, the agency refused to give an answer as to whether the birth process was normal or not.
Management could only inform that both the mother and baby are now in good health and good condition. The closure of these two celebrities about the date of birth of their babies has made many people increasingly suspicious. Speculation about the marriage that took place after Lee Na-young became pregnant before officially becoming Won Bin's wife was again circulating. Although management flatly denied the issue of pregnancy out of wedlock, the birth of the first child made many people suspicious considering the marriage of Won Bin and Lee Na-young had just turned seven months. Despite the many pros and cons in the lives of Won Bin and Lee Na-young, they both continue to live their married life well and happily until now.
Joo Sang-wook & Cha Ye-ryun
Celebrity couple Joo Sang-wook and Cha Ye-ryun were known to the public for dating for almost a year. The more serious step, the news blew that they would continue their relationship to the level of marriage. The two held a closed wedding ceremony on May 25th, 2017, at the Grande Walkerhill Hotel, Gwangjang-dong, Seoul. Meanwhile, celebrities in attendance included Lee Min-jung, Jang Geun-suk, Lee Kyung-gyu, Hwang Shin-hye, and Go Ara.
The actor also gave a reason why he wanted to marry his wife, Cha Ye-ryun. He revealed it during a press conference aired by KBS2 Entertainment Weekly. When asked when he started thinking about marriage, Joo Sang-wook said, "In one year and a half of our courtship, she cooked and cleaned the kitchen. I thought I would be happy all my life if I married someone like her." The couple who met in the drama Glorious Temptation did not immediately plan a honeymoon. Then when asked about starting a new family, Joo Sang-wook said at least he wanted to have two children. He then added laughing, "But I am thinking of having at most five children."
After 7 months of marriage, the couple also announced that Cha Ye-ryun was pregnant with their first child. On July 30th, 2018, Joo Sang-wook and Cha Ye-ryun welcomed the birth of their first child, a baby girl. The actor also captured the moment as one of his Instagram uploads. Cha Ye-ryun seemed to focus on caring for her family from the time she was pregnant to the birth and Joo Sang-wook himself was still active as an actor who starred in several of the newest K-Dramas.
Ryu Soo-young & Park Ha-sun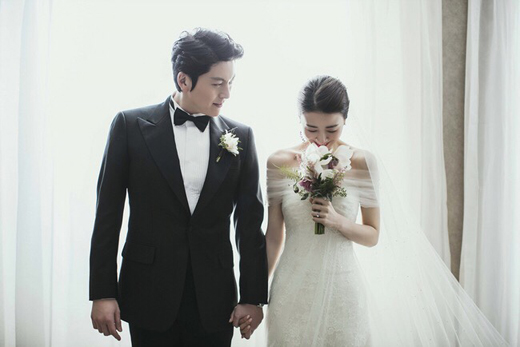 It was already widely reported in early January 2017, Ryu Soo-young and Park Ha-sun announced that they would get married in the near future. Park Ha-sun and Ryu Soo-young themselves are one of the love couples in Korean drama locations who got officially married. They first met when they were both playing in the drama Two Weeks in 2013, then later confirmed dating in 2015. Not wanting to disappoint fans, the couple even wrote a letter posted on their Instagram accounts.
Previously, the couple had been dating for 3 years, since 2015, and they were also not bothered by the slanted news that said it was suspected that Park Ha-sun was pregnant. The two finally held a wedding ceremony on January 22nd, 2017. They are happy after officially becoming husband and wife, known by the many guests from celebrities who also attended the wedding ceremony, such as Cho Seung woo, Lee Kwang-soo, Wang Bit-na, Yoon Yoo-sun, Jung Yoo-mi, and Sam Hammington.
Not even a year into their marriage, Ryu Soo-young and Park Ha-seun were blessed with the birth of their first child. This happy news was delivered directly by Park Ha-sun's agency through an official statement. SLent Glocean agency said that the actress had given birth to a normal-weight and healthy baby girl in a hospital in Seoul in August 2017. Park Ha-sun also wrote her impression after officially becoming a mother, "After waiting for my beautiful daughter, I felt so happy she was finally born into the world. I sincerely thank all those who congratulated me. I will raise a beautiful and healthy child." Ryu Soo-young has also become a father and is still working as an actor who starred in several of the newest K-Dramas.
Lee Sang-woo & Kim So-yeon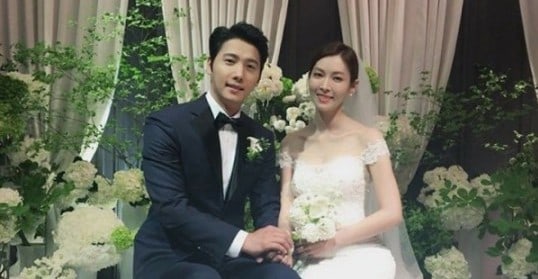 Good news also came from the couple Lee Sang-woo and Kim So-yeon. The two Korean celebrities officially got married on June 9th, 2017, with a procession that is closed to the public. Lee Sang-woo and Kim So-yeon met at the MBC HAPPY HOME and got involved in a relationship on the shooting location. The two revealed their relationship to the public in September 2016 and announced their marriage in March 2017. According to the agency, the Korean celebrity couple exchanged sacred promises at a wedding hall, Gangnam, Seoul. They chose to hold this happy day in private to honor family and invited guests. The newly married couple also released an official statement through their respective agencies. They want to thank all those who have provided support.
https://www.instagram.com/p/BVlWfyhgxaX/?utm_source=ig_embed
The couple is never shy to express their feelings as husband and wife in public. Lee Sang-woo also briefly uploaded a few photos sharing their happiness during their honeymoon while traveling to Bali, Indonesia. In the photo, Lee Sang-woo and Kim So-yeon are seen on the beach with a background of several children playing kites. The fans who saw their honeymoon moment also commented and felt happy to see the happiness of the newlywed couple.
Both of these artists also had time to express how they both could fall in love with each other. In 2016, Kim So-yeon once revealed that she and Lee Sang-woo began to realize their feelings for each other in the middle of the shooting process. "We are both introverts, so we don't show how we feel during the shoot." They thought that having an affair while working is inappropriate and chose to 'formalize it' after the drama ends. Kim So-yeon also shared the reason for being in love with Lee Sang-woo was sincerity, manliness, and dependability. Lee Sang-woo also often provides entertainment in the form of funny stories and the most important thing is that Kim So-yeon's family really likes Lee Sang-woo.
---
The article above is a somewhat detailed outline of South Korean celebrity couples that you probably didn't know are married. Getting married does not mean giving up on their careers and many of them still continue their work as actors and actresses as well as being parents for their children who are still in the process of growing up to be more mature. Indeed, some of them already have children and have even become complete families with the presence of boys and girls. However, there are also newly married couples enjoying the happiness of early married life. Let's continue to pray for these couples so that they can be good parents to their children and will continue to be happy and harmonious forever.