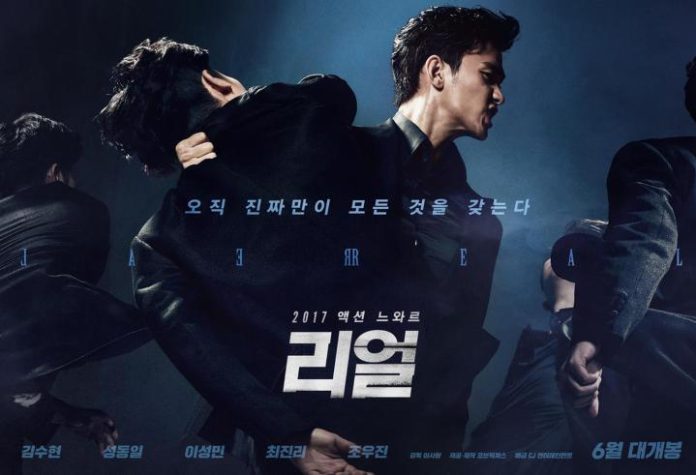 Find Out More About Kim Soo-hyun Dual Role in the Neo-noir Movie Real
Kim Soo-hyun made a brave decision in joining the cast of the dark, neo-noir movie about a successful businessman with dual personality. Real is a joint Korean-Chinese film production that was produced in 2017 before Kim Soo-hyun began his mandatory military service. Established Korean actors such as Sung Dong-il, Lee Sung-min, and Jo Woo-jin, and young actors such as Sulli and Han Ji-eun collaborated in the thriller. Real marked the last movie appearance by former f(x) member, Sulli.
Real is a horror-thriller movie about a casino owner that made his own way to success. Inside of his mind, he has an alter-ego that can control his behavior. Kim Soo-hyun, the leading male actor, received praise for delivering the two very different personalities of the casino owner. Sulli received backlash and criticism for her nude scene and for agreeing to perform an intimate scene with Kim Soo-hyun.
In this article, Byeol Korea will talk about neo-noir movie, Real. So stay tuned!
Real Review
Real is a 2017 Korean fantasy-thriller action movie made from collaboration between Alibaba Pictures, CJ E&M, and Global Road Entertainment. The movie was made based on a superhero character from a webtoon comic by TMS Comics.
In a fictional city, sort of like Batman's Gotham city, Jang Tae-yeong is a tough and successful casino owner. He made his empire as caretaker and solves problems with his fists and ability to fight. Being blessed with excellent fighting skill, he has an alter-ego inside his mind that can control him at any time. He seeks help from a psychologist, Choi Jin-ki, to help him erase the alter ego. Choi Jin-ki came up with a designed plan but it resulted in unwanted consequences. Meanwhile, business rivals were eager to see Jang Tae-yeong lose his casino and his business. Jang Tae-yong must overcome his alter ego and his business rival in the midst of the tragic loss of his lover.
Real The Cast
Kim Soo-hyun
Kim soo-hyun performed as Jang Tae-yong, the casino owner who has a dual personality. He must deal with the tragic loss of his lover, Song Yoo-hwa. A rival businessman used the painful memory of losing Song Yoo-hwa to seduce him with similar looking woman. Jang Tae-yong has an excellent fighting skill and he is a tough businessman.
Sulli
Sulli performed as a rehabilitation therapist and Jang Tae-yong's love interest, Song Yoo-hwa. She was assigned by the psychologist to treat Jang tae-yong. Their patient-therapist relationship developed into an intimate relationship.
Sung Dong-il
Sung Dong-ile performed as Jang Tae-yong's rival businessman, Jo Won-geun. He is the antagonist, and he did everything to take over Jang Tae-yong's casino.
Lee Sung-min
Lee Sung-min is the psychologist that develops a treatment plan to cure Jang Tae-yong. He assigned a beautiful therapist, Song Yoo-hwa, to treat Jang Tae-yong. However, his treatment didn't go as planned and resulted in unwanted consequences.
Jo Woo-jin
Jo Woo-jin performed as Sa Do-jin, another troubleshooter in the form of a vicious criminal. He does everything for money, and he was sent to deal with Jang Tae-yong.
Real The Soundtrack
The music in Real is produced by Lee Jae-jin and SOSEOL (Kwon Sung-gyu)
5 Reasons Why You Should Watch Real
Here are five reasons for drama and movie lovers to watch Kim Soo-hyun's Real:
Kim Soo-hyun's dual role as successful casino owner and his alter ego
Kim Soo-hyun gained praise from movie critics, despite the movie's awful plot and editing. He was able to perform a person with two different personalities with a change of voice and body language.
2. Cameo appearances from Park Seo-jun, Suzy, Lee Ji-eun (IU), Sistar's Dasom, Wondergirls's Soohee, and other Korean celebrities.
Many Korean celebrities expressed their support to Kim Soo-hyun by making cameo appearance in the movie. Though they appeared for only a short period, viewers can enjoy guessing who will turn up and watching familiar faces flash on the movie.
3. Final movie appearance by the late Sulli
Real marked the final movie appearance for the late Sulli. As the female lead, she didn't hesitate in acting alongside Kim Soo-hyun. There were several bed scenes when Sulli stripped off her clothes and revealed everything to Kim Soo-hyun. Sulli earned praise for delivering a more mature role.
4. Uniqueness and originality
Though movie critics hated Real and gave it many negative reviews, Sitges Film Festival, a film festival focusing on horror and fantasy movies, included Real in their 2017 movie categories.
5. Success as digital cable movie
Real was re-released in digital cable TV VOD and IPTV in South Korea. The demand was considered high, and the film gathered more revenue compared to its cinematic release. The highest cinematic revenue was recorded in Taiwan. It was legitimate proof that Kim Soo-hyun's popularity a still the main attraction in the Korean movie industry.
That was all the information about Kim Soo-hyun's Real, his final project before enlisting in the military service in 2017. Don't forget to share your opinions about the neo-noir movie, Real in the comment section below.