Details about Medical Drama Review Hospital Playlist
In 2020, there are a lot of Korean dramas that have good story-line quality to become the best recommendation drama. Maybe everybody thinks that every Korean drama will always tell about romance, but in 2020 there are many unusual genres that success, such as 'Hospital Playlist'. If we see from the drama's title, of course, we will think that this drama will be boring story-line even more so, this drama called medical drama. But in actuality, this drama a success until it gets a high rating until the end episode!
How is drama? and what makes people have to watch 'Hospital Playlist'? Therefore, in this article Byeol Korea will give you a review of 'Hospital Playlist' drama. So, happy reading everyone!
Hospital Playlist Review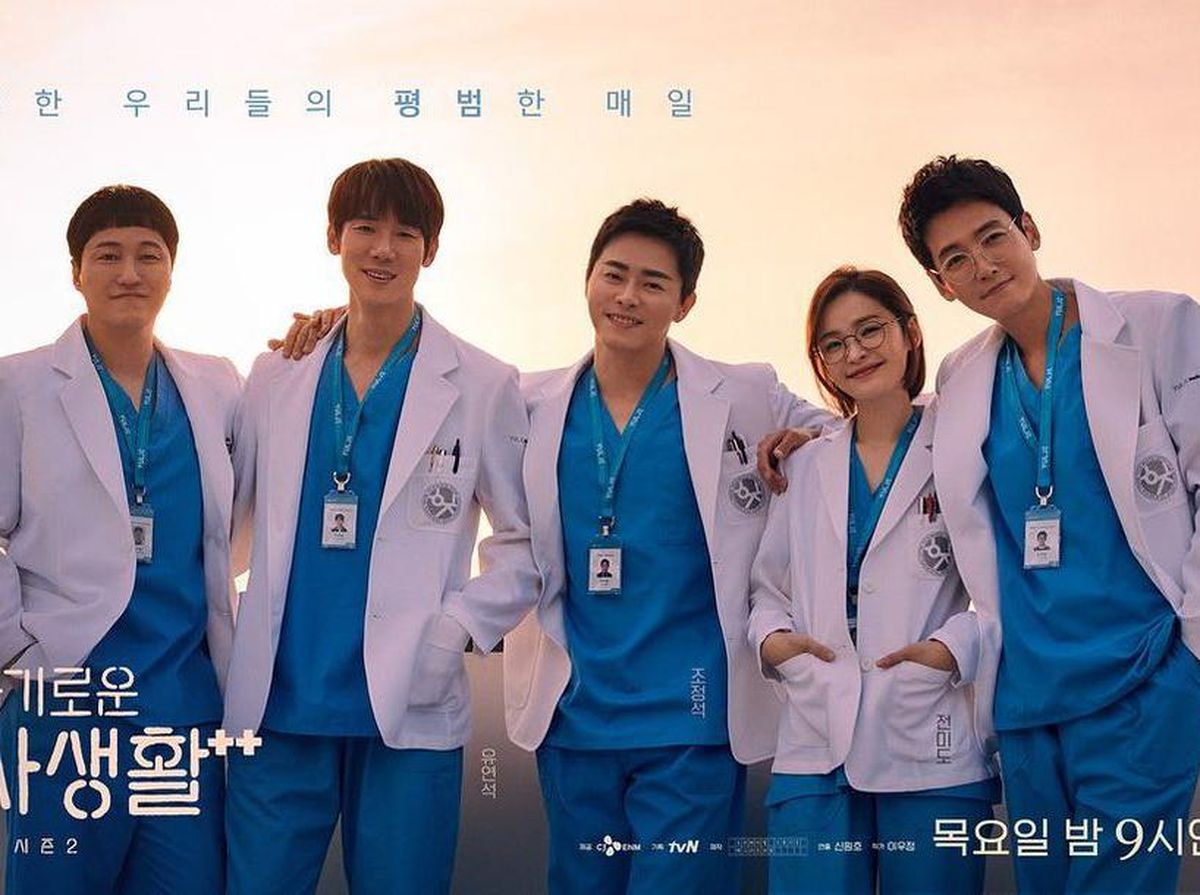 Do you still remember about Reply drama series written by Lee Woo Jung? The series became the best dramas of all time, even those the dramas have a high rating during the screening period. In 2020, Lee Woo Jung returned a drama collaboration with director Shin Won Wo, where the drama has become the center of public attention. The author also said the drama titled 'Hospital Playlist' is special!
If we see from the title, this drama is certainly has a medical drama genre. Still, it turns out it isn't like other medical dramas that only focus on the 'Hospital', but this drama also shows the doctor's job amidst their problems or a slice of life genre.
This drama released from March 12 until May 28, 2020, with 12 episodes that aired in tvN. Before the drama aired, the poster was released with 5 doctors in the different units who were walking with the brightest smile.
This drama tells about 5 specialist doctors with their daily life, and they have all been friends for 20 years since college. The doctors have different characters, of course, they are Song Hwa, Ik Jun, Joon Wan, Seok Hyung, and Jung Won. Their differences in character have also had different ways of dealing with their patients, and this sometimes makes them argue. This drama elevates the humanistic side of a doctor's daily life who is also called only human-like others. Although this drama brings up the life of being a doctor, there's also a love story between their friendship.
Apart from work at the hospital, this drama also shows the scenes that have a musical side that played by the 5 doctors. The doctors have the same hobby since they were in college that is playing music to form a band, and it can be seen from the footage of the scene when they were singing as below!
Hospital Playlist The Casts
This drama starring talented actors and actresses, and of course they are really popular. Who are they?
1. Jo Jung Suk 
Actor Jo Jung Suk started his career through theater stage in 2004, he's also already popular with play some drama, and one of the dramas is Two Cops. In the drama he acts as Lee Ik Jun, he's a cardio-liver surgeon. His role as Doctor Lee Ik Jun is as a father of one child and abandoned by his wife and then they divorced.
Lee Ik Jun became the bassist in his band, and in the final episode, he revealed his feeling for Chae Song Hwa. His acting can make the audience hypnotized because his role looks humorous and ridiculous.
2. Jung Kyung Ho
Before starting the 'Hospital Playlist', Jung Kyung Ho has starred in Crash Landing On You. Then, in this drama, he got a role as Kim Jun Wan who is a best friend of Lee Ik Jun. Kim Jun Wan is a thermoplastic surgeon who has a fierce character. Even so, he has charisma, and because of his charisma, he often dated compared to his other friends. By the way, he's the guitarist in his band.
3. Jeon Mi Do
Maybe not many people still don't know actress Jeon Mi Do, because she's a newcomer actress who debuted in 2018. In this drama, she acts as the only woman among 4 of her friends and the name is Chae Song Hwa.
This beautiful doctor is a neurologist who's kind-hearted and very attentive to her patients. Chae Song Hwa is a doctor who thinks realistically, and every word that she says will happen. In her band, he got a position to become a bassist and vocalist.
4. Yoo Yeon Seok
In this drama, the actor who had starred in drama series Reply act as Ahn Jung Won. He's a pediatrician, as well as the son of a famous hospital owner. He's a doctor who is very fond of his patients, but sometimes he feels stressed and even makes his patients cry and scared when he wants to examine them. Ahn Jung Won is a drummer in the band!
5. Kim Dae Myung
The last is, Kim Dae Myung. He's an actor who has starred in 3 movies at once in the same year, that is, Dirty Monkey, Package, and Stone Skipping. In 'Hospital Playlist,' he acts as Yang Suk Hyung, who is an obstetrician. Yang Suk Hyung is a doctor who has a character like a child and very spoiled and loves his mother. But behind his childish, he's very kind, patient, and most sensitive to what is happening around, even he got a place as a leader of the band and keyboardist.
Hospital Playlist The Soundtracks
Besides the story-line and acting, this drama's soundtracks will certainly be missed by the fans. It has amazing soundtracks that sing by various famous singers! The drama has 12 soundtracks, which are remakes of old songs in the '90s, then re-played by K-Idols, including Jo Jung Suk and friends. So, here are some OSTs!
1. Lonely Night – Kwon Jin Ah
This song is sing by Kwon Jin Ah, which is this song is remade from the old Korean band that wrote in 1997, named Boohwal. The meaning of the whole lyrics is it tells the deepest sadness because left by someone who is most loved.
2. Introduce Me a Good Person – Red Velvet Joy
Red Velvet's Joy also contributed her voice to sing in this drama. She sings a song from the "Basis" band that released in 1996. This song tells about someone who desperate with his feeling and want to move on by finding a better person.
3. Confession is Not Flashy – Super Junior Kyuhyun
This song sing by Kyuhyun, which is this song is remade from the old singer, Lee Seung-hwan in 1993. The song tells about someone's relationship that's increasingly going complicated.
4. Aloha – Jo Jung Suk
This song is a hit song from a band named "Cool," which was released and popularized in 2001. The meaning tells about someone who trusts in someone that they love. After being a remake, this song actually reached the 5 top on the MelOn Music chart!
5. With My Tears – Mamamoo WheeIn
This song is full of memories for Korean fans, this song is released on Seo Ji-won's 3rd album, and the released date is three weeks after he died. This ballad song was released around in the '90s.
6. Me to You, You to Me – Hospital Playlist main Cast
The song was popularized by "trio Scenery of Riding Bicycle," and the song also became an old movie titled The Classic in 2003. "Me to You, You to Me" was sung by five main casts of this drama, and was shown in the final episode. If you hear this song, you'll suddenly smile because the song is really good!
5 Reasons Why You Should Watch Hospital Playlist
Maybe for those of you who haven't watch this drama, you'll definitely take for some reason why you should watch it. And here are five reasons why you should watch this drama!
There's a musical element in it that makes drama never feel bored. Although it called a medical drama, the inside there's music that makes the drama more alive, starting from the OST until the band scene. The five doctors formed a band since they were in college, and then they nostalgic their old moments in the middle of their work by playing the music.
Full of humor that makes people laugh out loud. Not only touched the heart, but this drama is also wrapped with funny scenes, especially because of Ik Jun.
Have an unexpected story-line. This drama tells about a doctor's life, and each episode will make the audience stunned because each episode will tell each of the five doctor's lives. The drama also has a high rating until the final episode, even more, so it turns out that in 2021 there will be season 2, which makes the audience feel more curious.
Not only like medical drama in general, but this drama also doesn't have a complicated story-line such as an evil director character of hospital politics. It precisely the drama tells about how difficult to be a doctor and how to deal with the problems that befall them.
There's a friendship that exemplary from the five specialist doctors. Although they have different characters, the doctors have understood each other and give advice or support to each other.
That's all about K-Drama 'Hospital Playlist' review, and how do you feel about the doctors' friendship stories? Write your thought on the comment section!