Hospital Drama!
Korean drama (K-drama) is often eagerly awaited by people from defferent parts of the world, and of various ages. The dramas that are usually the most awaited involve romance and are related to the throne and heritage. However, besides that, there are also other interesting drama genres that are also hunted and awaited by K-dramas lovers, which often have unexpected storylines.
Related to that, there's one drama that has been many people, which is a medical drama with a romantic touch. For those of you who love or want to be a doctor, you can watch this drama, which features the famous actor Lee Jong-suk. Are you curious about it? If so, in this article Byeol Korea will give you our review of the drama 'Doctor Stranger'. So, check it out, below!
Doctor Stranger Review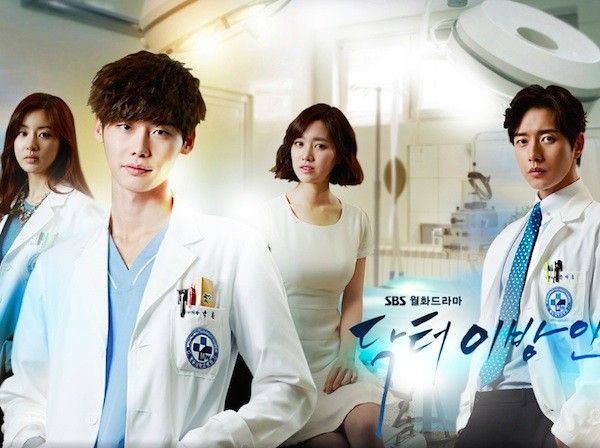 Doctor Stranger is a k-drama which started airing on May 5, 2014, and ended in the same year on July 8, with a total of 20 episodes. Doctor Stranger was broadcast on SBS, and was directed by Jin-hyun and Hong Jong-chan. This drama is medical genre, as well as having thick romance. Beside that, there's also family conflict, resentment, and politics, because it concerns the prime minister and president, even with regard to North Korea.
Doctor Strangers tells the story of Park Hoon. Starting when he was a child, he followed his father, Park Chul, to North Korea to carry out a mission to save the President, who has heart disease (blockage of the coronary arteries). Before, Park Chul (Park Hoon's father) worked at Myeongwoo Hospital and he planned to help patients who are plaintiffs in malpractice suits against the hospital he worked with.
Eventually Park Chul and his son, Park Hoon, went to North Korea, and the surgery he carried out was successful. But they can't go back to their own home because of Jang Seok-joo's evil plans and Myeongwoo Hospital. Even more sadly, when Park Chul and Park Hoon wre supposed to be shot dead while they were in North Korea, according to Jang Seok-joo's command. But the North Korean side had a different plan, which was only shoot his father, the surgeon.
Twenty years later, Park Hoon grew up and followed his father footsteps to become a reliable heart surgeon. When he lived in North Korea, he met Song Jae-hee, who was his classmate in medical school, and the two of them fell in love. After his father died, Park Hoon was faced with a dilemma, caught between saving Song Jae-hee and victims of crime in the North Korean Army.
Jae-hee survived, and they both had a plan to leave the country and go back to South Korea. When they arrived, they intended to request asylum from the South Korean Prime Minister, Jang Seok-joo, but its turn out that Jang Seok-joo actually closed the door tightly so Park Hoon and Jae-hee were severely separate, and Park Hoon was sent to jail for two years.
After his prison sentence was over, Park Hoon stayed with his cousin and became a bottled-water deliveryman. One time, he had to deliver water to the hospital where his father used to work, Myeongwoo Hospital. And that time, Park Hoon met a pretty doctor who was the daughter of the hospital's owner, Oh Soo-hyun. On the same day, Park Hoon also acidentally had to treat a dying patient. With abilities like as his father's, Park Hoon treated the patient only focus and close his eyes.
Over the time, Park Hoon and Oh Soo-hyun become really close, and Soo-hyun is falling in love with Park Hoon, making Han Jae-joon (Soo-hyun's ex), who is a doctor from Harvard University, get jealous. Then, Park Hoon becomes a doctor at that hospital and surgical teams with different leaders are competing against each other. Their competition (Park Hoon and Jae-joon) becomes increasingly fierce as they compete to become the best doctor who can do surgery on the Prime Minister's heart.
On the other side, Jae-hee took on the identity of Han Seung-hee, and took over as a  North Korean spy. Park Hoon believes that she is the same Jae-hee, but she didn't want to admit it, and she always avoided Park Hoon. But he doesn't give up; with the conviction born of love, Park Hoon keeps trying to prove that she's Jae-hee. Eventually, Jae-hee also confesses and reveals the reason why she became a spy. Park Hoon and Jae-hee finally get back together, but Soo-hyun and Park Hoon's relationship just remains as co-workers.
Besides this drama having a serious conflict, there's still something odd about the drama, or an unsolved puzzle. For example, Han Jae-joon actually wanted revenge on Soo-hyun's dad, who was be a head of the hospital. But suddenly he asked for forgiveness, even though he and the family are victims. Then, why he doesn't continue his revenge?
Although this drama is full of confusion, political problems, and family conflicts, it still has a humorous side. You can really see it with the Park Hoon – Soo-hyun couple. In one of episodes, when Soo-hyun asks the nurse about something, Park Hoon comes up and calls her "Quack", and makes everyone laugh. Then Park Hoon cofidently said that Soo-hyun wouldn't hit him, but, apparently, Soo-hyun kicked him by his feet, and then the nurse laughed back at him, too. So, you can check this on video below!
Not only that, when they went to the karaoke place with their coworkers, they were all drunk (except Jae-hee). Park Hoon and Soo-hyun sang 'Tell Me', by Wonder Girls, and they sang it with a silly style. This really brings the story life!
This drama was called a good drama because in episode 5, Doctor Stanger reached rank 4, with 14.2% share of viewers. But, over the time, the ranking decreased to 8 or 10.
Doctor Stranger The Cast
Any story has its characters. In Doctor Stranger, who are they? Here are the main cast!
1. Lee Jong-suk as Park Hoon
Here, he plays the son of a doctor, who inherited his father's greatness in medicine, especially surgery. His father would become a victim of a hospital operating procedure of malpractice. And for the hospital's reputation, he was tricked by the hospital president and moved to North Korea. Finally his father died, and he went back to South Korea because of imprisonment. His role is to be a child who must survive without his parents, and and must be strong in dealing with many traitors, even more, he has to find his girlfriend, Jae-hee.
2. Jin Se-yeon as Song Jae-hee/Han Seung-hee
Jin Se-yeon played Park Hoon's girlfriend (Jae-hee), who is a North Korean citizen. She had to leave Park Hoon because she was shot and fell into the river when they were trying to escape to South Korea. Later, they reunited at Myeongwoo hospital when Jae-hee reappeared as Han Seung-hee and became a spy to complete a mission from Cha Jin-soo. In her role as Jae-hee, she looks like a kind and sincere girl, but when she acts as Seung-hee, she must look arrogant even though it's part of her persona in her current identity.
3. Park Hae-jin as Han Jae-joon
He played as a doctor named Han Jae-joon, an Amarican transfer surgeon who graduated from Harvard Medical School. He was the most brilliant doctor at Myeongwoo Hospital before Park Hoon got there and took over. It turns out that their skill are same, and a competition arises, where the aim is to become a surgeon for the Prime Minister, Jang Seok-joo. Each of them has a different vision, where Park Hoon wants revenge on the Prime Minister who had dumped him and his father in North Korea, and Han Jae-joon wanted to take over Myeongwoo. Actually, Jae-joon is the son of one of the Myeongwoo malpractice victims, but, in the end, he fell in love with the daughter of the President of Myeongwoo.
Park Hae-jin is a doctor who had a good side, but with a bad intentions. He's an ambitious and greedy doctor.
4. Kang So-ra as Oh Soo-hyun
She is a President's Oh Joon-gyu's daughter and  also a doctor at her father's hospital, Meyongwoo. Soo-hyun fell in love with Park Hoon, even though it's obvious that Jae-joon loves her. She has an unrequited love for Park Hoon, who clearly only loves Jae-hee. Oh Soo-hyun is the reason why Jae-joon is having a hard time getting his revenge. In this drama, Kang So-ra played a kind of whiny rich kid, pretentious, but weak. Her acting is really great and her emotions help build up the atmosphere.
Doctor Stranger The Soundtracks
This drama's OST songs have a very deep meaning, and they've been sung by many popular musicians, such as Park Jung-ah, Girl's Day's Bang Min-ah, Jung Hye-won, MBALAQ's G.O, Lee Ki-chan, and Bobby Kim. Here are the songs from the OST.
1. A Good Day Like This (Jung Hae-won)
This songs tells about a person who feeling sad because of their unrequited love. This is the same case of Soo-hyun, whose love isn't returned by Park Hoon.
Like Tomorrow Won't Come – MBALAQ G.O
The opposite of Oh Soo-hyun, this drama tells about Park Hoon. In this song, it tells about how Park Hoon believes in his heart that Jae-hee didn't die. It also describes two people that wanted to prove their love and can't live without each other.
5 Reasons Why You Should Watch Doctor Stranger
At this point, you may be curious about this drama, moreover maybe even wondering why people are talking about it. So here are some reasons you should watch Doctor Stranger.
Educational (You can add insight into medical knowledge). 
As we know, the drama often shows medical activities, especially surgery. From this drama, you can find out about the actual operating room, and even the steps a doctor takes when preparing for surgery. Besides that, you will know the types of cardiac surgery, one of which is a 'Saver Operation' that's likely to have a 0.1% success rate, and is no longer permissible in medicine. You will also find out about medical codes of ethics, such as the ones that apply to anesthesia, and its aftereffects.
The good-looking and talented cast
This drama is supported by acting of the famous actors and actresses, Lee Jong-suk, Park Hae-jin, Kang So-ra, and Jin Seo-yeon. Lee Jong-suk did a great job with the role as Park Hoon, who is a cute, humorous, and indifferent figure. Jong-suk's hair style is really cute, but when in the operating room, he can be a cool man and serious. Meanwhile, the handsome Park Hae-jin also successfully played a cold and mysterious role.
You can also see Kang So-ra's natural acting while she played as Oh Soo-hyun. Her acting is good and compassionate, especially whe she's sad because of her unrequited love for Park Hoon. Besides Kang So-ra, Jin Seo-yeon's acting is also great, because she plays two characters who have very different personalities.
It can be 'complex' because there's too many problems of different type, such as the politics involving two countries (South and North Korea), family, and also revenge. But on the other side, the director still managed to inject comedy in what could seem like a very serious story.
From incisions, blood, operating rooms, equipment, and even the surgery scenes, everything looks real. The directors, cast, and the other team is really worked hard and impressed viewers with the results.
There's a moral message in it
We know that Park Hoon and his father were exiled to North Korea only to be used, as well as being wronged. In this case, we shouldn't be too kind to everyone, and know which people are asking for help with other intentions, or people who really need our help.
That's our review for this drama. Have you already seen it and find yourself missing it? If yes, put your answer on comment section!