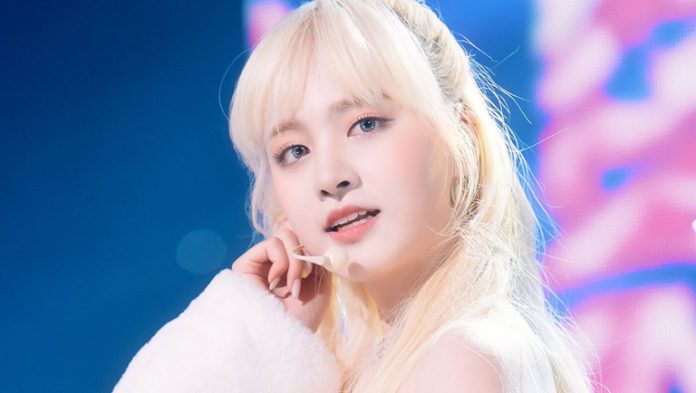 Let's Meet IVE Liz and Her Profile!
As we know, IVE is a new girl group under Starship Entertainment, and they consist of 6 talented and beautiful members. One of them is IVE's Liz. This pretty member is called "The Queen of Voice Color" in her group, and she also has a pretty face. All people were amazed by her visuals after the teaser photos were released. They get curious about her, especially with her profile.
So, through this article, Byeol Korea has provided information regarding IVE's Liz's profile, facts, and her childhood photos so that you can know more about her. Keep on scrolling down the article!
IVE Liz Profile
Name: Kim Ji Won (김지원)
Stage name: Liz (리즈)
English name: Elizabeth
Birthday: November 21, 2004
Birthplace: Jeju-do, South Korea
Height: 169 cm (5'5″)
Weight: 48 kg
Occupation: Singer
Group: IVE
Years active: 2021 – present
Label: Starship Entertainment
Blood type: B
Zodiac: Scorpio
Chinese zodiac: Monkey
Nationality: Korean
IVE Liz Facts
Liz studied at Halla Elementary School, Halla Middle School, Unbuk Middle School, and Cheongdam High School.
She has an older brother.
Liz was the 4th member to be revealed.
Her fans think that she has similarities with (G)I-DLE's Minnie and STAYC's Yoon.
When she was in middle school, she was in a dance club.
She is good at playing the piano.
Singing, playing, and cuddling with animals are her hobbies.
Liz is kind of shy and clumsy.
Taeyeon is her favorite singer, and she appears in Taeyeon's music video "This Christmas."
Liz has cute handwriting.
Her MBTI type is INFP.
She dropped out of Cheongdam High School before her debut.
Liz is really afraid of firecrackers.
When she was turned 16, she moved to Seoul.
Among all IVE members, she is closest to Wonyoung.
IVE Liz Pre-Debut Photos!
During her pre-debut days, Liz was a talented and very accomplished person! She won an award for excellence in sports at her school, and she was even supposed to participate in the survival show program Produce 48. 
Before her debut, she appeared in a music video of her favorite singer, SNSD's Taeyeon, on December 12, 2017.
Since she was a kid, she always used bangs, and it makes her look fresh and younger. You can see it in her middle school photos below.
Liz was a very beautiful girl since her childhood. In fact, when her childhood photos were revealed, many fans were amazed by her adorable visuals. So, here are the photos!
She is very pretty in this picture, but all of her fans admitted that she is more genuinely beautiful in real life!
IVE Liz Debut Day
On November 5, 2021, she was revealed as the fourth member of IVE, and on November 18, the group uploaded an introduction video of Liz entitled "SHOW WHAT I HAVE" on YouTube.
In that video, Liz tells everything about herself as a simple introduction from her birthday, hobbies, to the things that she's likes and dislikes. The video has almost 1 million views!
Then, on December 1, 2021, IVE announced her debut. They released the first MV "ELEVEN." By using a girl crush concept, IVE managed to get a lot of attention and K-pop enthusiasm, especially for the music video. With Middle East music combined with EDM and pop, they managed to get over 45 million views.
In her group, Liz is a vocalist. Her vocals are so amazing, and she has her own colors. Not only that but her skill in dance is so fabulous!
IVE Liz Focus Fancams
If we are talking about fancams, it's definitely not weird for K-pop fans. This term is already popular among K-pop fans. It is a video that contains their favorite K-pop idols' performances. They do it to share with other fans so they can watch it over and over again on YouTube or SNS.
There are two types of fancams, first for a group and the second one is for an individual fancam. It also happened to IVE's Liz. For those of you who are curious about her performances, you can watch them through the focus fancam videos below!
From the focus fancam above, we can see how stunning and awesome she is on stage! These two fancams have reached over 500 thousand views on YouTube!
So, that's all the information about IVE's Liz from her profile, pre-debut, until her amazing focus fancams.
If you like this article, don't forget to leave your support for Liz, and put your thoughts on her in the comment section. Then, follow our Twitter @CKoreaOfficial, and keep on reading another article of ours on our website, Byeol Korea. Also, share this article on your social media so that your friends can also read this article and learn about IVE's Liz!