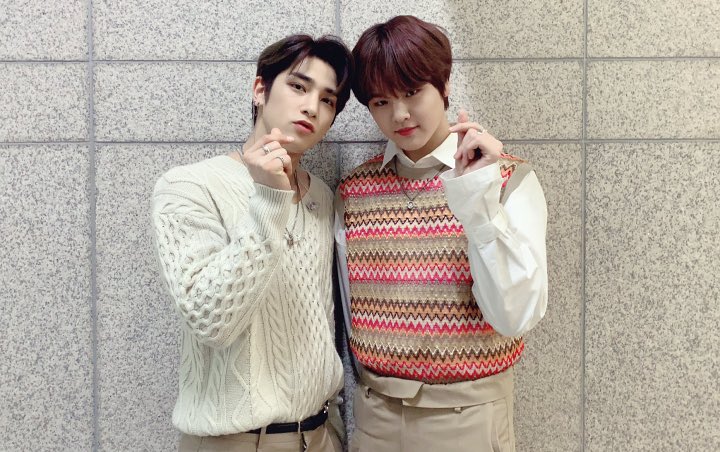 Hangyul & Dohyon or Handsome & Dorky Both Represent H&D Very Well
Hangyul and Dohyun used to compete against each other when they were both participants of Produce X 101. Both of them passed the last examination and got a chance to debut in a new group, X1. After the contract termination of X1, each of the idols returned to their previous group. MBK Entertainment found an excellent combination between Hangyul and Dohyun. Hangyul represented the handsome and masculine look while Dohyun represented the cute and dorky look. Visually, both are very promising to K-Pop fans.
Hangyul and Dohyon formed a duo called H&D and debuted by releasing the mini-album Soulmate on April 21st, 2020. Fans were very excited when news about their collaboration surfaced on the internet. Their pre-debut activities were filled with fans and their fan meeting event drew huge crowds.
In this article, Byeol Korea will talk all about the duo H&D, Hangyul and Dohyon. So, stay tuned and keep scrolling down!
H&D Profile
Two former contestants of the idol survival show Produce X 101 and former members of X1 announced their collaboration in the duet Pocketdolz or H&D (Happy Day). The duo was formed under MBK Entertainment. Two handsome and talented idols, Hangyul and Dohyon, agreed to team up and collaborate in the group.
Social Media Accounts:
YouTube: Pocketdolz official
Twitter: POCKETDOLZ
Instagram: official_pocketdolz
Facebook: pocketdolz
Hangyul Profile
Stage Name: Hangyul
Name: Lee Han-gyul
Date of Birth: December 7th, 1997
Place of birth: Namdonggu, Incheon, South Korea
Position: vocalist, dancer
Height: 176 cm
Weight: 69 kg
Blood type: O
Zodiac: Sagittarius
Chinese zodiac: the Year of the Rabbit
Interesting Facts About Hangyul
He was adopted at the age of 7 years old
He has two brothers, who are much older than him
He has a problem with his eyesight
He can't see things that are too far away
Hangyul loves playing Taekwondo, basketball, bowling, acrobatics
He hates summer because of the constant heat and the insects
He loves winter and fall
Female fans consider that his adam's apple is sexy
Black and yellow are his favorite colors
He used to be a backup dancer for T-ARA's Jiyeon and Shannon
He joined as a contestant in the idol survival show The Unit
He was an idol trainee for 4 years and two months
Hangyul's main talents are singing and dancing
He loves eating Chinese food as his late-night snacks
Hangyul has two tattoos on his body
Hangyul debuted with the idol group IM under the management of MBK Entertainment
He passed The Unit idol rebooting program and earned the chance to debut
During practice before his debut in The Unit, he injured his legs and had to be transported to the emergency room
He joined The Unit group UNB and participated in the promotion of the mini-album Black Heart
He received a lot of praise for his performance of "Black Heart."
He had to operate his hands due to an accident that happened when he was younger
He was abandoned by his parents at birth
In his new family, he has a father, a mother, and two older brothers
He is determined to succeed in entertainment to repay his new family and friends
In Produce X 101, he was ranked 7th and amassed more than 794.000 votes
He collected a total of more than 2.2 million votes
Dohyon profile
Stage Name: Dohyun
Name: Nam Do-hyun
Date of Birth: November 10th, 2004
Place of birth: Incheon-si, Gyeonggi, South Korea
Position: Rapper
Height: 180 cm
Weight: 62 kg
Blood type: O
Zodiac: Scorpio
Chinese zodiac: the Year of the Monkey
Interesting Facts About Dohyon
He used to study in Japan and Denmark
His main talent is rapping
He loves making and writing lyrics, composing music and practice playing piano and midi
Dohyon enjoys making sound effects on his music
He knew that he wanted to be an idol singer after his first stage performance
He has a unique beatboxing talent
Dohyon's favorite food is fried chicken
He loves to be praised as handsome, nice and genius
He joined as a contestant of the idol survival shows Under Nineteen and Produce X 101
He can speak English and Japanese fluently
His nicknames are Team Rocket and Weir Kid
He was called a genius for his rapping and music talent
He made his debut with the Produce X 101 boy band X1
After X1 was terminated, he joined H&D
In the Under Nineteen idol reality program, he was ranked 12th in rap
He ranked 42nd in the overall rank
In the idol survival program Produce X 101, he was ranked 8th
He amassed to 764.433 votes in the finals
His total votes were an astounding more than 3.1 million votes
Official debut
Hangyul and Dohyon, both participated and were placed in the top 11 of Produce X 101,  made a live broadcast and challenged fans to make the video surpass 100 million hearts. If fans succeed in achieving the feature, Hangyul and Dohyun agreed to attend a fan meeting event. The live broadcast was held on January 11th, 2020. On January 16th, 2020, Hangyul and Dohyon's label management, MBK Entertainment, announced the happy news to fans. The much-anticipated fan meeting event took place on January 16th, 2020.
After the fan meeting event, Hangyul and Dohyun continued their activity as a duo and released their pre-debut album, Happy Day that contained "Toward Tomorrow." H&D officially debuted on April 21st, 2020, by releasing the first album Soulmate. MBK Entertainment formed H&D and made H&D a duet.
Hangyul and Dohyun performed in the SBS MTV music program The Show to promote their mini-album. In the program, the duo sang "Soul" and "Goodnight." Due to their early popularity in realty idol survival shows, fans already knew about them. After their performance, H&D became even more popular among the fans. When performing "Soul," the duo went all out in an active and bright performance but when performing "Goodnight," they chose a fresh and calm choreography.
H&D participated in the 71st Snow Festival in Sapporo Japan and the 12th K-Pop Festival. It was their first oversea stage performance. The event took place on February 8th, 2020. During their activities in Sapporo, the manager recorded their daily activities. Other than performing on the stage, Hangyul and Dohyun captured the attention with their cute and funny mukbang activities. They tried unique Japanese meals and enjoyed their moments.
The trip reminded Dohyun of his school days in Japan. At the time, he was just a cute 5th-grade junior high school student. He studied in Japan until the 2nd grade of Middle High School. He said that he always ate chicken and bread with his friends. He loves going to Japanese convenience stores. A trip to the convenience store always brings back good memories.
Latest News
Hangyul captured the attention of his fans, especially the older sister fans, after participating in commercial The Star. He stroke various poses in the sexy pictorial commercial. In many poses, he exposes his chest and his six-pack. The older sister fans couldn't help but drool to his pictorial. Perhaps he can consider quit being an idol and choose to work as a fashion model. At a closer look, Hangyul slightly resembles 2PM's Chansung and GOT7 Jiyoung.
That was all the information from H&D. Both Hangyul and Dohyon have two different characters. Hangyul performs as the handsome and masculine idol, while Dohyon performs as the cute and dorky idol. The two complement each other exquisitely during their stage performances. What do you think about their debut and stage appearances? It would seem that they are ready to be the next wave of popular idol duos.