Is (G)IDLE The Much Anticipated Girl Group After 4Minutes?
(G)I-dle is a girl group that debuted under Cube Entertainment with the members Minnie, Miyeon, Soojin, Soyeon, Yugi, and Shuhua. They launched a song called "I Am" on May 2nd, 2018.
The history of their group name started from Jeon So-yeon, the Star leader, who composed the song titled "Idle Song" during the company competition. Then, aideul in Korean means children, idle means avert to do work. The group's name was made as a combination of these words "(G)Idle," specifically focusing on the "I" for individuality, "Dle" as the six different characters that combined as one.
Let's read more about them below in this Byeol Korea article. Stay tuned and keep scrolling down.
Members Personalities And Visuals
Each member has her own character, which is unique. However, they have similarities in their personalities and visuals with 4Minute members. Let's find out what they are.
Soyeon & Jiyoon
Soyeon has skills in rapping, she joined the music reality show titled Unpretty Rapstar in 2016 that resulted in her ranking 4th. Same as Soyeon, Jiyeon of 4Minute was also an alumnus of Unpretty Rapstar season 2.
On the other hand, Jiyeon of 4Minute also has rapping skills, and her voice is popular for being charming and it is similar to the voice of Soyeon of (G)Idle.
HyunA & Soojin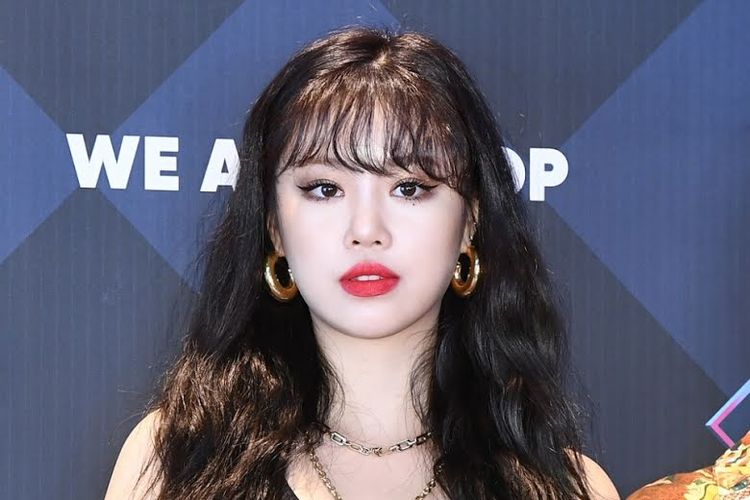 Hyuna is famous as the visual of 4Minute; her sexy looks and strong character cover it all! That's why Hyuna became the visual of 4Minute.
Soojin of (G)Idle is also the visual of her group. When she performs on the stage she oozes elegance and charisma that can send chills down your spine. More than that, she is also the lead dancer of the group. Apart from her excellent singing skills, she also has a talent for making an impactful stage performance with her fierce look and brave appearance.
They are shining in their own way!
Miyeon & Gayoon
Miyeon of (G)Idle has been developing her singing talent since childhood. She grew up with music and even used to record herself singing and showed it to friends and family. Miyeon can also play the violin and piano. She has a unique voice color and a good technique in singing.
Gayoon of 4Minute also undoubtedly has incredible singing talent: she joined the Best Singer Contest on SM 9th and reached the second place. Her singing is very harmonious, she has a high pitch and sounds beautiful.
Minnie & Jihyun
Minnie is a member of (G)idle that comes from Thailand. When the group debuted, she was introduced as "(G)idle's attractive voice." She has an amazing voice and a pure appearance.
Jihyun of 4Minute also has the same role as Minnie, she is the vocalist of the group and has a captivating voice. Hands up to both of them!
Yuqi, Shuhua & Sohyun
In (G)idle, Yuqi and Shuhua, are always charming the audience with their cuteness and lovable aura. They always show their funny interaction and making the audience or their fans unable to stop watching their actions. Yuqi and Shuhua are from China and Taiwan, respectively, they are both the youngest members of the group.
Sohyun of 4Minute is also the youngest member of the group. She has a cute expression and belongs to the funny and adorable club of 4Minute.
Concept
(G)idle has offered various concepts throughout their career as a girl group. Here are some instances: going from strong and fierce to bold and sensual with RnB vibes in "Put It Straight" and then going to tango in "Senorita."
On a certain note, it can be thought that it has become their point of strength: their unique songs and characters. So colorful and different from everything else. We can not label them but just accept them with their true colors.
Genre & Legendary Songs
One of their hit songs is "Latata" which has tropical beats and such an engaging music sound. This song got them into several charts in South Korea, especially in 2018. Their songs belong to various genres so you won't get bored and stagnant listening to their music. "Latata" has an upbeat tempo and a dance vibe that will make you sway your hips, "Senorita" will put you in a Latin pop mood, and then you have to check out the song "Hann" for yourself. Just click play on the video below.
(G)idle was deemed the "Girl Group Brand Power Ranking" stated by the Korean Business Research Institute. They successfully ranked #1 for June and September 2018.
In 2019, they also released the song "Lion" and placed themselves successfully as the "Girl Group Brand Power Making" in 2019 in consecutive months. This song was considered to be one of the most visceral tracks of 2019. Check out the video below!
Performance In Music Awards
(G)idle performed at the Melon Music Awards with a fantastic performance of their top song, a compilation of "Hann" and "Latata." They really did their best on this performance. The vibes will make you sing along with them.
They also performed "Lion" at the 2020 34th Golden Disc Awards beautifully and strong on this stage act. Their dancing style is so artsy and cool. Really good and full of positive vibes. Their performance was so captivating and made this song rightfully occupy the top positions of the charts.
That's all about (G)idle who could be the next generation of 4Minute in Cube Entertainment. What do you think? Kindly write your comments and share your thoughts in the section below. Let's keep cheering (G)idle every step of the way as they embark on a new adventure in the music world.