Let's Catch Up With GFriend Yerin Recent News Here!
Who misses GFriend's Yerin already, since it has been quite a long time since the group's last comeback? But, don't worry! GFriend finally made a comeback in 2020, which got their fans really excited, especially those of you who were really stan of GFriend's Yerin. Through this article, Byeol Korea will give you the details and recent updates from GFriend's Yerin, so stay tuned!
GFriend's Yerin is famously known for her visual and her dancing ability. No wonder that Yerin also became the center and face of the group in GFriend. Aside from that, her fans also admire Yerin's physical appearance since she is also tall and has a perfect body, as well! Do you want to know more about Yerin's latest news? Find the answer here!
GFriend First Comeback In 2020
First of all, let's talk about Gfriend's first comeback in 2020! After keeping their fans waiting for a quite long time, finally it's time for GFriend to comeback again! Basically, GFriend released a new mini album which is titled Labyrinth. The mini album was officially released on February 3, 2020!
Obviously, right before the mini album's official release, GFriend also shared some magnificent teasers, as well. They were divided the teasers into three parts; Crossroad, Twisted, and Room. For your information, Labyrinth is the ninth mini album from GFriend!
Labyrinth, also marked their first activity after their agency, Source Music Entertainment, was acquired by Big Hit Entertainment. That's why all of their updates and comeback activity was announced through the official website of Big Hit Entertainment, as well!
And let'stake a look at GFriend's photoshoot for the Labyrinth teaser here: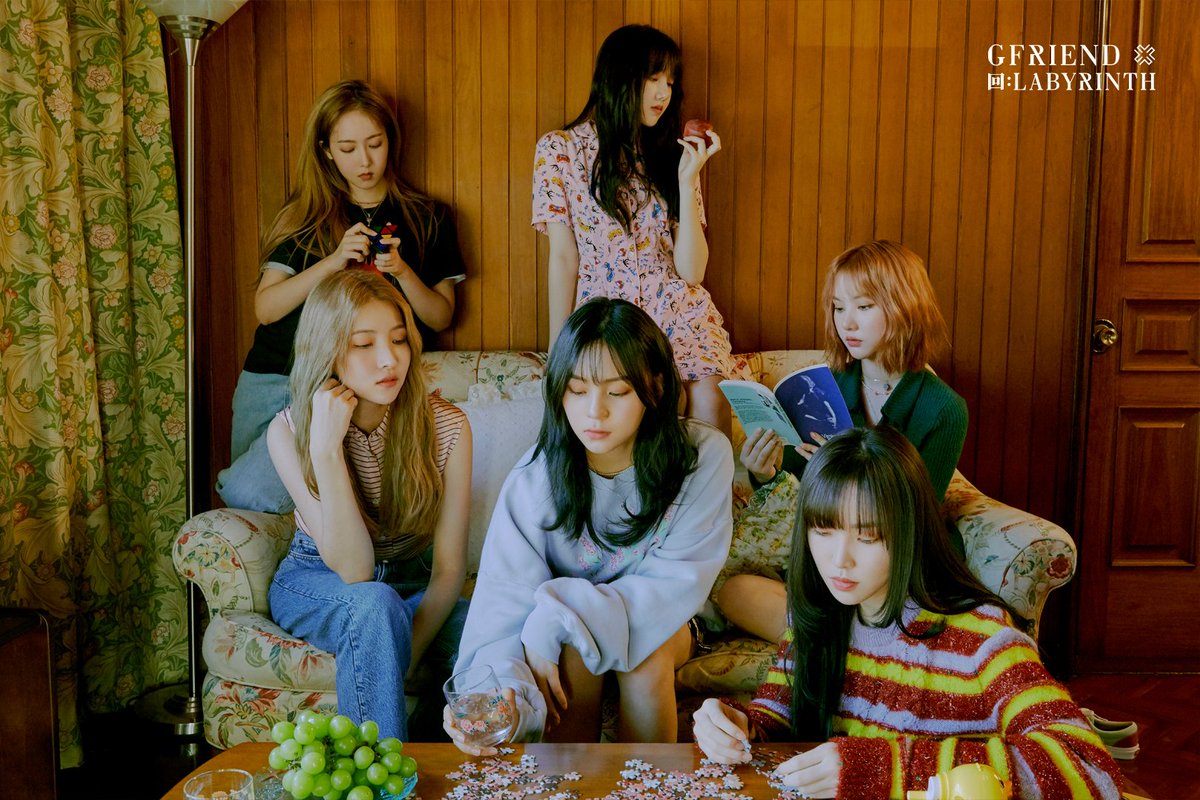 Let's take a look at the Twisted concept! For this concept, GFriend's members were seen in all-white outfits, and they looked pure and stunning at the same time. Against the white background, GFriend's members were also surrounded by strands of colorful wool yarn, as well!
Next is the Crossroad teaser concept! Through this concept, GFriend's members were all wearing black coats and cute uniforms, dressed up like the Japanese students. They also took the pictures with train tracks and reeds as the backgrounds! Such a cute concept, right?
Then for the Room concept, GFriend's members had a different look than in the two previous concepts. Through the Crossroads and Twisted concepts, they looked minimalist and chic, but in the Room concept they had a cheerful and colorful look! With the casual and colorful outfits, they also used a hotel room as the background!
Meanwhile, the Labyrinth mini album consists of six songs, Crossroads, Labyrinth, Here We Are, Eclipse, From Me, and Dreamcatcher. Crossroads is the title track for the mini album, as well. Since Crossroads is the title track, it also came with a music video. Let's take a look at the Crossroads teaser and music video here!
You can watch GFriend and their comeback stage for Crossroads here:
Yerin Mature Appearance
Another recent update from GFriend's Yerin; she has been getting a lot of compliments due to her mature appearance! It started when Buddys (official GFriend's fandom) on the Pann website were talking about Yerin's outfit while she was off-stage. They also noticed that Yerin was often seen wearing dresses!
Due to Yerin's fans' thoughts and opinions, all of them agreed that she looked even more mature and chic in dresses! We can seen that she has been wearing various styles of dresses, such as a floral dress, a blazer dress, a mini dress, a shirt dress, a midi dress, and many more.
Moreover, her fans commented about her appearance through the Pan website. "It seems like Yerin was matched with dresses, since she has really fair skin and she was tall", "She also matched if she was wearing a suits", "Yerin was such a legendary when she wore a white dress and the rolled hair as well".
Not only in her outfits off-stage, she has also been seen in dresses or any kind of feminine outfits during her stage performances or attending certain events, as well. As always, Yerin was looking as breathtaking as ever!
Well, what do you think about Yerin and how she looks in all those dresses?
Fans Spotted Yerin With Chubby Cheeks
After she received so many compliments for the way she dressed up, GFriend's Yerin also received other comments about her appearance. It started when Yerin and the other members of GFRiend arrived in Gimpo International Airport in Japan. It was reported that GFriend was attending a certain event at that time.
GFRiend's Yerin was seen with a new look. At the time, she appeared with long, black hair and had new bangs, as well. Due to her new appearance, all of her fans were excited and also thought that Yerin was looking cute and adorable!
Unfortunately, there were also certain fans who disliked her new appearance. They thought that Yerin's cheeks looked a little bit fatter than before. However, people was still in love with her appearance, whether her cheeks looked chubby or not. If you looked at her clearly, she was indeed looking adorable and cute at the same time, right?
That was all of the information and latest news from GFriend's Yerin! Finally, Buddys can erase their 'homesickness' along with Yerin through GFriend's comeback in 2020! As you can see, she was looking as stunning as ever. Despite the negative comments about her appearance, Yerin was still left her fans amazed by her appearance. Let's always supporting GFriend's Yerin and wait for the next updates from her!
Also, don't forget to tell us your thoughts about her through the comment down below!