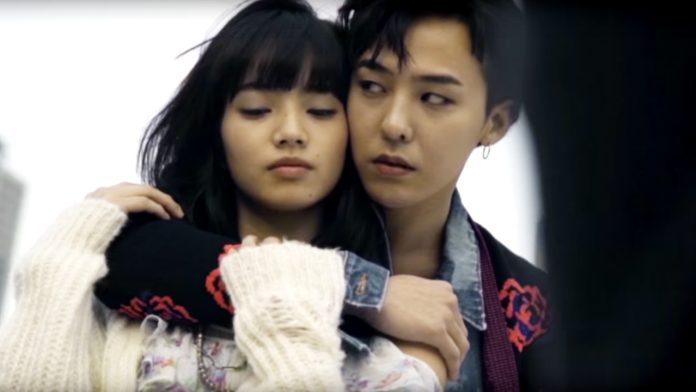 G-Dragon and Nana Komatsu are in Relationship?
We all know BIGBANG's leader G-Dragon, not only for his music, but his fashion sense as well. It's not uncommon to see his photoshoots in magazines, either individually or partnered up with a model. That's how G-Dragon met Nana Komatsu, a Japanese model, who posed with him for Nylon magazine. The pair actually first met at a Chanel collections event in Seoul in 2015. It was then reported that the artist was dating the model. Was it true? What's the truth about their relationship? Byeol Korea will provide more information about G-Dragon and Nana Komatsu, so stay tuned!
The Truth About G-Dragon and Nana Komatsu's Relationship
The story started when a Japanese news outlet revealed that the two were spotted together on a date in May, 2016. According to Soompi, the article also revealed that after a fan-meeting on May 6, G-Dragon met Nana Komatsu in the Azabu district in Tokyo. There was a video of their alleged restaurant date spreading on Instagram. Furthermore, it was revealed that Nana Komatsu was actually G-Dragon's fan and she wanted to get closer to him as a fan. She even posted a picture of herself at a BIGBANG concert. People started to make comparisons and thought Nana Komatsu resembled Kiko Mizuhara, G-Dragon's former girlfriend. Let's check out their intimate photoshoot for Nylon magazine.
In September 2016, the rumor resurfaced due to leaked Instagram posts on G-Dragon's private Instagram account (@peaceminusone) before being deleted. According to Soompi, in one photo, it looked like G-Dragon and Nana Komatsu were having dinner together.
His fellow BIGBANG member even left a comment, "Let's write a song. It'll be called 'Lovers.'" In another photo, it looked like a woman with her back to the camera was sitting in front of G-Dragon while he had his hand on her back.
People speculated that the woman was Nana Komatsu. There were also other photos, like the one below.
In response to the rumors, a source from YG Entertainment told Donga.com that it had not been confirmed yet, and usually the agency would not just give a response every one of those rumors, indicating that there would not be any official statement. In another response to Sport Daily, they said that it was the artist's private life.
Meanwhile, G-Dragon, himself, uploaded a photo that seemed likely to be a response to the rumor and the hacked private Intagram account (including leaked photos).
On MBC's Radio Star, when asked about his relationship with Nana Komatsu, he saidthat they were in an ambiguous phase, that he could not say whether they're in a relationship or not. Moreover, he said that if the woman of his life (in the future) wanted to go public, he would do so and, if not, then he would not do it. He thought that his status as a public figure could negatively effect his partner if he were open about a relationship.
NEXT >>>