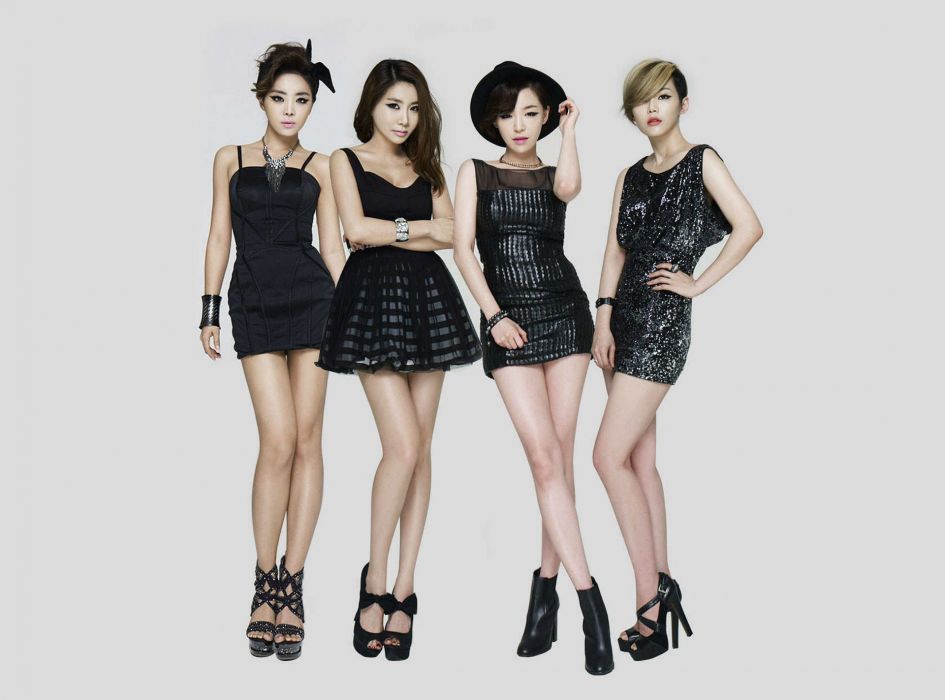 The Legendary Girl Group, Brown Eyed Girls!
Brown Eyed Girls (브라운 아이드 걸스) or B.E.G is a South Korean girl group that contains of 4 members: JeA, Miryo, Narsha, and Ga-In. On October 2015, all of the members left their previous agency Nega Network, and signed with Mystic Entertainment. The group debuted on March 2, 2006, as an R&B/Ballad vocal group with "Come Closer (다가와서)" and have since challenged themselves with a notable variety of different music genres.
The group's leader, Jea, was the one responsible of the group's creation and was actively involved in the selection of the other members. Jea picked Miryo who was known as a great female rapper from the hip-hop community, Narsha who was known as a talented singer from her high school days, and lastly Ga-In who was selected by the three members after she was eliminated from Battle Shin Hwa.
They spent more than 3 years of training in singing and holding several small size concerts. The group was known as the "faceless group" because they did not appear on any visual media and chose to not even appear in their own music video. Then they finally rose to popularity in the K-pop world in 2009 with Abracadabra, with its electronica-based genre along with its iconic dance entitled 'The Arrogant Dance'.
Official Sites of B.E.G
Daum Café / Facebook / Homepage / Youtube / Twitter / V App
Brown Eyed Girls's Full Profile
View this post on Instagram
Brown Eyed Girls Fandom Name : Everlasting
Brown Eyed Girls Official Fan Color : Yellow & Black
Sub-Unit : M&N (Miryo & Narsha), JeA (solo), Miryo (solo), Narsha (solo), Ga-In (solo)
Kim Hyo-jin's (JeA) Profile and Facts
View this post on Instagram
Birth Name : Kim Hyo Jin (김효진)
Stage Name : JeA (제아)
Nicknames : J.A., Jegulee
Position : Leader and Main Vocalist
Birthplace : Seoul, South Korea
Birthday : September 18, 1981
Zodiac Sign : Virgo
Blood Type : O
Religion : Christian (Catholic)
Nationality : Korean
Height : 158.9 cm (5'3″)
Weight : 46 kg (101 lbs)
Hobbies : Playing piano, Exercising, Watching the movie, and Taking selfies
Speciality(ies) : Singing, Lyrics writing, Song writing, and DJ
Languages : Korean
Instruments : Piano
Siblings : One younger brother
Education : Dong-Ah Institute of Media and Arts
Fans : Jeaholic
Ideal Guy : One who is manly with comprehension
Favorite Musician : Eric Benet
Instagram : @jeaworld
Twitter : @jeaworld
View this post on Instagram
Before her debut in Brown Eyed Girls, JeA, then known simply by her name Kim Hyo-jin was a member of the original soundtrack group 3point and had previously been singing original soundtracks.
JeA is an avid songwriter, and has written many songs for herself, Brown Eyed Girls and other artists.
She was in relationship with YG composer Choi Pil Gang. It was first made public in November of 2013, where it was revealed that the two had already been dating for three years since 2010. They finally ended their six-year relationship on September 2016.
She appeared on Mnet's "Produce 101" as a vocal trainer.
In March 2016, it was reported that she becomes an adjunct professor in the applied music major at Seoul Arts College, a technical college that focuses on careers in the arts.
In 2012, she decided to become a vegetarian.
Jo Mi-hye's (Miryo) Profile and Facts
View this post on Instagram
Birth Name : Jo Mi Hye (조미혜)
Stage Name : Miryo (미료)
Nicknames : JoHoney, Jomiryo, Mimyo
Position : Main Rapper and Sub Vocalist
Birthplace : Sucheon, Jeollanam-do, South Korea
Birthday : November 2, 1981
Zodiac Sign : Scorpio
Blood Type : A
Religion : Christian
Nationality : Korean
Height : 163 cm (5'4″)
Weight : 45 kg (99 lbs)
Hobbies : Playing Guitar, Listening to music
Speciality(ies) : Rap writing and Playing Guitar
Languages : Korean and English
Instruments : Guitar
Siblings : One younger brother
Education : High school drop-out; took the GED; Joongang University
Fans : Miryotic
Ideal Guy : One who is refined & has a great sense of humor
Favorite Musician : Seotaiji & Kids, Michael Jackson
Instagram : @miryoakajohoney
Twitter : @MIRYOakaJOHONEY
View this post on Instagram
She is a former member of rap group called Honey Family.
She appeared as a producer in the first season of 'Show Me the Money'.
She was a contestant of 'Unpretty Rapstar Season 3'.
Among female idols, Miryo has copyright to the most songs, having a total of 56 songs by March 2013.
She has a hip hop crew called ALL I KNOW MUSIC.
Despite always scored the highest in her class, she left high school because she wanted to pursue music like her role model, Seo Taiji (he also dropped out), at the time.
Miryo won the title of "Most Knowledgeable" amongst the various idol girl group members on KBS2TV's Lunar New Year's special, 'Idol Brain Collision' in 2011.
Miryo admitted that she got cosmetic surgery for double eyelids.
NEXT >>>