Take a Look at EXO D.O Best Hairstyle Choices Here!
For top K-Pop idols, it's very common if they are often seen with different haircuts, another hair color, or the like. The differences between their hairstyles are commonly based on the concept of their music at that time, or if they just wanted something new on their appearance, as well. Just like D.O Kyungsoo from EXO, who has been seen with several different hairstyles throughout the years! Through this article, Byeol Korea will give you the details about that, so keep on reading!
Among all of the EXO members, it seemed like D.O Kyungsoo was often seen with short, black hair. His appearance typically gave kind of a preppy and neat look, but actually D.O has also been seen with other hairstyles, as well! Do you want to know more about that? Here are some of EXO's D.O's hair transformations throughout the years!
EXO D.O Long and Fluffy Hair
From his first appearance during debut along with EXO, D.O Kyungsoo was seen with his kinda long hair look. Not only that, his hair was looking thin and really fluffy, which also made the fans wonder about how soft it was! During the Ko Ko Bop era, fans also found out that D.O's hair was often quite long and colorful!
Moreover, the fans also got surprised and amazed when D.O appeared with his fiery red  undercut, just like this:
After that, he still had another long and fluffy hairstyle, which also made us kinda miss that look, right? Obviously, the fans also gave their compliments and comments about his long and fluffy hair! Those comments included things such as "I wanted to copy his hairstyle", "His hair is so cute", "My pocket size D.O is too much cuter then cute!", and many more!
Let's reminisce about the good old days with EXO's D.O long and fluffy hair:
EXO D.O Short Hair
Right after the long and fluffy hair era, EXO's D.O had another hair transformation, as well! He was looking more 'fresh' and cool with shorter hair. D.O was looking good with the short hair, especially when he was attending a formal event and wearing a tuxedo. What a perfect combination!
Then obviously, his fans were really fond of short hair on EXO's D.O, as well! He received a bunch of compliments due to the new hairstyle. Some people also thought that his new look made him look like boyfriend material!
They were commenting things like, "He rocks any kind of hairstyle because he's handsome", "I have never seen any idols who look as good as D.O with shaved hair", "That hairstyle made his cuteness upgraded to one level ahead!", and many more!
Here is some of the fresh look from EXO's D.O with his short hair!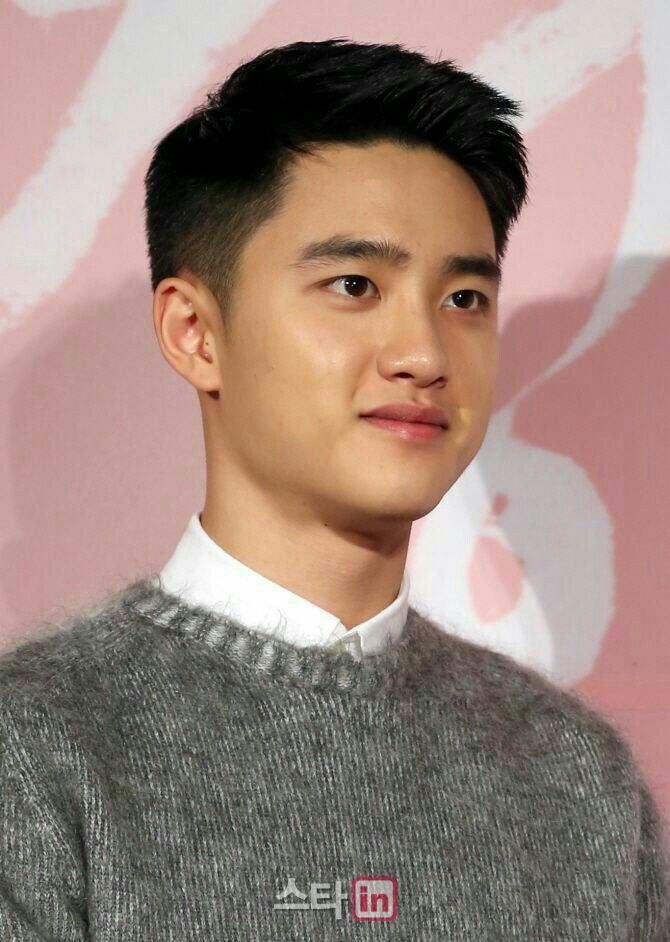 EXO D.O Almost-Bald Hair
Finally, EXO's D.O again surprised his fans by shaving his hair until he was almost bald! At that time, he was about to start shooting for a movie which was titled Swing Kids. In the movie, he was cast as soldier, so it's no wonder that he shaved his hair into that haircut, right? But still, he looked gorgeous as ever!
Not only for that movie, in some of D.O's K-drama appearances, such as in 100 Days My Prince, he was also looking effortlessly handsome with the almost bald hair and historical clothes. Some of his fans decided that D.O was looking even more cute with the super-short hair! The haircut suited his and his baby-face appearance very well!
There have been plenty of compliments for EXO's D.O from his fans, such as "Kyungsoo looks good no matter with any kind of hairstyles!", "Pro-idol D.O Kyungsoo", "D.O Kyungsoo is such a cutie!", "He's so handsome", and many more!
And here are some picures of EXO's D.O with his almost-bald hair look!
EXO D.O Military Haircut
After seeing the almost-bald haircut from D.O, finally there's also his appearance when he went into the military service! Basically, the haircut for his military service wasn't really different from his previous hairstyle, but it looked a good bit thinner.
The fans also thought that D.O was looking manly with the haircut, as well! Moreover, he was seen with his military uniform, and we could see the 'serious' expression on his face, which only made him more gorgeous!
Some of his fans felt sure that right after his military service ended, D.O would have another long hair session, just like in the good old days. Meanwhile, they were also commenting on the military haircut with things such as, "He looks pretty damn good in it!", "He still looks really good", "He turned into bald", and many more!
Let's take a look at EXO's D.O with his military haircut here!
And well, that was all of the information about D.O Kyungsoo's hair transformations, which made us fall even more in love with him! Actually, D.O Kyungsoo would look almost perfect in every kind of hairstyle, since the styles all suit him very well, even when surprised the fans with his 'almost bald' haircut until the military haircut, which also made his fans still adore him.
Let's always support EXO's D.O and wait for another hair transformation from him in the future! And also, don't forget to comment down below on your favorite among these hairstyles from EXO's D.O!