SKZoo the Cartooned Version of Stray Kids
SKZoo is a project made by a South Korean boy group under JYP Entertainment, Stray Kids. This the cartoon avatar that represents each member in Stray Kids. SKZoo started because of the jokes talked among fandom that members of Stray Kids look like cute animals. So, Stray Kids decided to make it happen.
SKZoo version of God's Menu launched on February 2, 2021. Check the SKZoo character of each member of Stray Kids and details on this Byeol Korea below! Stay tuned!
List of SKZoo Characters
| | |
| --- | --- |
| Stray Kids Member | SKZoo Characters |
| Bang Chan | Wolf Chan |
| Lee Know | Leebit |
| Changbin | Dwaekki |
| Hyunjin | Jiniret |
| Han | Han Quokka |
| Felix | BbokAri |
| Seungmin | PuppyM |
| I.N. | FoxI.Ny |
Bang Chan SKZoo Character Wolf Chan
Bang Chan is always considered to resemble the wolf, so his SKZoo character is finally Wolf Chan. This appeared the combination of Wolf + Bang Chan becomes Wolf Chan.
Lee Know SKZoo Character Leebit
Lee Know was chosen as a rabbit, so his character in SKZoo is Leebit. This is a combination between Lee Know + Rabbit becoming Leebit.
Changbin SKZoo Character Dwaekki
Dwaekki means a hybrid between pig and rabbit. In Korean, the pig is Dwaeji, while the rabbit is Tokki. Therefore, it becomes Dwaekki. However, Changbin always correlated with this pig and rabbit due to their jokes. Changbin got SKZoo Character, Dwaekki. Isn't it cute?
Hyunjin SKZoo Character Jiniret
Jiniret is a ferret and Hyunjin got this character. Like other combinations, it refers to Hyunjin and Ferret, so Jiniret.
Han SKZoo Character Han Quokka
Stray Kids Han SKZoo character is called Han Quokka, which resembles a quokka or squirrel. If Han combine with Quokka will be Han Quokka.
Felix SKZoo Character Bbokari
Bbokari is a chick. Felix is the one who got the character. Do you think it's fit for Felix?
Seungmin SKZoo Character Puppy M
Puppy M is literally a puppy or juvenile dog. Seungmin is similar to a puppy, and his SKZoo becomes Puppy M taken from his name Seungmin.
I.N SKZoo Character Foxl NY
I.N got SKZoo's character Foxl Ny which is a cute desert fox. I.N resemble this cute fox, so it becomes Foxl NY.
Several Versions of SKZoo Characters
The SKZoo characters released by JYP Entertainment have several versions, including God's Menu and plush dolls wearing a black sweatshirt with an "SKZ" and also SKZoo characters wearing detective outfits. All of them are initially adorable and undeniable to collect.
The Usage of SKZoo Characters
These SKZoo characters are inspired by BTS' BT21, which represents each member and is shown as merchandise. All these characters made Stray Kids closer to the fans and used as Stray Kids' promotional media both digitally and physically.
SKZoo Characters in Digital Media
Stray Kids used this character in their track God's Menu, which touched fans in another way. The cute feeling is a kind of a vibe when watching the SKZoo version of Stary Kids. Check it out!
SKZoo Characters Physical Merchandise
The SKZoo character is not stopped on digital media. JYP Entertainment produces official merchandise such as dolls/plushies, key chains, sandals, stickers, posters, phone accessories, pouches, keyrings, smart tok, canvas bags, sticky memos, etc. There's also an unofficial one that appeared in many forms. So, which one do you think it's adorable to collect? Check all the physical merchandise of SKZoo characters here!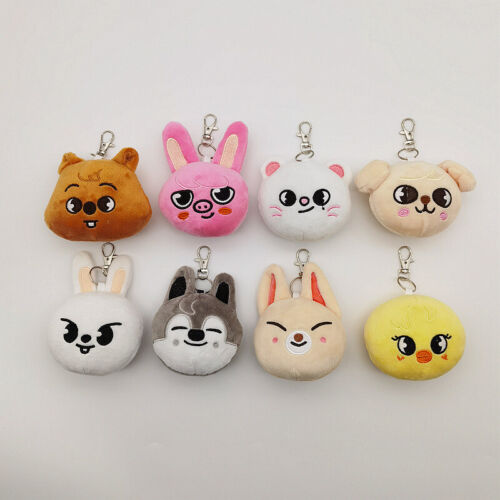 It's all about SKZoo characters of Stray Kids. Who is your bias, and do you agree with his SKZoo character? Put your comment and share your thoughts below!