Earrings Inspired by the Style of K-Pop Idols!
K-Pop idols easily gain a lot of attention, since their appearances are always highly awaited! Especially during their stage performances or on special occasions, those K-Pop idols are definitely looking stunning from head to toe. But this time, we're going to talk about K-Pop idols earrings, which could become an inspiration for you! Through this article, Byeol Korea will give you the details about that, so stay tuned!
Both male and female K-Pop idols have their own style when it came to earrings. They wear various types and designs of earrings, which come from several different brands, as well. Here are some of the inspired styles from K-Pop idols who were looking stunning with their earrings!
BTS
Let's start with BTS! Since their first appearance as a male K-Pop group, each of BTS's members have gotten a lot of attention since all of them look so good! Not only that, they are also often seen wearing various type of earrings, especially while they are performing on stage!
BTS Jimin
BTS's Jimin was looking gorgeous with his basic suit and shirt. He added a pair of Chanel earrings, enhancing his elegant and luxurious look!
BTS V
For a boyish style, you could get inspired from V's earring style! With his metallic white outfit, he completed his style with a pair of black Channel earrings, as well!
BTS Jin
Then from BTS's Jin, you could achieve such a simple look with one earring from Numbering! Since it was only one piece earrings, it makes your style become unique, but simple at the same time!
BTS Jungkook
We are really in love with BTS's Jungkook's earrings style! He was looking really nice with that princelike outfit and also this pair of eye earrings from the brand Delfina Delettrez, to complete his look!
BTS Suga
BTS's Suga was also looking effortlessly fashionable with simple outfit and a pair of horshoe earrings! Since the type and design of the earrings looks so simple, they can go with any kind of outfit, as well!
TWICE
TWICE members have always been famously known with their cute and girly image! Not only with their outfits and their makeup, but the TWICE members are also looking cute when they were wearingearrings. Get inspired with their earrings style, here!
TWICE Tzuyu
A pair of 'Sugar Flower' earrings from the brand Jealousy really suits TWICE's Tzuyu! The floral pattern was looking stylish, and also matched with various outfits!
TWICE Dahyun
TWICE's Dahyun was wearing the 'Always You' earrings from the brand Jealousy! The design of the earrings was really simple, yet beautiful at the same time. They would go wellwith a dress, a blouse, or even a blazer, as well!
TWICE Jeongyeon
TWICE's Jeongyeon paired a checkered outfit along with white oval hoop earrings from the brand alainn! This style from her is nice for those of you who are looking for chic and preppy style!
TWICE Tzuyu
For a hoiday look, TWICE's Tzuyu was looking cute with a simple ruffled outfit! Then she added a pair of rainy heart earrings from the brand Jealousy with the price about ₩21.00, for a little extra flair!
TWICE Sana
The combination of sporty outfit and pink flower earrings from the brand Strawberry Sherbet was looking nice on TWICE's Sana! It was proven that accessories aren't only meant for certain outfits, but can go really well with anything!
EXO
Even though people might think that EXO's members are rarely seen with their earrings,  sometimes they really go all out! Once they start wearing those earrings, you can be amazed by them, easily!
EXO Xiumin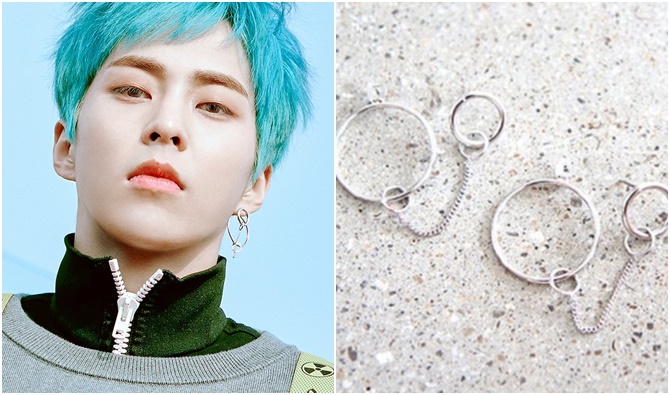 With aqua blue hair and an earrings from the brand ROWKY, EXO's Xiumin was looking effortlessly standout! The boyish look of his style is really easy for those of you who want to copy his style, as well!
EXO Baekhyun
There's also EXO's Baekhyun with his boyish and sporty look! He was wearing one earring which could also used as an earbud, as well!
EXO Chen
EXO's Chen was looking gorgeous with one earring that spelled out the word 'Loved!" Not only that, he was also wearing a matching metallic necklace, which completed his look.
BLACKPINK
Each of BLACKPINK's members have their own kind of style, but they also have similarities when it comes to their taste in earrings! Lisa, Jisoo, Jennie, and Rosé were effortlessly flawless with their earrings styles. Let's check this out!
BLACKPINK Lisa
A mixture of a gold layered necklace and gold earrings from the brand Vetements was beyond perfect! BLACKPINK's Lisa combined the gold accessories with her basic white blouse, and the coral lipstick was completed her look!
BLACKPINK Rosé
For a preppy and chic look, you could get inspired with BLACKPINK's Rosé's style when she was wearing this baby blue dress and a pair of starry circle drop earrings from the brand Get Me Bling!
BLACKPINK Jisoo
BLACKPINK's Jisoo was looking cheerful and cute with this yellow outfit and a pair of white flower earrings from Jealousy! This style was really matched for the holiday summer vibes, as well!
BLACKPINK Jennie
Still from the brand Jealousy, but this time it's from BLACKPINK's Jennie's style! She was looking cute with a checkered outfit and layered necklace, but this pair of ribbon and crystal earrings from Jealousy really completed her look!
GFRIEND
GFRIEND has also become one of the female K-Pop groups who are often seen with earrings as their accessories! Through different occasions, they showed they really knew how to combine beautiful earrings and their stunning outfits. Here are some of the GFRIEND members' styles with earrings!
GFRIEND Umji
GFRIEND's Umji was looking adorable with her printed dress! She also completed her feminine look with some accessories such as layering necklaces and a pair of white pearl flower earrings from the brand Ro.mang.shu!
GFRIEND Yerin
Another feminine-inspired style comes from GFRIEND's Yerin! With the ribbon accent on her collar and her collar hair pin, Yerin completed the feminine look with crystal drop earrings from the brand Bling Star!
GFRIEND SinB
If you are looking for something chic and simple, you could copy GFRIEND's SinB's style with these crystal drop earrings from Bling Star, then you could mixed the accessories with a chic crop top, as well!
GFRIEND Eunha
GFRIEND's Eunha was looking effortlessly stylish with a lace accent black dress! Not only that, she added some accessories such as a hair pin and a pair of mismatched pearl pique earrings from the brand Between Us! The earrings were really cute, since it has two different types, as well!
GFRIEND Yuju
For a romantic date, you could copy GFRIEND's Yuju's style with an off-shoulder white blouse! And also, you could add layering necklaces or these white pearl clam drop earrings from the brand Jewel County!
GFRIEND Sowon
Looking for something elegant? Try on the Pensee drop earrings from Between Us, then mix it along with a red blazer and red lipstick. You would be more than elegant, just like GFRIEND's Sowon!
Kang Daniel
Kang Daniel is one of the male K-Pop idols who is often seen with earrings. Whether it is during his stage performances, a special event, day-off, and many other occasions! Well, it was proven that he was looking fashionable and stunning with his own earring style!
Kang Daniel was looking gorgeous with his red suede suit and black shirt! For the accessories, he wore the chrome heart necklace and earrings from Justin Davis with the price of ¥25.920! Meanwhile, he was wearing another statement earring on the his right ear!
It seems like Kang Daniel really knows how to mix and match two different earrings, right? He was looking chic and simple with a black suit and an earring from Chanel on his left ear, meanwhile he was styling his right ear with Justin Davis's Ritchie with Lock earring!
This time, Kang Daniel was only wearing one earrings on his left ear! The earring was from Chrome Hearts, and it was cost around $517! It also matched really well with his striped blazer, producing an edgier look!
GOT7
GOT7's members are also often seen using a pair of statement earrings, as well! Not only that, mostly they were using pieces that wereunique and totally different from each other. Let's check them out!
GOT7 Mark
GOT7's Mark was wearing a pair of earrings from the brand By Yum! Those earrings were had a cute form, one looked like a kite shape with metallic colors, and the other had a smiley face! And the most important thing, they really suited GOT7's Mark, as well!
GOT7 Bambam
GOT7's Bambam was looking stylish with a basic white shirt and one earring from the brand Rocking AG! It has a kind of metal chain, with a cross design on top of it!
GOT7 Jaebum
Meanwhile, GOT7's Jaebum was seen wearing a pair of earrings from the brand By Yum! It also has two unique and magnificent shapes, crosses with different metallic chains.
IU
Last but not least, there's IU and her stunning appearance while she was using beautiful earrings! Mostly, when IU has appeared in certain K-dramas, she would appear with some statement earrings which got a lot of attention due to people's admiration towards her style!
When IU appeared in the series Hotel Del Luna, she was looking chic and girly with her feminine outfits! Moreover, she also wore a pair of flower earrings from the brand Jealousy! Meanwhile, the earrings cost around ₩41.00!
Next, IU looked like a beautiful black swan with this ruffled black dress, layered necklaces, and a pair of black teardrop rose hoop earrings from the brand Katenkelly Seoul! For the price, it was approximately ₩39.00!
For the semi-formal look, IU was looking chic with an all white outfit and the white hairpin! She also completed the look with three chain drop earrings from the Hei brand, which cost around ₩28.00!
That was all of the information about inspired styles from K-Pop idols who were looking gorgeous with earrings! Even though all of their styles were good, you could choose one from your favorites among their styles, then adjust it to make your own look, as well!
Don't forget to tell us your thoughts about that, and write a comment down below about one of your favorite K-Pop idols earrings style!