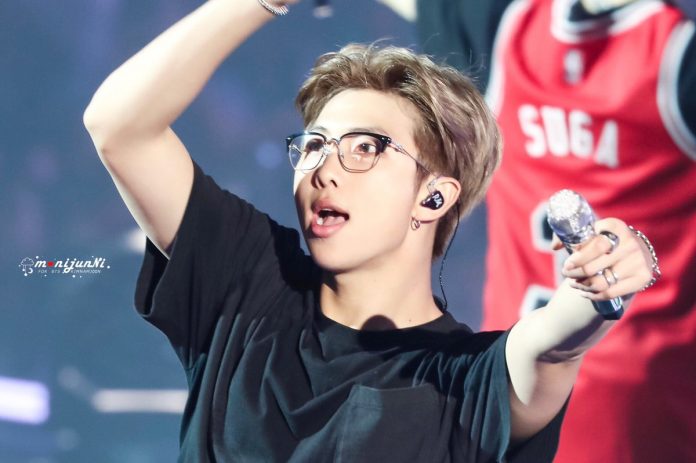 BTS Members with Glasses
Wearing glasses is closely associated with intelligence or fond of reading. Seeing men with glasses certainly has its own charisma for women. Want to see how worldwide's phenomenal boyband BTS members looks with glasses? In this article, Channel-Korea will be providing you photos of BTS members with glasses. So, stay tuned!
RM with Glasses
First, we have our intellectual leader, RM or Kim Nam-joon!
His visual with glasses suck people's attention. Non-K-Pop fans even call him a "sexy guy with glasses". Some keywords related to "glasses" and "RM" went viral on Twitter because of him.
RM is one of the idols who have above average intelligence. This BTS leader often motivates ARMYs with just simple words. Having a hobby of reading, it turns out RM has a minus eye, you know! He often wears glasses because the minus number he has is quite large. Even so, the charm of the RM does not fade. Here are his portraits with glasses that will show his charm!
Wearing glasses for an award ceremony is not a common thing, especially in Grammys. Even many people who wear glasses turn to contact lenses when they have to go to the event. But RM looks comfortable wearing sunglasses when strolling on the red carpet in 2019 Grammys. He also divulged the reason for wearing glasses when interviewed.
"I stayed up all night. Look at my eyes. The color is red. So I wear glasses," he said.
#BTS x #GRAMMYs @BTS_twt @bts_bighit @RecordingAcad #BTSARMY pic.twitter.com/nJp7VV74ma

— STAPLES Center (@STAPLESCenter) February 10, 2019
Since he was a student, RM always got good grades in school. RM's intelligence is shown from an IQ that reaches 148. His ability in English is almost perfect because of this. In the midst of its busy life, RM always takes the time to read a book.
These are charming portraits of RM who often wear glasses. It cannot be denied that he is indeed more suitable to be dubbed the President of ARMY when wearing glasses.
Jin with Glasses
Next, we have the worldwide handsome a.k.a Kim Seok-jin!
We all know that Jin is handsome, but do you know that his good looks increase when wearing glasses?
At the KBS Gayo Daechukje 2019 event which was held on Friday, December 27, 2019, RM and other BTS members appeared dressed neatly in black suits. Among them, Jin's appearance drew the most attention. He tried to look different by wearing glasses.
Jin looks more handsome and authoritative with the glasses he wears. He exudes an aura like a young CEO who has a successful business.
Once he appeared on the red carpet, Jin immediately became a trending topic on social media. The keyword "Kim Seokjin with glasses" is the number one trend on Twitter. Jin also entered the list of trends in other countries.
Fans commented on Jin's bespectacled visuals with various tweets. Many were hysterical to see the handsomeness of the 1992-born singer during the red carpet session.
"Kim Seokjin is wearing glasses? Is he kidding? He's really handsome!" fan comment. "I just realized that Seokjin with glasses is the only thing I want to see in my life," another fan added. "I can't say anything else. Seokjin with glasses is truly extraordinary," concluded the other.
Let's take a look at Jin's other appearances with glasses!
BTS' Jin is indeed a worldwide handsome, don't you think?
NEXT >>>