Find Out More About Jimin Birthday Celebrations Throughout The Years!
BTS is one of the most wanted South Korean boy bands that includes RM, Jin, Suga, J-Hope, Jimin, V, and Jungkook. They have been recognized all over the world and the band has a very strong fan base. Their fans are involved in the celebration of the members' birthdays which they always remember and cheer together regardless of what their schedule requires of them.
BTS' songs and albums are produced in such a way that many people can relate to them and they can absolutely get immersed into the lyrics, the music, the way they present themselves, all of which amounts to the great love and support they get from fans from all over the world. As a sign of their worldwide popularity and recognition, they were even invited to attend the Grammy Awards this year. BTS really are very powerful and charismatic. Which is why ARMY from all over the world are united and strong in their love and support of BTS. Now, who doesn't know Jimin, one of the most handsome members of BTS? Let's indulge ourselves and get a good look at his birthday celebrations in this Byeol Korea article. Stay tuned and keep scrolling down.
#HappyBirthdayJimin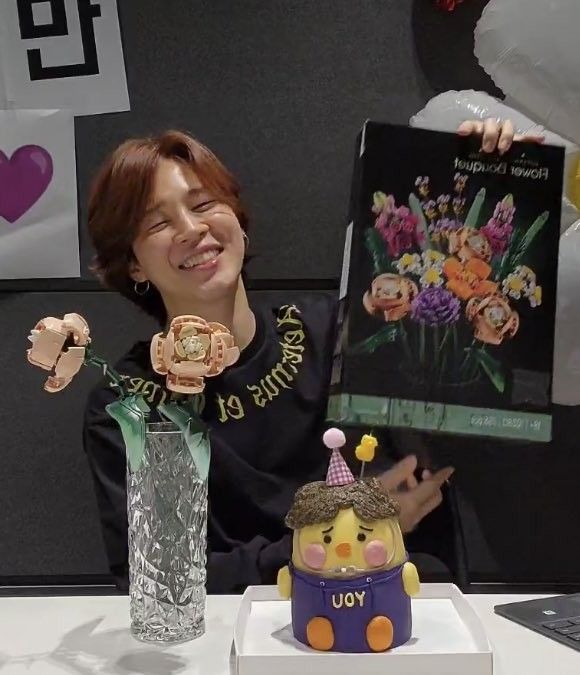 Jimin, who is also known as "The Guy from Twitter" and "Trending Emperor," celebrated his birthday on October 13th. On his 25th birthday (in 2019, also as Korean age), ARMY, the name of the great BTS fandom, celebrated his birthday with multiple hashtags on Twitter.
They celebrated with various hashtags especially started at midnight including #HappyBirthdayJimin, #LovelyJiminDay, #OurLightJimin, and they all became trending worldwide, even in the United States and the United Kingdom. How cool is that!
#HappyBirthdayJimin surprisingly got ranked 43 at the time and became the Worldwide Most Tweeted Hashtag in 2019. This made Jimin the highest-ranked among all the BTS members. Additionally, he was trending in 62 out of 63 countries and got 1.9 million tweets worldwide.
How ARMY Celebrated Jimin Birthday
Jimin's birthday was celebrated in several countries, such as Sao Paulo, Brazil. ARMY had made celebratory billboards throughout the subway station covering all the lines and stations and counting 59 LED billboards overall. Furthermore, ARMY also paid by themselves ads on YouTube to celebrate Jimin's birthday and promote his music as well. It's amazing right!
Other fans from China, who are called JIMINBAR_CHINA had prepared a special snow day event in Seoul in celebration of Jimin's birthday on October 13th. They also made a big ballon of Jimin's figure along with a cake structure. So cute! A lot of ARMY gathered on Gangnam for this snow day event.
BTS Tweets For Jimin Birthday
BTS members usually have something to give to each member on their birthday. Despite their busy schedule, they always find an opportunity to do that. For Jimin, who is often the person in charge of preparing the cake and candles, they decided to give him a surprise birthday song in their concert in Saudi Arabia. The members recited the happy birthday song in Arabic, making it so special and surprising for him.
The birthday song turned out to be quite the surprise, as Jimin didn't even realize that it was a birthday song for him at first, he even thought that it was a New Year's greeting, but later figured it out and was caught by surprise. He was so happy!
Then, after that, the members shared a handwritten message for Jimin. Jin was the first person to do this. He wrote, "Jimin-ah, happy birthday, I wrote this for a period of three hours. Jimin, Happy Birthday! – Jin Hyung."
Suga also shared something sweet, "Jimin-ah, I wish you a happy birthday I hope that this year, you eat lots and grow up and up."
They continued with leader RM, the maknae Jungkook, J-Hope, and V who posted their own birthday wishes for Jimin accompanied by some cute photos of Jimin.
Jin's handwriting below which he said jokingly it took him three hours to write. Look the way he did it below! So strange but indeed funny!
지민아 생일 축하해 세시간동안 썼어 pic.twitter.com/ZaBRwXu5xI

— 방탄소년단 (@BTS_twt) October 12, 2019
This was tweeted from RM by uploading Jimin's beautiful photos with the magnificent scenery of him looking to the water. So artsy and thoughtful of RM!
생일 축하합니다 지민씨 #남준이형 pic.twitter.com/KcKKMzQ12a

— 방탄소년단 (@BTS_twt) October 12, 2019
For the adorable Jungkook, he uploaded some annoying photos of Jimin dozing, and added a lot of hilarious hashtags to his birthday post. How lovely of him!
지민이형 생일축하해요! 그리고 미안해잉💜#지민생일ㅊㅋ #진짜미안해 #미안해 #다시한번미안해 #뭘해도멋있는거아는데미안해#아직자고있나본데미안해 #내맘알지미안해#너는나나는너무미안해 #웃음을위해어쩔수없는판단이었어미안해 #아무리생각해도저사진이찰떡이었어미안해 #사랑해 pic.twitter.com/1eQSkKceyZ

— 방탄소년단 (@BTS_twt) October 12, 2019
J-Hope posted a cute set of photos and made plans to eat something delicious with Jimin when going back to Korea. J-Hope so funny, because of him we could see Jimin's embarrassing yet cute photos!
우리 이쁜 지미니 생일축하해잉💕👍
한국가서 맛난거 먹쟈 🥺🐥#HappyBirthdayJimin #지민이생일ㅊㅋ #홉필름 pic.twitter.com/9yc4FffMqR

— 방탄소년단 (@BTS_twt) October 12, 2019
내친구 생일축하해📸👍🏻 #응 #그래 #형이야 #김태형이야 #그래 #생일축하하고 #또 #내가 #이쁜사진 #찍어줄게 pic.twitter.com/blAFw0XfBj

— 방탄소년단 (@BTS_twt) October 12, 2019
Suga tweeted by saying Jimin ahh, I hope you could eat a lot and grow a lot!
This is how much they love Jimin and respect all of their achievements both personally and also as a family. The group which is under Big Hit Entertainment has become one of the K-Pop jewels that have already gained popularity all over the world with a strong fan base, ARMY. They have been holding concerts and interviews in several countries which are making them go strong ahead.
That's all about BTS and ARMY celebrating Jimin's birthday throughout the years. Supporting Jimin and BTS on the path of their career. Hope they achieve even more success and get more love in the future ahead of them. Don't forget to leave a comment and share your thoughts in the section below!