Let's Party Rock With Boys Republic!
Boys Republic gained a lot of attention after debuting with "Party Rock." Its concept of cute and powerful brought the group to another level of popularity. Through this article, let's get to know more about Boys Republic!
Group Profile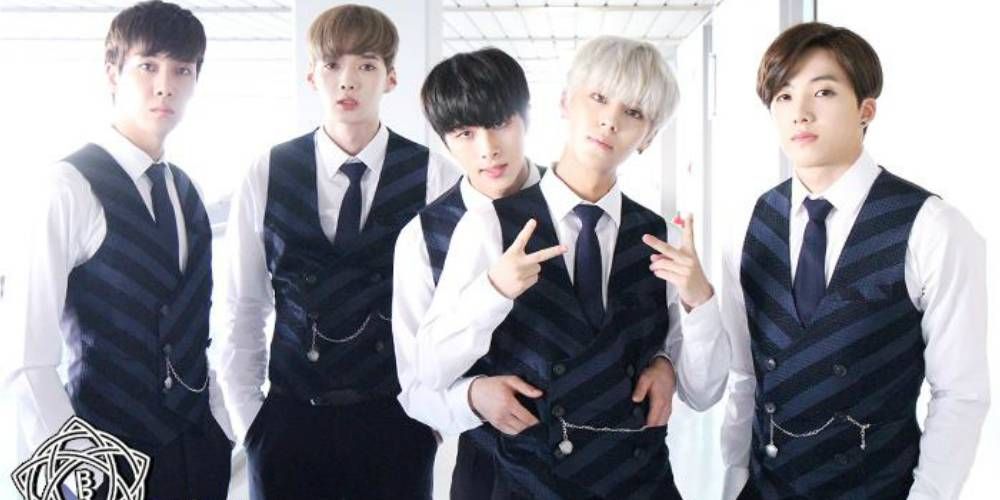 Boys Republic was the first K-pop boy group from Universal Music and was formed under Universal Music Korea in 2013. The group consisted of five members: Onejunn (leader and vocalist), Sunwoo (vocals), Sungjun (rap and dance), Minsu (rap and dance), and Suwoong (maknae and vocals). Before their debut, some of the members such as Sunwoo, Sungjun, and Suwoong used to be trainees in Cube Entertainment, JYP Entertainment, and Big Hit Entertainment.
The official fandom of Boys Republic was called Royal Family. The hit single "Party Rock" was their first debut project released on June 5, 2013. The group's popularity also increased rapidly since they held international tours to eight cities and seven European countries!
From their first appearance, Boys Republic showed a "milky-guy" and "cute" concept even though their debut single "Party Rock" was a mixture of cheerful and funky music that was opposite to their actual image. As time went by, Boys Republic also transformed into other concepts which made their characteristics develop even more!
Boys Republic Discography
Studio Albums
Title
Album Details
Beginning
Release Date: August 30, 2017

Label: Universal Music, Happy Tribe Entertainment

Format: CD, CD + DVD, Digital download
Extended Plays
Title
Album Details
Identity
Release Date: October 8, 2013

Label: Universal Music, Happy Tribe Entertainment

Format: CD, Digital download

Real Talk
Release Date: November 12, 2014

Label: Universal Music, Happy Tribe Entertainment

Format: CD, Digital download

BR: Evolution
Release Date: March 30, 2016

Label: Universal Music, Happy Tribe Entertainment

Format: CD, Digital download
Soundtrack Appearance
| | | |
| --- | --- | --- |
| Year | Title | Drama |
| 2015 | Candle Love | A Daughter Just Like You |
Boys Republic Filmography
Reality Shows
| | | |
| --- | --- | --- |
| Year | Title | Network |
| 2013 | Rookie King: Boys Republic | SBS MTV |
| 2013 | Eye Camp Expedition | SBS MTV |
| 2017 | The Unit: Idol Rebooting Project | KBS |
Debut Era of Boys Republic
Boys Republic gained a lot of recognition from people after its official debut on June 5, 2013, with the release of its debut single "Party Rock!". From the first release date, "Party Rock" successfully entered iTunes singles charts in several Asian countries such as Thailand, Singapore, Indonesia, and the Philippines which was a good start for its career as a new boy group at that time!
Let's get to know more about the concept, music video, and the song meaning of "Party Rock" here:
Music Video
The music video contains an energetic and powerful concept that comes from the colorful outfits, a nightclub with a 90s vibe, and an amazing set as the background! Boys Republic members appear with various styles and emphasize their characteristics respectively with passionate dancing to complete the music video!
Boys Republic members gather in a room that looks like a nightclub with a slight game room concept as well. They dance along to the upbeat music with a beautiful girl who is trapped in a pink room where Boys Republic is dancing at. In the closing scene, the members do a kind of battle-dance and have fun with other people!
Song Meaning
Basically, "Party Rock" showcases the feelings of love from a guy to a girl. Since the first time they meet, the girl is kind of special to him since she successfully stole every guy's attention with her charisma. The guy who has a crush on her also wants to steal her heart since he is crazy for her as well.
Moreover, he exclaims that they are going to "party rock" together! Some of the lyrics are beautifully written and are a little aggressive and slightly seductive. It also narrates about love at the first sight with strong desire and romance!
Debut Stage
Boys Republic made its debut stage on several music shows including MBC's Music Core! They appeared with powerful charisma and a monochrome style which made their performance look sophisticated. The mixture of random flashy lights, upbeat music, and amazing dance moves was a perfect show to watch! Other than that, Boys Republic proved their amazing vocals as well since their voices sounded stable and remained powerful!
Stage Performance
Music Shows
One of the most iconic singles from Boys Republic, "Get Down," was performed by them through Simply K-Pop! They appeared with a dark, fierce concept and looked as gorgeous as ever. Their performance was filled with strong vocals, awesome dance moves, and a classy style! The mixture of manly rap, deep voices, and high notes also completed their "Get Down" performance!
Radio Show
Through the Super K-Pop radio show, Boys Republic performed "You Are Special to Me" and "Why!" From the first performance of "You Are Special to Me," the members were focused even more on their vocals which made their performance contain amazing vocals and passionate expressions.
It was followed by their amazing performance of "Why." And, as you can expect, it was as great as their performance of "You Are Special to Me." Boys Republic's performance on the radio show also sounded like a "real" live version since the members emphasized their vocals in the studio, and, somehow, it also felt kind of exclusive as well!
Acoustic Performance
Boys Republic successfully made their fans go crazy over them even more through an acoustic performance session! The group performed "Hello" with an acoustic version which emphasized their vocals as the charming points. With a guitar as the only musical instrument, the members' voices sounded really soft and deep at the same time. They sat together on a rooftop with white and greyish outfits, and it reminded us of a beautiful spring feeling!
Interview With Boys Republic
Through their interview with Showbiz Korea, Boys Republic mostly talked about their third comeback album titled BR: evolution. Onejunn also explained that the album expressed their strong resolution to undergo an evolution as well as a revolution. It also matched with their transformation from "milky guys" to a group of "rough and tough guys."
Aside from that, Boys Republic revealed the meaning behind their title track "Get Down." The single is a narrative about people who are oppressed and undergo an evolution within their life. The song had a strong concept as well. Boys Republic also explained their own difficulties while preparing for the concept of "Get Down" since they had to change their cute image into an intense concept.
Watch the full interview here:
Boys Republic Activities
After 5 years of activity and developing its career, Boys Republic announced it was going on an indefinite hiatus. The members apologized and expressed their gratitude towards the fans who have been supporting them endlessly. As a farewell, Boys Republic held a live performance for Royal Family on September 30, 2018, at KT&G Sangsangmadang theatre in Seoul.
Although their agency revealed that it was an indefinite hiatus, the fans assumed that it was also a statement regarding Boys Republic's disbandment because, after their last performance in September 2018, there was no other activity from Boys Republic as a group.
Here's the last update from Boys Republic's Instagram account:
https://www.instagram.com/p/BoWa5upBNlX/
Let's always support Boys Republic and each of the members careers! Don't forget to tell us which one is your favorite single from Boys Republic!