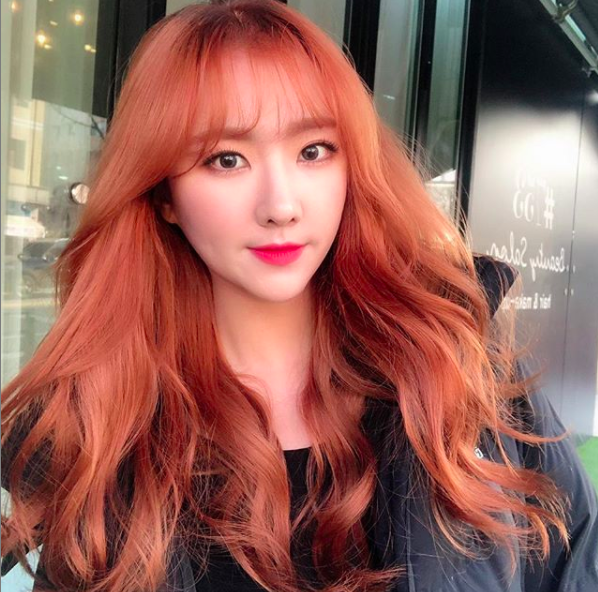 Get to know former member of girl group BadKiz—Eunjoo
As a group that has undergone several major line-up changes, it is hard to keep up with who's in the BadKiz line-up history. The group first debuted on March 24th, 2014, with the single "Ear Attack" under the label Zoo Entertainment. At first, the group debuted with 5 members before changing it constantly and consistently. Therefore, the ones who usually stand out in the group are the group's original members; one of them is Eunjoo who departed just a few months after debuting with BadKiz, along with member Yeonji.
Later, it was revealed that she joined Zenith Media Contents and debuted in the group Luluz and later in Wanna.B under the name Eunsom. Curious to know more about her? Check out this article below!
Full profile
Stage Name: Eunjoo (은주)
Birth Name: Lee Eun-joo (이은주)
Position: Vocalist, Maknae
Birthday: September 23rd, 1994
Zodiac Sign: Libra
Chinese Zodiac: Dog
Height: 165 cm (5'5″)
Weight: 47 kg (104 lbs)
Instagram: @eunjoo_923
Fun facts
Jeonju, South Korea, is her birthplace
She was one of the original members of BadKiz
She left the group in 2014
After her departure from the group, she joined Zenith Media Contents and debuted in the group Luluz (2014) and later in Wanna.B under the name Eunsom (2015–2019)
About BADKIZ Eunjoo personality
Eunjoo is a cute person, both in terms of visual and in terms of personality. Through her seemingly fun personality, she always brings joy to the people around her. She isn't scared to dance silly, act silly, or even dress silly!
https://www.instagram.com/p/CEY1GBMFiQf/
Even as a kid, her smile was still the same as it is today—bright and lovely.
https://www.instagram.com/p/B_zm9GZldi0/
She makes you feel like you wanna be her friend!
https://www.instagram.com/p/CFv2QfQFQdu/
Focus fan-cam
BadKiz are known for their energetic funky songs. That's why a super energetic presence is needed when performing.
With Eunjoo's cute and innocent aura, she pulled off the performance by moving with grace in the seemingly fun song.
Check out a few of the BadKiz videos below!
BADKIZ Eunjoo visual
Eunjoo used to have slightly chubby cheeks when she was in BadKiz. For that, she is always known to be one of the cutest members of the group. Now, even though her cheeks are no longer round, her cute aura still shines through her doe eyes and innocent aura.
And she has an amazing side profile!
Seriously, her cuteness is out of this world!
Career journey
Eunjoo has quite a few experiences in the K-pop industry. She first debuted in the girl group BadKiz with the song "Ear Attack" and she was active in the group until 2014 when she announced her departure from the group.
After departing from the group, in 2014 (the same year as her leaving), she joined Zenith Media Contents and debuted using the name Eunsom in the group called Luluz, a 3-member girl group consists of Eunsom, Seoyoon, and Loa. The group debuted on November 17th, 2014, with the digital single "What Do You Think Of Me?" Sadly, the group's journey is a short one as after Loa left the group in 2015, the group decided to disband soon after.
Not stopping at that, in the same year as Luluz disbanded, Eunjoo continued her career as she re-debuted again in girl group Wanna.B using the same name as before. Wanna.B is still formed by Zenith Media Contents, consisted of five members: Sejin, Roeun, Lina, Ami, and Eunsom. They debuted on July 20th, 2015, with the song "Attention." Here, Eunjoo stayed with the group for about four years. Unfortunately, on October 1st, 2019, the group is assumed to be disbanded after they were removed from Zenith Media Contents' website.
It is sad that all of these groups had to disband, and that they are such an underrated talent, but at least, what's interesting is from the three groups that Eunjoo debuted in, all of them had a different style of music. So, from funky cutesy to innocent-like to girl crush, Eunjoo has tried it all!
Latest news
Now, after debuting under the name Eunsom, Eunjoo started using her real name again to promote herself as a model and actress.
She recently shared behind-the-scene pictures of her shooting set through her Instagram on October 22nd, 2020. In the picture, it can be seen that she posed as one of the patients in a hospital, along with other doctors.
Throw shooting was fun too 🎥
# shoot tip ago 😊 thank 💙
She wrote in the caption.
https://www.instagram.com/p/CGpRr8vlf5Q/
Do not miss her latest updates, follow her on her Instagram!
So, those are all the things that you need to know regarding the OG and former member of BadKiz, Luluz, and Wanna.B, Eunjoo aka Eunsom! What do you think about her? Do you miss her? Share your thoughts in the comment section below!