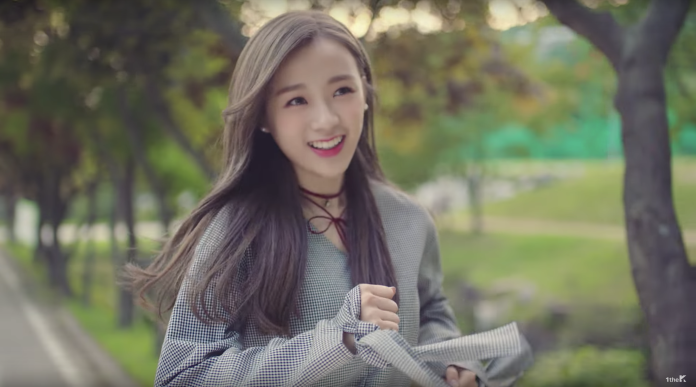 The Bright Energy of April Jinsol!
When you see the Korean girl group April, you will smile brightly because their energy is contagious, including the maknae Jinsol. Like a spring, Jinsol's energy can make you feel anew amidst your dark mood. Born on December 4, 2001, in Yongin, Gyeonggi, South Korea, Jinsol is the lead vocalist of April. She went through a training period of 6 months before debuting.
Are you curious to know her full profile? Check it out by scrolling down this article!
Full Profile of April Jinsol
Stage Name: Jinsol (진솔)
Birth Name: Lee Jin-sol (이진솔)
Birthday: December 4, 2001
Zodiac Sign: Sagittarius
Chinese Zodiac Sign: Snake
Nationality: Korean
Height: 170 cm (5'7″)
Weight: 46 kg (101 lbs)
Blood Type: O
Religion: Protestantism
Instagram: @truesol__0824
Twitter: @truesol__
April Jinsol Fun Facts
Andong, North Gyeongsang Province, is her birthplace but Yongin, Gyeonggi Province is her hometown
She has an older sister named Lee Da-sol
Her shoe size is 230mm
She studied at Yongin Seowon Middle School before dropping out and moved to Seoul Performing Arts High School (SOPA)
She attended the best vocal academy
She trained for 6 months under DSP Media
She is a former JYP Entertainment trainee
At first, her father didn't approve of her becoming a singer
Her specialty is imitating sound and people
She was the radio MC of SBS LoveFM in 2015 along with Chaewon
She was a contestant on JTBC's survival show Girls Spirit in 2016
She also became the MC of Tok! Tok! Boni Hani as 'Hani' from 2016-2017
She was the ambassador for the animation TV series Kikoriki: The Secret of the Golden Hat in 2017
In April, she was also a part of a subunit duo with Naeun and released a single titled "My Story" on February 7, 2018,
She appeared on March 18, 2018, episode of MBC's King of Masked Singer as 'Harley Queen' but she eventually lost
Her acting debut is through the drama The Guilty Secret as Ha Da-som in 2019
She is officially graduate from Seoul Performing Arts High School (SOPA) in February 2020
She has been learning boxing since the end of 2017
She liked the checkered pattern
She has a male Maltese puppy named Kongsik
Her voice is a bit like Ladies' Code's Sojung
She loves to stare at the mirror
Her hobbies are listening to music, looking for new songs, and singing in front of a mirror
She listens to various kinds of music
She is good friends with TWICE's Chaeyeong
She once covered Jessie J's "Price Tag"
On June 17, 2020, she opened a Twitter account for the first time
Jinsol Official Debut with April
Since she was a child, Jinsol has been dreaming of becoming a singer. At first, her dream was opposed by her parents. So, as soon as she entered middle school, she entered the vocal academy for six months secretly. After that, she then told her parents the truth and invited them to the performance.
When she was in the academy, she saw a private audition of DSP Media and she joined. She then passed and trained for 6 months before debuting in April.
April's name stands from the word 'A' which means good and 'PRIL' which has a feminine impression. At first, April was a project group of DSP Media under survival reality program KARA Project aired by MBC Every 1 in 2014. The purpose of the program is to look for new members of KARA because of the two members' departure. From the show, Heo Yeong-ji was picked up to be the new KARA's member.
After the event, it didn't just end. The 6 members who did not qualify are still under the care of DSP Media and were called 'DSP Girls'. A few months later, DSP Media announced that it would debut a new girl group called April. Some of the April members were taken from Baby Kara (Kara Project) or DSP Girls.
Initially, April consisted of 6 members: Jinsol, Somin, Naeun, Chaewon, Yena, and Hyunjoo. However, on November 9, 2015, Somin left the group. Not long after, Hyunjoo decided to leave the group on October 26, 2016.
In early January 2017, April made a comeback with two new members: Chaekyung and Rachel. So, the group's current lineups are Chaekyung, Chaewon, Naeun, Yena, Rachel, and Jinsol.
April made their debut on August 24, 2015, with the mini-album Dreaming and the title song "Dreaming Candy". The group's debut is considered a success. Even during the month of their debut, April was awarded at the "22nd Korean Entertainment Arts Awards" for the category 'Girl Group Rookie of the Year'.
April Jinsol Visual and Personality
Since her debut, Jinsol has been in charge of the tallest in the team. She was known for her ant waist. She has an ideal and proportionate figure. Together with Lee Na-eun and Yoon Chae-kyung, they are famous as April's visual.
She introduces herself as the bright energy of APRIL and adds a fighting gesture that closes her fist. Like the introduction, she has an attractive burst of energy as well as a sexy and mysterious image of a cat.
Although she is the youngest of April, she shows more of a bold and energetic side than a naive and modest demeanor. She is specialized in the cute acting department.
Although she can be a typical maknae who makes fun of her older sisters, she often shows maturity and aggressiveness that is unusual for maknaes.
April Jinsol Vocal
Jinsol naturally has a husky voice. So, she sometimes struggling with a high pitch tone. She has often received a harsh critique for this. There were some reactions saying that her sound was too strong and bright in the high-pitched part and that it would be nice if Chaewon does that instead.
Despite the criticism, Jinsol is still one of the golden vocals of April since she filled the position of lead vocalist. Check out her beautiful vocal below!
April Jinsol Bullying Controversy
In February 2021, a post in a public forum took the internet by storm as a netizen accused that April's members bullied their ex-member, Hyunjoo. The bullying was said to be the reason for her leaving the group in 2016.
The netizen claimed to be Hyunjoo's younger brother and left a statement, " Hello, I am the younger brother former APRIL member, Lee Hyunjoo. I've always wanted to reveal the truth for years, but I held it back for Hyunjoo's future. But now, I think I have to be brave and speak up, so I am writing this post. My sister is known to have left April to focus on her acting career, but that is not true. She was severely harassed and bullied in the group and suffered from panic attacks and breathing difficulties."
The post continued, " Eventually, she even tried to take her own life. Thinking back to those times, both our parents and I still feel like our hearts are going to be ripped apart. After Hyunjoo decided to leave April, the company gave her a letter that explained that she was leaving in order to pursue acting and told her to write a letter with its contents. And my sister followed their orders. Our family didn't know at that time. Everyone thought it was the best thing to do for my sister."
" However, after writing the letter, my sister was portrayed as a person who betrayed her team for her own benefit and became a victim of severe malicious comments. She didn't get any apologies from the April members. Instead, some members of the group even laughed when they saw our mother visiting the agency.", he wrote.
" Even today, Hyunjoo is working hard in her profession. So I was holding back, just in case it would hurt her image. I'm telling you all of this because I can't watch the members, who are living well, continue on as if they did nothing wrong. Even though I'm having a hard time, I'm even more upset and angry when I think about how my sister must have felt. I don't want to see them promote anymore. I hope they stop appearing on television and reminding my family about that time. I don't want to see my sister having a hard time anymore.", he concluded the note.
After that post, netizens then began to gather proof of bullying by April's members. Jinsol, together with Na-eun, is suspected of being the leader of the bullying. Netizen finds videos where Jinsol stares rudely at Hyunjoo.
Jinsol is known to be a powerful and bold maknae, so at first, the netizens thought that they just played around. But after the accusation, many felt that there is indeed the possibility of bullying.
On top of being accused of leading the bullying, Jinsol also got another controversy where another netizen claimed as her former classmate and used to be bully by Jinsol.
"I was surprised to see how Jinsol 'joked' with the former member Hyunjoo because it's very similar to the way she 'joked' with our elementary classmates.", a source said.
A source then went on, "She used to make the same facial expressions and glare at the classmates she didn't like and eyeball them. It's the same face."
The netizen also shared a letter from Jinsol which read as 'bbasooni' or 'crazy fan'. The letter wrote, "I hope you're an (idol group name) Ppa-soon-e forever! fighting!" 
" Jinsol used to use the derogatory word for fangirl and made fun of me for being a fan of an idol group.", the source wrote and continued, "Jinsol would always call me this idol group's Ppa-soon-e and would laugh at me. I would always tell her to stop. I never understood how a girl who was preparing to become an idol group member can use that word to refer to idol group fans."
The source then explained, "The reason I am writing this post is that I want to say that the memes and short videos of Jinsol glaring at Hyunjoo is her true image."
The source also left a direct message to Jinsol, "When these actions of yours were revealed, most of the kids from our elementary school knew this was bound to happen. The other schoolmates already shared things about you through Instagram story posts. It's not good for you to keep staying silent like this. It's not good for Hyunjoo either. I know your parents went through a hard time, and so when you debuted, I listened to your songs often. But I'm so surprised that you acted the same way you used to in elementary school even after achieving your dreams and entering into the entertainment industry."
The source ended the post by saying, "If you continue the way you are now, you're going to lose even the small number of supporters you have. I really want you to apologize and seek forgiveness from Hyunjoo."

Meanwhile, April's agency, DSP Media still strongly denied the bullying rumor.
---